The thing about Iron Maiden, unlike other heavy metal acts, is that their songs are actually well-written. Not just do the words add up, but there is epic posturing, much stylisation, and Steve Harris -- the man who formed the band and played bass throughout -- has a magnificent understanding of lyrical metre, something visibly influenced by the classics.
And this is why, over 33 years after he created the band, it remains relevant. Relevant enough for a documentary film to be released in theatres worldwide. A behind-the-scenes recent tour documentary, no less.
Those wanting to slag them off will incessantly parrot that once you've heard one Maiden track you've heard them all, and while it is true that the band hasn't made significant stylistic departures over the years, it is also true that the 'one' sound they do possess is completely theirs. And it's a lot neater to listen to a band that owns a sound and knows it than to listen. You know that, Edheads in the crowd, you do.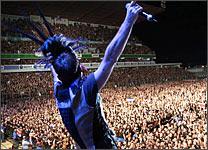 Iron Maiden: Flight 666 is a high-definition documentary looking at a part of the band's ridiculously ambitious Somewhere Back In Time tour from February and March 2008 -- yeah, that's the tour that kicked off in India, their second visit in two years after already having made us metalheads drool.

And -- shall we be brutally honest right off the bat? Yes, lets. Eddie would appreciate that -- it really doesn't make for a very good film. Sure there's some behind-the-scenes tomfoolery and drummer Nicko McBrain is as funny as ever, but truly, all you get to see is a very relaxed bunch of old geezers playing impossibly tight guitar licks on stage --

impressive, but nothing at all we didn't know about Maiden.

There are no revelations, no insights into band dynamics, and no incredible live performances. Even the tracks are curtailed by the narrative, which seems more thrilled about the logistical challenge of spanning five continents and 23 major concerts in just 45 days -- which is impressive, don't get me wrong -- than the music itself.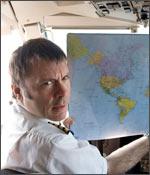 It's all well and good to talk about Bruce Dickinson, that fabulous vocalist, flying the plane itself but after a while we don't want to hear about tons of equipment, we want to see what makes the boys tick, how they decide on which solos to improvise, how Janick Gers warms up --- and we see none of that, goshdarnit.
Metallica's Lars Ulrich pops up and says they've always been jealous of Maiden because they had the cooler songs, cooler videos and were just the better band, and while I can't think of Lars ever saying a truer thing, the fact is that Metallica beat them in the documentary stakes. Some Kind Of Monster is a brutal artifact, showing a band torn apart by insecurity and ego, and on the most downward of spirals. Sorry to digress, just thought a true heavy metal documentary deserved a shout out.
Still, I'm glad Iron Maiden: Flight 666 is in theatres. College rock fans should all go out in droves, and older Edheads should take their kids. And sing along. Watching Dickinson finally go wild with Hallowed Be Thy Name in high-quality digital transfer and great audio in a theatre is worth the price of admission. And the rest ain't bad either.
Here's hoping for more. Go Maiden go.
Rediff Rating: