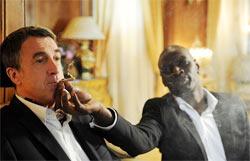 The Intouchables is a hilarious French film that must not be missed, writes Ankur Pathak.

The Intouchables is a hilariously witty French film, which can be best enjoyed as an antidote to the maladies of Guzaarish.

Films that deal with life-threatening ailments are not too popular. Watching a gloomy tale full of depressed characters is not everyone's cup of tea.

But The Intouchables is different. It's a wonderfully written character-driven drama which doesn't take itself too seriously despite the magnitude of the illness faced by one of its two principal characters.

When a freaky paragliding accident leaves extreme-sports enthusiast and multi-billionaire Phillipe (François Cluzet) permanently crippled from the neck down, he is resigned to a quiet life in his palatial house. He needs a full-time nurse and Driss (Omar Sy), a black man with a criminal history applies, hoping to be rejected and get unemployment benefits, but instead is found suitable and gets the job.
Phillipe sees many candidates who are in it for the money or are pseudo-humanitarians -- one of them says he "liked disabled people since childhood". But Driss is everything Phillipe wants and doesn't usually get -- no mercy.
Driss is delightfully and ashamedly naïve, listens only to songs that "make moi dance", calls Mozart's music "Tom-and-Jerryish", and looks after his boss with utmost care and without any melancholic sympathy. He comes into Phillipe's life and livens it up with mean jokes like, "No feat, no sweets," before laughingly passing on a cookie. The older man takes it in his stride and sees the point -- that there isn't any point in living in self-pity.
Driss has not led a frivolous, carefree life. He has had a complicated upbringing with a number of step-cousins to take care of. In a passing but poignant shot, we see him smoking-up with his cronies but being entirely detached from them. It indicates that life is somewhat similar for both men; both sense creeping loneliness even though they belong to the opposite sides of the spectrum.
However, loneliness is not the theme of the film. Rather, here is a hilarious celebration of an unlikely couple who couldn't be more far removed from each other and yet have so much in common.
It is filled with cranky one-liners that will surprise and amuse. But these aren't jokes carefully planted to evoke non-contextual laughs; they fit the satirical circumstances perfectly.
Eventually, you stop seeing Driss as Phillipe's help, and more as Phillipe's buddy. Most of the time Phillipe is surrounded by methodical people merely doing their jobs; Driss is an actual companion who lets him smoke cigarettes and occasionally takes him to massage parlours. ("Keep it to the ears," he insists).
Although it is based on a true story, the credibility of the film stems from the charmingly beautiful performances. Both actors were nominated for the Cesar Award (the French equivalent of the Oscars), and Omar Sy, who plays Driss won over Jean Dujardin nominated for The Artist.
Towards the end, we realise what we have known all along: that Driss brings refreshing chaos that is both celebratory and the most suitable alternative for Philippe if he wants to live life to the full. He retains his basic characteristics but evolves into a subtler human being, which is evident in his changed attitude in one of the many key scenes of the film.
Wish Sanjay Leela Bhansali could have watched The Intouchables before he made Guzaarish.
Rediff Rating: