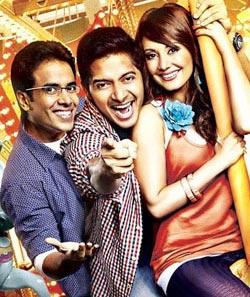 Preeti Arora feels that Hum Tum Shabana carries forward the trend of slapstick films with inane gags passing off as comedy. Post YOUR reviews here!

Comedies as a genre give directors a lot of scope to experiment. It can be treated as a farce, a satire, or even complete slapstick. These generally have inane gags thrown in every two minutes. It is the last category which seems to have become the hit formula in Bollywood, a trend initiated by David Dhawan and continued successfully by Rohit Shetty.
Shreyas Talpade (Karthik) and Tushar Kapoor (Rishi) are two young upcoming executives working with an event management firm whose lives revolve around obtaining a higher salary, a larger office and their own personal toilet. A cute secretary, a tie rack and other assorted trimmings which accompany a white collar life style is their ultimate aspiration. But professional ambitions are thwarted when both of them lose out on a long awaited promotion. They have a new boss (Rahul Singh) to contend with.
The trio takes off for Goa where a beauty pageant is being organized. Since work has taken a back seat, these two decide love must take precedence. The object of their affection is Shabana Raza (Minissha Lamba) one of the participants in the event. Trying to pass off as a 21-year-old Minissha is unhappy with the vibes she receives from her colleagues. Often in tears she's ready to give up but our bumbling goons keep bouncing up on screen, shamelessly manipulating judges and handing out inside information. Anything to let Minissha win…
The lady however has a few well-guarded secrets. As these two rookies land up at her palatial residence, they're in for a bit of a surprise. Which turns to shock.
Hum Tum Aur Shabana
is no longer about office romances, or corporate politics. What is the film all about then? In all probability Sagar Ballary the director would also be unable to answer the question. In an unashamed attempt to ape the
Golmaal
series,
Hum Tum Shabana
is
a rudderless ship which simultaneously endeavors to straddle many genres. And fails miserably.
Two men desperately wooing a babe then wanting to dump her (for valid reasons of course) is the central theme of this tortuous, unending so-called comic saga. And to cover up for a plot or a cohesive story the film is loaded with cardboard characters and implausible situations.
Satish Kaushik plays a character called Panju Don. A so-called spoof on the existing dons. Doesn't work, Satish is a director's actor. And he's been given a role with an overdose of melodrama, corny lines such as "
Yaa Duniya Ko Chalao Yaa Duniya Se Chale Jao. It's either guns or roses
." Let's not blame him for it.
Sanjay Mishra  plays Munna Military, Panju Don's right-hand man. He struggles bravely to attain a balance between the understated performances he has delivered in the past (
Phas Gaye Re Obama
) and the screechy buffoon he is forced to become during the second half of the film. Full marks for his efforts! But those moments where he effortlessly has the audience in splits of laughter are missing.
Minissha Lamba is the simpering lass who can't think for herself. She doesn't have much to do but even a role as small as this is clear evidence of her limited acting abilities.
Just as a novice chef believes combining certain expensive ingredients will result in a flawless dish, Sagar Ballary works with a similar belief. There's a beauty contest, a funeral, kidnappings, diamond smuggling, and the obligatory songs shot in a '70s type of discotheque. And at the end of it, it can't even be called a half-baked dish. A mishmash is probably the most appropriate description.
Sagar Ballary became a name with his first film
Bheja Fry
five years ago. And he obviously believes every subsequent film must leave the audience with their 'Bheja Fried'. Mission accomplished.
This film is best avoided.
Rediff Rating: