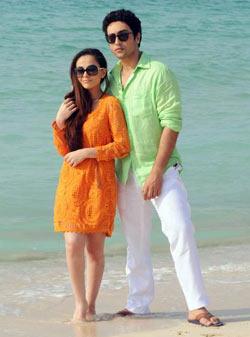 Despite being well shot and fairly well edited, Heartless has nothing of value to offer, says Paloma Sharma

Heartless is the ultimate love story -- not between two lovers, no -- instead Heartless celebrates the love of the Indian Mother and her most prized possession, her son.

Badly scarred by his mother's constant smothering, our tall, handsome hero Aditya Singh (Adhyayan Suman) develops a disorder that's a lot deadlier than his existing chhota-mota heart condition -- an Oedipus Complex.

Aditya or Addy is a billionaire who has EMF, which I can only guess is Endomyocardial Fibrosis, 'jiska koi ilaaj nahi' except for a heart transplant.

Addy, however, is vehemently against getting a heart transplant for reasons unknown, much to the disappointment of his business magnate, single mother Gayatri Singh (Deepti Naval).

Apparently, Addy does not wish to live due to his guilt over being partly responsible for a boat accident in which his father died.

However, all of that changes when he meets Ria (Ariana Ayam), who makes him want to live again.

Addy's mother is thrilled that her son has decided to go on with life but her happiness does not last long. Addy refuses to get the surgery done by Dr Trehan (Om Puri) -- a reputed and experienced surgeon, along with being a long-time admirer of his mother. Instead, Addy chooses to go under the knife with his friend, Dr Sam (Shekhar Suman).

His choice of surgeon, along with his mother's disapproval of Ria, causes much friction between mother and son.

Rich people problems, I tell ya.

Nevertheless, as it always happens in Bollywood films, the mother's suspicions are not unfounded. Recurring characters in Addy's life are not quite what they seem to be.

Heartless may be releasing a week before Valentine's Day but it's not something you will enjoy with your significant other. This is more if a family film. You're going to need your mum, dad, brother, sister, nana, nani, dog and his fleas to hold your hand to get you through it.

Here's another handy tip: stop trying to make sense of the script because there isn't any.

Don't believe me? Alright, sample this:

1. Hero claims to love heroine more than anything else but does not even offer to as much as share his umbrella when she shows up at his doorstep in the middle of a rainy night, completely destitute.

2. Hero sees three men harassing the heroine on the street but conveniently turns away to watch a football match, going to her aid only when she shouts out to him.

3. Upon running into said three men at a later stage, he claims he bought her for '10 dollars'.

4. Hero pursues heroine, then sleeps with her and the next morning he abruptly decides that they cannot be together because he has no future due to his heart condition.

5. Mother flies off to India because
a perfect match for her son's heart has been found. Later in the film, the hero is suddenly called to the hospital because a match for his heart has been found.
6. One of the characters barges into the operation theatre and holds the heart that is to be transplanted in their bare hands.
7. A wealthy man randomly marries a woman without as much as running a background check on her.
This is no romance film. It's a vanity project. The camera spends more time on Adhyayan Suman in
Heartless
than it did on Hrithik Roshan in
Kaho Na... Pyaar Hai
-- with both films being directed by the actors' respective fathers.
Of the 110 minutes that the the film runs for, 100 of those have our beloved poor little rich boy on screen. However, the trouble is that even though Adhyayan's character is made to dominate the film, Addy could just as easily have been a Subtracty and it wouldn't have made much of a difference -- you still wouldn't be able to recognise him on the street.
To add to the megalomania, a visibly overzealous Shekhar Suman finds a way to wiggle himself into a role where his grown son calls him "bro".
The rest of the casting hasn't been done too well either. Veterans like Puri and Naval find themselves on the sidelines with few sloppy dialogues to mumble and a whole lot of tears to shed.
It becomes increasingly difficult to find Ariana Ayam among the backup dancers and the general public, which would explain the close up shots that indulge in uncomfortable proximity.
The motivations of her character remain unexplored, leaving much of the story unexplained. Although central to the story, Ria is portrayed as more of a honey trapping object than a person in her own right.
The soundtrack is mediocre -- listenable but nothing refreshing -- with the only song worth downloading being Fuzon's
Ishq Khuda.
You could say that the songs are more often than not absurdly picturised, almost like a 1960s music video with the heroine rolling in the grass, splashing around in flower-littered water etc. But no, sir! They have a uniquely modern twist to them -- the hero doesn't run around trees while expressing his love through song, he swings around a lamp post instead!
Ha!
Heartless
was probably inspired by the true story of a young man's tragic love affair, which in turn was inspired by the Hollywood medical thriller
Awake.
If you woke up late/were caught in traffic/didn't get bail in time and happened to miss the first half of the film, don't worry. Pre-interval,
Heartless
is a hybrid of an advertisement for Dubai tourism and a sicker version of a Katy Perry music video. The real story begins only after the interval.
However, if you slept in/don't actually own a car/are still stuck in jail, there's still no need to worry at all. You're not missing anything.
Despite being well shot and fairly well edited, this film has nothing of value to offer.
Heartless
is, in fact, without a soul.
Rediff Rating: