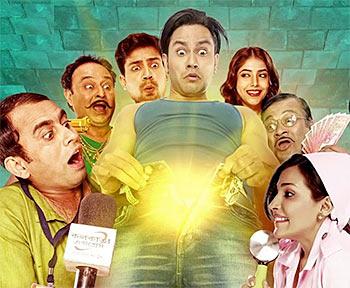 Guddu Ki Gun is a sex comedy with funny one-liners and great performances from Kunal Khemmu and Sumit Vyas, writes Prasanna Zore.
As the film begins, one wonders what an A-grade actor like Kunal Khemmu is doing in a C-grade film like this.
These doubts are put to rest as our man with the golden gun and his friend go about getting Guddu's skinny manhood back to normal after it turns golden because of a grandfather's black magic.
When Guddu Ki Gun climaxes, one rolls with laughter as Guddu (Khemmu) and Laddu (Sumit Vyas), two Bihari men in Kolkata, ramble through its streets in search of 'sachcha pyaar', the only solution to get Guddu rid of his golden manhood.
If Guddu, a washing powder salesman-cum-casanova (every man loves this fantasy), who goes about his adventures with the women he meets, finds true love, he gets his manhood back.
Don't go looking for plot or logic here.
Director-writers Sheershak Anand and Shantanu Ray Chibber know this flaw very well and make no effort to hide these missing traits as the film's centerpiece is Khemmu and Vyas.
So they tactfully exploit Khemmu's and Vyas's trade, their slapstick-timing, their lingam lingo (Lingam Returns, for instance) to take you on a joy ride.
The film climaxes with a shameless rip-off from Jaane Bhi Do Yaaron's Mahabharata scene done in a Mughal-e-Azam setting, but those who haven't watched the cult film will love the parody.
Bengali actors Payel Sarkar as Kaali and Aparna Sharma as Bholi make credible debuts in Guddu Ki Gun.
The film is a must watch for those who love their lingam... erm... lingo, Kunal Khemmu, and, of course, the most endearing Sumit Vyas.
Rediff Rating: