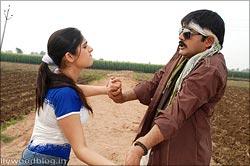 J D Chekravarthy's All the Best is pedestrian and lacklustre fare, writes Radhika Rajamani.


J D Chekravarthy spins out
All the Best
in a commercial format. Unfortunately this story revolving around a conman has nothing new to offer the audience. Chekri seems to be better off in donning the acting hat rather than the auteur's hat.
Ravi 's (Srikkanth) father (Kota Srinivasa Rao) is sent to jail in a cheating case for no fault of his. As a dutiful son, Ravi knocks all doors to raise Rs 15 lakhs to get his father out on bail. But no one is willing to help him. In despair, he tries to take the wrong path.
He sees Rao Ramesh duping in a restaurant and follows him and with some tips from him, begins from doing a con act at a super market. There he runs into Chandu (J.D. Chekravarthy) who in fact rescues him when he tries to dupe the cashier the second time. From there, the two become partners in the game. They try to get some money in a land settlement where Razaq (Pradeep Rawat)
from Dubai is involved.
There is a twist in the end but by that time, audience patience is tested enough thanks to the insipid drama, mediocre music, unnecessary songs, including an item number and all.
The film also meanders quite a bit out of trajectory with the love element being introduced. Ravi falls in love with Lakshmi Prasanna (Lucky Sharma) who is Chandu's sister working in a five-star hotel and Chandu likes another girl Upasana (Anisha Singh). There are songs shot in Dubai and its vicinity too!
The comedy element in the film comes in the form of Brahmanandam who can't do much to salvage the product.
Chekravarthy's screenplay is pretty stereotypical and lacklustre that it's quite tedious to sit through the film.
Srikkanth and Chekri try to elevate the film with their acting but it really doesn't help. The two girls Lucky Sharma and Anisha Singh have nothing much to do.
Technically, the film is average and it can be avoided.
Rediff Rating: