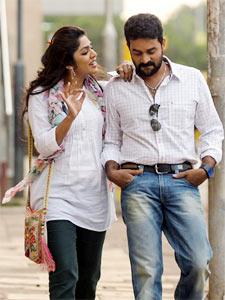 Malayalam film Escape from Uganda is a film that tries to thrill but fails to do so, writes Paresh C Palicha.

Sometimes title of a film is enough to tell you what it is about and your interest in watching that film is merely to know the approach of the director in tackling the subject.

Escape from Uganda is one such venture by director Rajesh Nair with Rima Kallingal and Vijay Babu in the lead. The story is said to be inspired by real incidents, but we can see influences from Indian and foreign films especially from the genre called prison movies.

Shikha Samuel (Rima Killingal) and Jayakrishnan (Vijay Babu) have eloped and made Uganda their home with the help of Advocate Firoz (Mukesh), who is practising law there. The couple is leading a happy life with a girl child of their own. Jayakrishnan is employed as a manager in a coffee shop and Shikha runs a designer boutique of her own. The tranquillity of their life is shattered when Shikha is arrested on the charges of committing two murders, one of the victim is the daughter of the local Mayor, who has pledged to keep her in jail for the rest of her life.

The situation is grim and the atrocities against our lady in jail increase. To add to this, Firoz is shot dead in his office, making Jayakrishnan sure that it will be impossible for him to free his wife by the book, so he calls Antony (Parthiban), who had offered
to help him for money claiming that he was the only one who had successfully escaped from that high security prison.
The major part of the second half is devoted to the planning of the escape with characters moving from one place to next as if taking us on a guided tour of the African country. All this compels us to wonder how Antony, who has supposedly broken free from a jail, is moving around without a worry in the world. This is just one of the many questions that occupy our minds much after the movie is over and we are back in the comfort of our homes.
There are a few twists in the tale with the good guys and the bad guys turning tables on each other a couple of times before heading towards a very predictable end.
22 Female Kottayam as far as suffering in the jail is concerned. Thankfully the similarity ends there, here the lanky lady has to indulge in physical action like kicking and boxing policemen double her size. And, as if this was not enough, she is made to sprint with her leading man at a speed that would put Usain Bolt to shame!
Vijay Babu has to be consistent in keeping his face sombre throughout, except for the time he is shown taking care of his daughter virtually as a single parent.
Parthiban has to double up as the action man and the comedian, which he tries to do uttering the lines that would make the front benchers happy.
Escape from Uganda
is a film that tries to thrill but fails to do so as desired.
Rediff Rating: