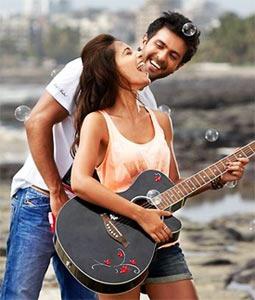 The comic punches in Dishkiyaoon are too few and far between, plot twists make little sense and are saddled with glaring loopholes, writes Nishi Tiwari.

'Is chharre ko pistol mein daal, trigger dabaa, kartoos banke niklega aur sabko phod daalega.'

This recurring dialogue from Harman Baweja-starrer Dishkiyaoon roughly translates to an underworld veteran claiming that his protégé is destined for greatness in the world of crime.

Only, said greatness, like the point this film is trying to make, takes forever to manifest in the story and eventually crashes and burns.

It all starts off from a jail cell that actually looks like an abandoned warehouse of a hoarder until the camera zooms out to reveal the jail bars.

The chharra (Hindi for a bullet) being referred in the dialogue is Harman Baweja's Viki, who is telling his cell mate Lakwa (a unibrow-ed Sunny Deol) his life story.

What follows is a ridiculously mangled flashback into Viki's past and his initiation in the underworld after Mota Tony (Prashant Narayanan), a local crook takes him under his wings.

Now there are many things that one may find awkwardly executed and pointless in the film, like Sunny Deol's odd Haryanvi accent and his unibrow.

But let's start with the film as a whole.

What possibly started off as an idea for a noir film is reduced to but a mere caricature of the genre.

It is more Abbas-Mustan-esue thriller than, say, the exceptionally well written Tamil neo-noir Aaranya Kaandam or, closer home, Vishal Bhardwaj's Kaminey.
The comic punches are too few and far between, plot twists make little sense and are saddled with glaring loopholes.

While Harman Baweja is even more unconvincing as a wannabe gangster than Deol's passive Lakwa.

For all his sincerity, Baweja is too urban in his looks and demeanour to pull off a character named Viki Kartoos.
His body shakes when he is angry, he sobs uncontrollably when his mentor is killed in front of his eyes and when he clenches his teeth, it looks more endearing than menacing.
The film is somewhat salvaged, if I may say so, by a bunch of character actors.

Prashant Narayanan is given some good lines in the film that he completely nails.
The real performer in this shindig is Anand Tiwari (you may remember him as the geeky third lead in Go Goa Gone along side Kunal Khemmu and Vir Das).

He is Rocky, a cocky man Friday to a gangster, is probably the only person who looks like he belongs in the setting. He's got his part right and even shines in some scenes.
Then there is Ayesha Khanna, who plays Viki's love interest and serves solely as eye candy material in the film.
The film's climax will take you by surprise. Which is not to say that it's a well-made thriller.

It just means that you got so engrossed in trying to make sense of this haphazardly put-together story, you didn't have much time to realise there'd be the big reveal at the end of it for you to apprehend.

Rediff Rating: