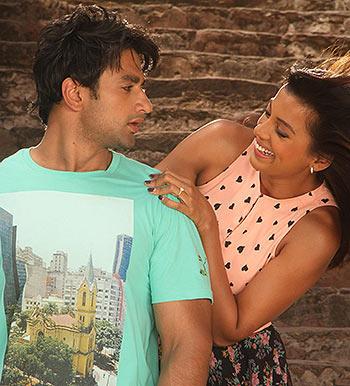 Bezubaan Ishq is pure drivel, warns Paloma Sharma.
Debutant writer-director Jashwant Gangnani delivers a cautionary tale of a film that reinforces gender stereotypes through popular culture.

Bezubaan Ishq opens like a Balaji serial.

A mysterious narrator provides an introduction to the city of London while singing praises of the Gujarati community.

Said narrator then goes on to introduce the protagonists with a couplet especially designed for each one of them (Gunda 2.0?) -- Rumjhum (Sneha Ullal), the salwar-sporting daughter of Lisa, a Krishna conscious Englishwoman, and NRI businessman Mansukh Patel (Sachin Khedekar).

Patel's widowed younger brother, Rashmikant (Darshan Jariwala), lives in Mumbai with his daughter Suhani (Mugdha Godse) and mother Savitri (Farida Jalal, and this is an apt time to wonder what things have come to).

Suhani is the complete opposite of Rumjhum.

She's a party girl who loves her liquor -- which is probably why goons attempt to rape her twice during the duration of the film –- and has a disorder called Intermittent Explosive Disorder.

Although Rashmikant seeks advice for his daughter's condition from one Dr D'Souza, he is told repeatedly that there is no cure for IED.

However, since this film obviously belongs in the 15th century, the doctor does have one solution:

"Aap iski shaadi kara do" because "ek married aur unmarried ladki ke behaviour mein bahut farak hota hai (Get her married because there's vast difference bteween a married woman and single woman's behaviour)."
Dr D'Souza doesn't just stop there.

He goes on to tell her father that the thing that might be good for her is "shaadi ke baad milne waala pyaar".

Since it is only appropriate to marry off one's daughter at the first chance possible, all eyes now turn to designated groom Swagat (Nishant Malkani), who is a very annoying person.

Swagat is Suhani's childhood friend and the dutiful son of Rashmikant's long-time business partner Vipul Shah (Muni Jha) who is modern on the surface but actually deeply traditional.

Although Swagat doesn't reciprocate Suhani's love, he wants to see her happy at all costs.

So he allows himself to be emotionally blackmailed into marrying her only to end up meeting her cousin, Rumjhum, and falling in love with her.

(Full disclosure: Swagat has a picture of his shirtless self in his room with a caption that reads, "My physique, my pride")

What follows is a lengthy, frustrating love triangle replete with clichés and impassioned speeches that contradict the characters' actions and even more lessons on how to be a good, socially acceptable woman. (Hint: don't have career goals. Or goals. Or an opinion.)

Bezubaan Ishq is a family-centric film even though the family in question is of dubious standards.

Even the actors, can't seem to put up convincing performances.

Godse tries too hard, only delivering what is expected from her in her final monologue.

Ullal, on the other hand, doesn't try at all. She remains busy being either dead-eyed or trying to play the ingénue that she is clearly too worldly-wise to be.

Meanwhile, Nishant is either genuinely stuck with that ever-constipated look or perhaps he is attempting to act.

t gets especially amusing when he he lip syncs to the lyrics, "Tu haan bhi kahe ya na bhi kahe, tumhein tum se chura lunga".

Right.

Consent flew right out the window.

To make things worse, the actors fail to develop an onscreen chemistry among themselves.

Suhani and Rumjhum seem more like awkward costars than sisters while Swagat and Rumjhum are unconvincing as a loved-up couple.

The 10-minute long scenes and the marriage video-like editing do not help Bezubaan Ishq's case.

Nevertheless, things start looking up during the song sequences since the actors appear to be putting in some effort and seem to share a certain amount of chemistry.

The songs are, at best, avoidable and don't even get me started on the dialogue.

It is far too complex for any of us mortals to comprehend.

One needs to be on the spiritual plane of Deepak Chopra and Xenu to understand profound statements such as, "Dil ko dimag nahi hota" (heart doesn't have a brain).

As tiresome as this two-hour travesty is, at least it is not predictable.

No, not because Gangnani is a great suspense writer but because you're too tired from bursting out laughing every time Ullal tries to cry convincingly, to bother with the plot.

On a serious note, it is extremely disturbing how a film with such archaic views got through the censors with a U certificate.

One remembers Grand Masti being called obscene.

Funny thing is, Bezubaan Ishq displays the same attitude towards women, only it disguises itself under the garb of morals and values.

Even more amusing is the fact that while the former was an adult film, the trash that Bezubaan Ishq doles out, is open for viewing even for impressionable audiences.


Rediff Rating: