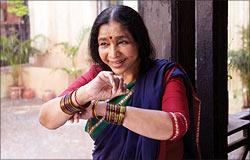 Asha Bhosle's effort in Mai is applause-worthy, writes Savera R Someshwar.

I was still in school when my grandmother came to live with us. Permanently.

It was hard for us and, looking back now, I realise it must have been even more difficult for her.

She had lived independently for decades, in her own house -- the last one in the tiny village -- surrounded by fruit trees, a stone's throw away from the temple that she visited at least twice a day, more if she felt like it.

The only sounds you would hear were the birds chirping and the sea in the distance.

She knew everybody, and everybody knew her.

But age had caught up, and the woman who never fell ill now needed to be looked after.
So my father bought her to Mumbai.
We lived on the first floor. She would go to the compound for a stroll, and forget how to reach home. Our kindly Nepali watchman would always oblige.
She wanted to go to the temple everyday, and a couple of times, she went on her own without telling anyone. And got lost. We would panic! She had never braved Mumbai's traffic or crossed a busy road. She didn't know the language so she would not be able to ask anyone for help.
Both times, luckily, the police brought her home safe.
Things became worse. She would wet the bed, pass urine anywhere in the house. Increasingly, we would catch her stark naked. She would leave the house door open.
Watching Asha Bhosle, in and as Mai, brought all these memories back.
Ashaji's 'entry,' as one would say in filmi parlance, is superb. In that one scene, she sets her character to perfection. You know you are going to watch the story of an elderly lady who is clearly facing the unpleasant ravages of old age.
Unfortunately, the rest of the film does not live up to that promise.
The legendary Asha Bhosle is let down by a loose script, appalling cinematography, a debutant director and a talented group of actors who, for some reason, do not rise to their roles.
Ashaji's real-life niece, Padmini Kolhapure, plays Mai's strong-willed eldest daughter, Madhu, who crosses her reluctant family to take on the responsibility of her aging mother.
The fact that Padmini is returning to the big screen after a long hiatus is evident as she hams her way though the film. At one point though, where she berates her drunk husband (played by Ram Kapoor) for his selfishness, the actor we once knew and loved shines through.
Unfortunately for Padmini, her make-up man (terrible job!) and the cinematographer (what's with the obsessive close-ups!!!) don't help either.
Ram Kapoor, who has the gift of being able to connect to his audience, is… bored? Though there are a couple salvageable moments, you can't help wonder: did he just go through the motions because he had to complete the film?
He was clearly not interested in what he was doing and, though most of the film, gives Padmini stiff competition in the hamming department.
As do some of the other key members of the cast.
They could do well to take a few lessons from Anupam Kher. In a blink and miss role, Kher shows how a competent actor can establish his character, and the character's compassion, in just a couple of minutes.
Another name worth mentioning is the actor who plays Mai's youngest son-in-law. He's meant to inject comic relief in an otherwise serious film, and he does it well.
Which brings us back to the reason I went to watch this film -- the incredible Asha Bhosle.
It is inspiring to watch a lady, just a few months shy of 80, grasp her acting debut with both hands and give it her best shot.
The nerves of the debut show, but you can't help but applaud, as you would for any loved one who is trying something new, especially on a public platform. It does not really matter if the acting is not skilled because you know the effort is both honest, and from the heart.
But Ashaji, being Ashaji, always manage to surprise. In this case, her ace is her performance in the flashback scenes. Playing a single mother with four children and no money, she draws on her own life experiences to pull through a wonderful, utterly believable performance. Showcasing a character who is a devoted mother, and a strong and dignified woman, Ashaji, comes into her own.
In the flashback scenes, Ashaji, you rock! Sitting in that darkened preview theatre, I couldn't help but think -- it would be so good to watch you play this kind of feisty character on the big screen.
God bless you, Ashaji. Do keep acting!
PS: There are two beautiful songs in the film -- the lullaby sung by Asha Bhosle and Dhakku Makkum, the song in which Ashaji dances in the rain :)
Ashaji gets three stars for Mai. As for the others… sigh!