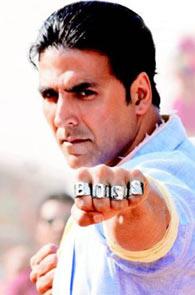 Boss is hell bent on assaulting the eardrums and senses with a vigorous spectacle of mindless action and screeching soundtrack, says Sukanya Verma.

Sometime in 1992, two relatively unknown lads, Akshay Kumar and Ronit Roy, made a breakthrough in their respective careers with Khiladi and Jaan Tere Naam.

While Khiladi's success helped the action star achieve a flying start, Roy had to contend with a one-hit wonder tag until he made history as a beloved character of a long-running soap saga.

Twenty-one years later, they occupy two ends of the silver screen to represent Bollywood's favourite conflict -- good versus evil.

It's an interesting dynamic, especially when Ronit, as the irredeemably malicious cop rocking a physical coolness, an unapproachable aura that's not once inferior to the superstar lot, contemptuously observes the verbose antics of Akshay Kumar in and as Boss.

'I could be that guy,' you imagine him say.

What does this have to do with the movie? Absolutely nothing.

Boss is so shamelessly hackneyed that it's perfectly safe to bring out one's inner Ed Bloom (uh, Big Fish?) and imagine/exaggerate situations that never really happen in a bid to keep oneself amused/alive.

For sometime, whenever the robust Ronit Roy walks into the frame, peers through his shiny aviators and states, "Maut ko toh yunhi badnaam karte hain takleef toh zindagi deti hai," I visualise a Kancha Cheena fanboy whose entry is marked by a super-creepy background score.

The Bloom technique, as it turns out, is no match for the gimmicky rehash of the Malayalam hit, Pokkiri Raja.

Director Anthony D'Souza's Boss is hell bent on assaulting the eardrums and senses with a vigorous spectacle of muscle-crunching/tossing/swirling/coiling action, a screeching soundtrack (including an awful remix of the Jaanbaaz ditty, Har kisiko nahi milta) and dumb, pedestrian humour.

Writers Farhad-Sajid are responsible for its 'plier-tier-shair' brand of wit. So, go ahead, take your pick between
a) Johnny Lever
b) Akshay's sweat instantly transforming into a *power* plant
c) A rocking chair assembled from the bodies of a dozen or so burly men
d) A ticking bomb planted in a buffoon's rear
e) Shakti Kapoor as a plumber in a cameo
f) A jogging track of enormous trucks
g) A unfunny hat-tip to the proprietors of this over-the-top
genre.
For the sake of synopsis, D'Souza slaps an outmoded plot in our direction -- the conscientious schoolteacher (Mithun Chakraborty), the misunderstood black sheep of a son (Akshay Kumar), the multiple flashbacks and farce, the surrogate daddy in a golden-hearted goon (dignified-as-ever Danny Denzongpa), the villain (Ronit Roy) with a kid sister (Aditi Rao Hydari in a two-piece bikini, probably a symbol for the brevity of her role), the hero with the kid brother (Shiv Pandit makes no impression), the usual drama, defiance, dialoguebaazi and dishoom-dishoom.
In the plausibility-challenged schemes of
Boss
, a teen, tanned version of Hindi-speaking Akshay Kumar hurling a volley of coconuts on Sudesh Berry's unsuspecting skull grows up to be full-grown, fair and fit Haryanvi-spewing Akshay Kumar making audible mincemeat out of the baddies. Needless to say, it all takes place in slow motion. As if the monotony wasn't stretching long enough!
What's to be noted is how this renewed interest in 1980s filmmaking sensibilities is also reinforcing the Nirupa Roy/A K Hangal stereotype like never before. So after
Phata Poster Nikla Hero
's forced '
maa ki mamta'
schmaltziness, it's Boss's turn to go overboard with what Sudhir (in
Satte Pe Satta
) called '
baap ki baapta'.
Speaking of the 1982 classic, its leading man Amitabh Bachchan lends his familiar baritone to introduce the silly premise of this sillier caper, which only works in spurts thanks to Akshay's ribbing and Ronit's rumble. Akshay's agility comes in handy during the stunt-filled chases that seem straight out of a Thums Up commercial.
Given the low benchmark of this genre, it's akin to praise when I say
Boss
is neither as absurd as
Rowdy Rathore
nor as ghastly as
Policegiri
.
When its intended attempts to tickle fail,
Boss
delivers a masterstroke in Mithun Chakraborty's hammy performance, letting his big Gollum's eyes and Raakhee-inspired sentimentality --
Aur woh aayega
-- to do the trick. It's a moment of genuine mirth in a sham that's all title no thunder.
Rediff Rating: