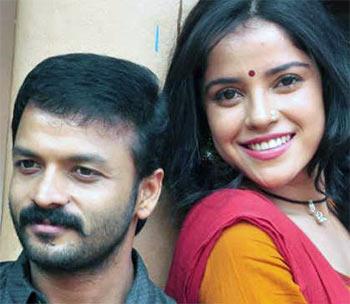 Rather than watching Aamayum Muyalum, the DVDs of Priyadarshan's old films would be a better option, says Paresh C Palicha.
One obvious advantage of being a film director in India is that you can 'remake' a film in as many languages as you like, without racking your brains for a new story.
No one knows this better than Priyadarshan, who has been peddling blockbuster Malayalam films in Hindi for the last 20 years. Sometimes he gets into reverse mode and remakes old Hindi films in Malayalam.
This Christmas season he has come out with Aamayum Muyalum, which is a remake of his own Hindi film Malamaal Weekly (2006).
Aamayum Muyalum received much attention because the veteran director has joined hands with a star of the younger generation, Jayasurya, for the first time.
But fans of the young actor will be disappointed as their hero plays a tiny part in a big ensemble cast.
The two pivotal characters in this story are portrayed by Nedumudi Venu and Innocent.
The writing, credited to the director himself, does not deviate from the Hindi version.
The plot of the film revolves around a lottery ticket that has won the bumper prize of Rs 5 crore. The actual winner is dead so the people around him try to get the money by deceit.
Kashi (Nedumudi Venu), a lottery agent, learns that one of his customers has won the bumper prize. He thinks that he can fool the winner into returning the winning ticket to him so he can claim the money.
The film is set in a village where every person except the moneylender, played by Sukanya, is struggling to survive (like in the films of the 1950s and '60s).
The actual prize-winner has died of shock, a fact Kashi comes to know when he goes to the winner's home to inform him of the good news. This makes Kashi's task easier.
However, Nallavan (Innocent), the local milk supplier, who has come to clear his bill, sees Kashi fiddling with the corpse. Kashi manages to convince him that he should not spread the news of the death and they will both share the booty.
The plot gets unwieldy as more and more characters enter the fray, stretching the running time of the film to nearly three hours.
There is the mandatory romance between Kallu (Jayasurya) and Nallavan's daughter Thamara (Pia Bajpai), adding further complications to an already confusing storyline.
Jayasurya must have agreed to do this film out of respect for the veteran director as there is no other reason for him to do this film. Innocent and Nedumudi Venu owe Priyadarshan as in their heyday they had earned their bread and butter by appearing in Priyadarshan's films.
All seen and suffered, Aamayum Muyalum fails to make this a merry Christmas. The DVDs of Priyadarshan's old films would be a better option.
Rediff Rating: