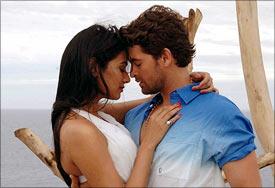 3G doesn't make much sense, writes Ankur Pathak.

There isn't much one can expect from a film that has as unimaginative a title as 3G.

The best thing about this film by debutant directors Shantanu and Sheershak are the creative opening credits. And that's where it ends.
Neil Nitin Mukeh's Sam and Sonal Chauhan's Sheena are on a holiday in the exotic islands of Fiji (Foreign location for lesser money given the Fiji government's pro-Bollywood policy).

It is supposed to be a getaway from the assumingly tiresome lives back home; and brimming with lustful urgency, it turns out to be ruefully short from being ideal. No, there isn't a creepy mob-boss operating from Fiji targeting young couples (Table No. 21 comes to mind), but the miscreant who is ungracefully stealing the action from between the sheets is a sociopathic mobile phone.

Yes, Neil is possessed by a woman who appears on his newly bought cell-phone (He drops his own accidentally in the sea while making out with Sonal). And then goes borderline psychotic, while the film battles to keep its own insanity intact.
Much of 3G doesn't quite make any sense.

Even in this obvious realm of fiction, quite a lot of its elements and its lead actors are unconvincing.

This makes everything that follows appear superficial and unintentionally comical. Why in God's name would Sonal Chauhan continue to spend nights with a man who is going paranoid, suicidal, psychopathic and disturbingly violent in bed?

Because she "cares" for this man and so will submissively do anything even if it means risking her own life. The conversations, a meant otherise to add character depth and flesh out the relationship, are terribly uninspired and dull -- almost as if the protagonists have nothing substantial to say at all. Sample:
Neil's awkward 'Beautiful place no, baby?' is met with an insipid 'It is GORGEOUS' from Sonal.
The director's ineptness is evident in the amateur transitions and the abysmal storytelling -- one that wallows aimlessly at everyplace conceivable; alternatively found in the textbook of horror-movie-must-visits (Churches, graveyards, the woods).

And yet the cinematography, which again could have dramatically improved the film, does nothing to make 3G engaging. Instead, a number of wide shots reduce the impact from crucial scenes and oddly robs the film of any sort of idiosyncrasies.

Yet the most disturbing aspect of the film is the so called suspense.

In terms of performances, Neil Nitin Mukesh is aggressively over the top, while Sonal Chauhan looks disinterested but frowns to express everything: concern/trouble/ content.

Neil's kohl-lined eyes, the leather-jacket and oddball-expressions trivialise his troubles rather than give them any depth while his body language is consistently uncomfortable.
The long run time doesn't help ease our woes either.
Somewhere out there was an ambitious plot that went mind-bogglingly haywire. What we are left with is a tacky production that becomes a tele-comical excuse for Neil Nitin Mukesh and Sonal Chauhan's many, many vicious lovemaking sessions (one distasteful scene involves sucking of finger in a bathtub where Neil goes on to place a ring on the lady's finger with his tongue. Yes).
Watch 3G only for a few cheap thrills.

Rediff Rating: