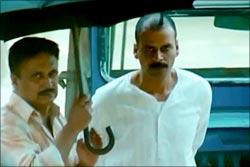 The soundtrack of Anurag Kashyap's Gangs Of Wasseypur is a strikingly flavourful and headily authentic collection of quirky music, writes Raja Sen.

The music review for Anurag Kashyap's magnum opus Gangs Of Wasseypur should have been up on Wednesday, but blame it on Sneha Khanwalkar.

The strikingly talented composer, working with Kashyap after having lent her musical voice to all three of Dibakar Banerjee's prior ventures, threw up a track about a third of the way into Wasseypur that derailed me entirely; a track I couldn't help but loop. But first, the start:

Jiya Tu is a bouncy track built on a riff repeated over and over pretty effectively, and while it seems ordinary at the start, the atmospherics are strongly flavoured and the track is versatile enough to make you wonder just how Kashyap might picture it.
I imagine it'll underscore a gunfight.

Track 2 is Hunter, the Chutney track, a folksy half-Calypso song which scores because of the racy lyrics about The Hunter's 'really long gun', but both song and words gain a lot more impetus when the song shifts gears briefly into Hindi. O Womaniya (Live) caught me by surprise -- primarily because of the vocal bellow it tees off with, and then that crazy O-Womaniya chorus rides in -- but the song doesn't, at first listen, impress as dramatically, perhaps (and ironically enough) because of the authentically unpolished voices.

And there it is that the album halts midway and I spend the rest of the day and night looping one song over and over. Keh Ke Loonga, introduced to me a night ago at a brilliant party, is even better in the cold harsh light of day, when you can observe Piyush Mishra's fantastic lyrics more closely.
Keh Ke Loonga -- something I'd roughly translate to I'll Tell You Before I Make You Bend Over -- gallops on a haunting, kicking bassline, with the reins handled by two singer-composers who get the words as perfectly as can be. Sneha herself sings along with old Kashyap fave Amit Trivedi, and both playfully coax Mishra's serrated-edged verse out of each other.

"Bicchhoo se honth kata ke / lori jehreeli ga ke." Vicious lines. Yet even if you don't hear a word, Khanwalkar outdoes herself with this one -- and the chorus is a smash. What a winner.

Bhoos starts off like an odd lament, and then segues abruptly -- and most entertainingly -- into a joyous folk ditty with genuine energy and frantic harmoniums. Piyush Mishra then shows up to dazzle with the wonderfully old-world Ik Bagal, a gorgeously metaphorical song about blanketing oneself from moonlight with rotis. It's a spectacular track, a lullaby that looks to a bright tomorrow. Timeless magic, this.

Bhaiyya, performed by The Musahar Of Sundarpur, is set to a trippy groove. Then comes Sneha again with Tain Tain To Tu, an irresistible, hypersilly track, an inspired bit of pure cacophony. The chin-chin highlights the rawness of Soona Kar Ke Gharwa, which flows nicely into the fun spoken-word start of Aye Jawanon. Womaniya is next, and while the bass thump is very welcome, the live version works better.

Manmauji is quite beautiful in its whimsy, channeling SD Burman even as the lyrics get frisky. Things get good and chartbustery with Loonga Loonga, and while it feels too long, the repeated Keh Ke Loonga chorus implies Kashyap will use it as a reprise or montage.

Humni Ke Chhodi Ke ends the album on a suitably folksy note.

Khanwalkar's worked hard on this extremely versatile album, and it bloody well shows. It's a strikingly flavourful and headily authentic collection of quirky music, often too grubby for our ears now used to such overprocessed pap. Granted, some of it seems too raw to appreciate at first go -- unlike Khanwalkar's deliciously accessible Oye Lucky Lucky Oye, for example -- but clearly Kashyap and Khanwalkar have prioritised authenticity and flavour above all else, and for this -- and the very scale of the album's ambition -- they must be commended.

Can't wait to see what Kashyap does with this bizarre, brilliant soundtrack, but till then we can loop Keh Ke Loonga a few dozen more times.

Rediff Rating: