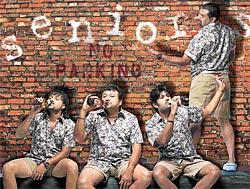 Paresh C Palicha reviews Malayalam film Seniors.
Post YOUR reviews here!
There is a peculiar crisis Malayalam writers and filmmakers face now that majority of the leading men fall in the forty-plus age category. There is a limitation in how you etch out their characters and weave stories around them. Even young directors have to cast people whom they would have seen as heroes on the big screen during their school and college days.
So, what do you do when on hand is a rollicking campus story? They would have to bring their ageing heroes into the campus under some pretext and tell a story that would entice the youngsters to spend money at the ticket counter.
The same crisis would have been felt by the young director Vyshakh (of
Pokkiriraja
fame) and his writer duo Sachi-Sethu to hammer out a story about a campus and make it exciting for the young viewers.
So, they come out with
Seniors,
which has Jayaram, Biju Menon, Manoj K. Jayan and Kunchacko Boban
in the lead. And, make them return to the same college as Post Graduate students where they had been Graduate students decades ago under the pretext of solving a murder mystery that happened some one and half decade ago -- One of them has served 12 years in the jail.
Padmanabhan (Jayaram) aka Pappu, who was convicted and sent to jail for murder during his college days, requests three of his best buddies -- Rex Manual ( Kunchacko Boban), Rashid Munna (Manoj K Jayan) and Philip Edikulla (Biju Menon) -- to return to the same college as PG students to reclaim his lost days. Obviously, it takes some time convincing them (spouses of two) and obviously
blackmailing the principal played by Vijayaraghavan to readmit the erstwhile gang of spoilt brats into his college.
Bingo! What we have next is our mischievous four in what could be described best as beachwear with stylised breads and trendy hairdos in the college. They virtually make the place stand on its head. They bring in new methods to make strikes effective and even beat up students from rival colleges with their bare hands while the so-called juniors holding cricket and baseball bats as weapons cheer them from behind.
Lest we forget, Pappu is here to find out who among his three friends is the psychologically deviant person that committed the murder for which he himself had to spend a chunk of his life behind bars. But that is not before we see a raunchy dance number by a call girl in the college hostel.
All these absurdities apart; the humour in this so-called comedy film borders on being crass and annoying. Once in a while, the jokes do bring the house down so to speak, but most of them are innuendoes and the most painful thing is that a child artist is a part of it.
There is very little to talk as far as performances of the four leading men go; it is not their fault that they chose to work with such a film. The only natural thing about them is the beer belly they sport!
The state of the female actors is worse; only Ananya who plays the tomboyish Jenny has something substantial to do. The rest -- Padmapriya, Jyothirmayi, Meera Nandan etc -- have hardly anything worthwhile to do.
Seniors
may turn out to be a commercial success. But for the discerning viewer, it is just a cheap comedy.
Rediff Rating: