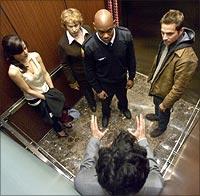 Elvis D'Silva reviews Devil. Readers can also send their reviews here.

Words that were inviting to a film viewer in 1999 -- From the mind of M Night Shyamalan -- are now treated with intense distrust. These days it might serve a movie well to keep that idea as far off the promotional frontline as possible. Hell it might make for a fantastic twist ending to a film someday. But for now, the name Shyamalan is no longer associated with clever storytelling.
So you can imagine my enthusiasm for the movie 
Devil
which may have been directed by John Erick Dowdle (
Quarantine
) from a screenplay by Brian Nelson (
30 Days of Night
,
Hard Candy
), but was actually the product of a story by M Night himself.
Plus, the plot -- five strangers are stuck in an elevator, one of them might actually be the Devil -- had severe potential to be as difficult to stay awake through as
Phone Booth
, that other movie that promised chills and thrills and served up neither during its short but long-seeming run time.
Devil
opens with a voiceover that narrates the basic premise of a folktale called "The Devil's Meeting" and sets up the actions that will lead to five people ending up in an express elevator that gets stuck without explanation. The five people are a mechanic (Logan Marshall-Green), an old woman (Jenny O'Hara), a young woman (Bojana Novakovic), a guard (Bokeem Woodbine) and a salesman (Geoffrey Arend).
On the outside, two security guards (Jacob Vargas and Matt Craven) bear witness via the closed-circuit camera in the elevator and are soon joined by Detective Bowden (Chris Messina) from the Philadelphia Police Department. Weird things start happening to the people in the elevator and before too long, people start to die, both inside and outside the elevator.
If you go into a multiplex to watch
Devil
expecting a horror movie you will be sorely disappointed. The movie is not scary. It is more in the space of a thriller where things might inexplicably go bump in the dark. The performances are good and the intrigue is efficiently spread between the elevator's inhabitants until it becomes easy for an audience member to assume that any one of those five people could actually be the Devil.
The film does end on a cliche note but that ending alone is not bad enough for me to discourage people from going in to watch this movie. Especially if you go with a group of friends it might be fun to guess (and then revisit your assumptions periodically) which of the five is the Devil. The film has a short and sweet runtime and because the performances are even and agreeable, you won't feel time dragging. As the police detective struggling with demons of his own, Chris Messina is easily the standout player in this ensemble.
The movie is well shot, crisply edited and it provides an effective shot of disposable entertainment. Devil is not going to become a classic at any point in cinema history but it does provide a suggestion a lot of moviegoers might find appealing -- maybe M Night Shyamalan should let others make movies out of more of his ideas.
Rediff Rating: