'It's been two and a half years since I debuted and I am happy with my journey at the moment. If you are passionate about something, with hard work and opportunity, you will continue as long as you are enjoying what you do.'
Kiara Advani is very excited about her next Machine.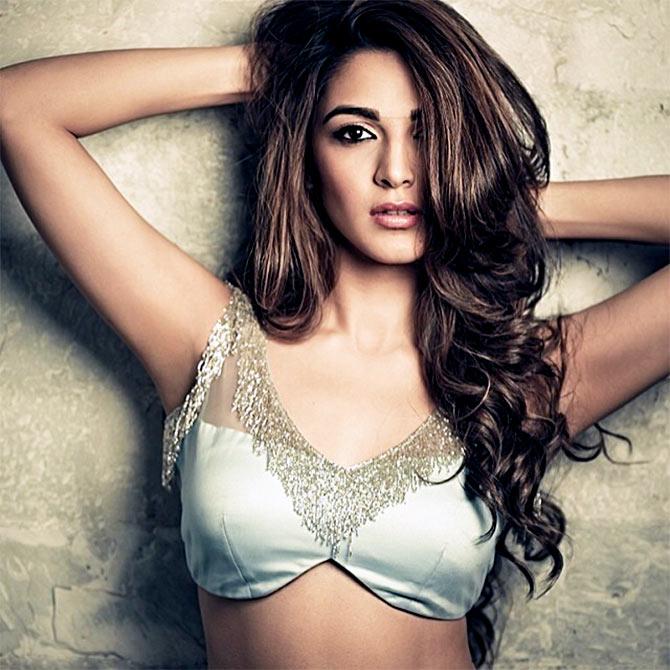 Photograph: Kiara Advani/ Instagram
It's freezing inside a room at a five star hotel in Mumbai.
To top that, Kiara Advani has a cold.
But she sits through her interview -- promoting her new film Machine -- with a smile on her face.
Wearing a white shirt and red skirt, she's matching shoes with her co-star Mustafa Burmawalla, who makes his debut in this film.

"Did you eat something?" she asks after the interview.
When I reply in the negative, she insists I eat something.
"How can you survive?" she wonders, "I just had black coffee."
The actress tells Jahnavi Patel/ Rediff.com how her life changed after her last hit MS Dhoni: The Untold Story and much more.
Watch: Rapid Fire with Kiara Advani. Video: Afsar Dayatar
After Fugly and M S Dhoni, Machine is your third film. Are you very selective?

Not at all. In fact, the three films chose me.

After Fugly, I waited a while, so that my second film could lay the foundation of my career. When Dhoni was offered to me, taking it up was a no-brainer. I am very grateful to the film because it gave me a lot of appreciation from the audience.

I had signed Machine even before Dhoni. Abbas-Mustan sir called me to do the film.
I have been lucky to work with these directors (Abbas-Mustan and Neeraj Pandey) and getting different roles.
I have not been slotted yet. People are stereotyped the minute the entry the industry but all my three films are from different genres and my characters have been different too. I hope this continues.

Abbas-Mustan's movies are known for action and thrills. Will we see you kick butt in Machine?

You will be seeing me kicking a lot of butts... metaphorically.

The action is more stunt-oriented.

The thrill is completely kickass, as you would expect from an Abbas-Mustan film.

That's what excited me because they have always given their female protagonists powerful characters.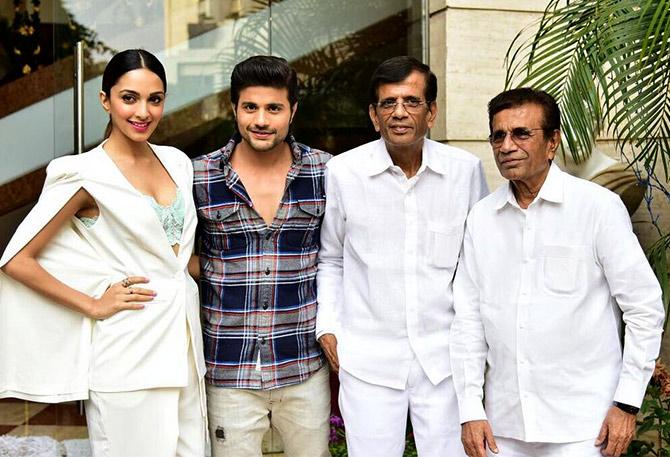 IMAGE: Kiara with Mustafa and directors Abbas-Mustan. Photograph: Kiara Advani/ Instagram
Do you think it is difficult to sustain a career in Bollywood?

It's been two and a half years since I debuted and I am happy with my journey at the moment. If you are passionate about something, with hard work and opportunity, you will continue as long as you are enjoying what you do.

You have ups and downs in any field but the wait will always be worth it if you love your job.
Have things changed for you post Dhoni?

Yes, absolutely.

People recognise me. Even if somebody sees me at a restaurant and they don't know my name, they go like, 'You played Sakshi (Dhoni's wife) in the Dhoni biopic.'

It's overwhelming that they relate with you through your work and your character. It is very touching that you are able to create some kind of impact through a character.

A lot of people I wanted to work with saw the film, called me, congratulated me and told me to meet them.

Dhoni has opened many doors and I'm grateful for it.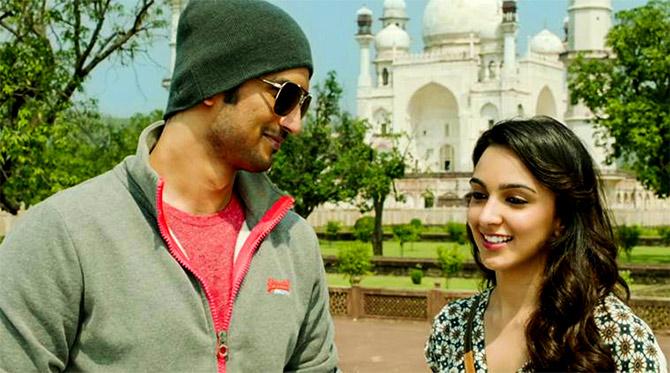 IMAGE: Sushant Singh Rajput and Kiara in MS Dhoni: An Untold Story
You are distantly related to Ashok Kumar and Juhi Chawla.

Let me explain those relationships. When my first film came out, Juhi Chawla tweeted, 'This is my niece Kiara. Wishing her all the best.'
She is actually a close family friend and because she has seen me grow up, it came out very naturally.

It is in our culture, as Indians, we always say 'Ye meri beti jaisi hai, she is like my niece.'

So it was in that sense, it's not a blood relation.

As for Ashok Kumar, he is my nani's (maternal grandmother) father. So yes, he is my great grandfather in that sense.

Abbas-Mustan look very humble and grounded, like they don't talk much.

My first ever meeting with Abbas-Mustan sir was for three-four hours! I haven't met anybody for so long, even those who I know well.

It's a wrong perception honestly because they can talk to anybody, whether it's a five year old or a 50 year old. They have that knack of knowing how to make a person feel comfortable.

I can listen to them for hours, they have such amazing experiences to share and so much knowledge and experience from their own life.

On set, I haven't met anyone so humble -- forget the film industry, in my life! These are the most humble people I have ever met!

They are super grounded, warm; they are lovely to be around. They make everyone feel like family.

They are so sensitive to people.


IMAGE: Mustafa and Kiara in Machine
Abbas's son Mustafa makes his debut with this film. Was he treated any differently on the set?

Not at all. His relationship with his father Abbas sir and his uncle Mustan sir was very professional. He would address them as 'sir.'

I was pampered much more than he was. I would joke with him saying that I was luckier!

I believe he was auditioned for the film too. He had to prove it to his father that he was capable of doing this.