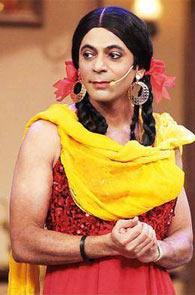 The makers of hit television serial Comedy Nights With Kapil are hellbent on taking actor Sunil Grover to task.

Producers Viacom 18 issued a public notice stating no actor has the right to take Gutthi -- Sunil Grover's character in the show -- out of the show and onto another public platform and doing so would amount to a legally cognizable copyright infringement.

For those who don't know, Grover walked out of the show recently due to creative differences, and word is that he has been offered his own comedy show on a rival channel.

Shocked and amused by the turn of events, Sunil Grover says, "First of all, when have I said I am taking Gutthi with me? I just said I am doing something else. I never said anything about taking the character with me."

Scoffing at the claim that Gutthi belongs to the show and the channel, Grover says, "If that was so, where was Gutthi in the first few episodes? Why did she show up later? Secondly, I have played the same character on Star One in a show called Hans Baliye. The only difference was that the character was called Chutki instead of Gutthi."

Sunil wonders why such a hue and cry is being made about his exit from Comedy Nights With Kapil and more importantly why the attempts to clip his wings. "Why a public notice about something I never claimed? As far as stealing creative or intellectual property is concerned, Kapil Sharma did the same things on a show called Comedy Circus on another channel that he is doing now on Comedy Nights With Kapil. But that channel didn't threaten to take legal action against him, did it?" Grover says.
The actor refuses to be cowed down by these attempts to clip his wings. "You can take away Gutthi from me but no one can take away my talent, whatever it may be worth. I am shocked at the levels of insecurity being demonstrated. It only makes me more determined to push ahead with my own thing," he says.
"I have nothing against Viacom 18. They are very professional and easy-going. I wonder who is instigating them to pull me down," he adds.
Grover is currently in consultation with a team of lawyers. "I've shown them my contract for Comedy Nights With Kapil. We're trying to see if there are any areas where I can be faulted. I wanted to make my exit dignified but it looks like I won't be allowed to."