'I don't have a godfather.'
'When your film doesn't do well, opportunities become even more limited.'
IMAGE: Yami Gautam in Sarkar 3.
Sarkar 3 is Yami Gautam's first movie with the screen legend.
She also gets to shed her goody-goody image and play a woman with grey shades.
Rediff.com's Sreehari Nair didn't care for Sarkar 3, but Yami couldn't stop gushing about Mr Bachchan and director Ram Gopal Varma.
Senior Entertainment Contributor Rajul Hegde listens in.
You play such a character for the first time. Were you surprised when you were offered the role?
I asked Ramu sir why he thought of me because nobody has ever offered me such a role.
He told me I've been seen in a certain genre of films so this would have been unexpected from me.
He said, 'Let's just bid goodbye to the fair and lovely thing that you have.'
I really liked the idea.
My role fits quite effortlessly in Sarkar.
I took it as an opportunity to do something absolutely contrasting, especially after Kaabil.
As an actor, I want to bring out my diversity as much as I can.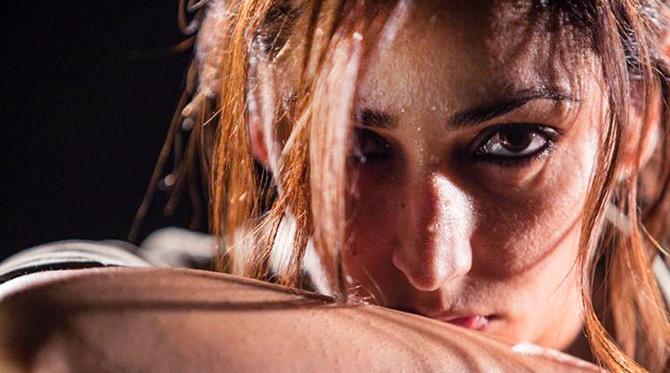 IMAGE: Yami Gautam in Sarkar 3
Were you intimidated by Amitabh Bachchan?
When I met him for the first time, I was speechless.
I had planned to talk to him about his films that I had watched and that I was his fan. But when I finally met him, I couldn't say anything! I was just smiling.
Mr Bachchan has a magnificent aura. It has been 40 years, but he still has so much respect and passion for his craft.
I watched the first instalment of the film (Sarkar) when I was in college.
And working with Ram Gopal Varma?
Ramu sir's approach is very different. He is clear about what he wants.
When I asked him how I should prepare for my role, if I should do some reading or watch movies, he said just come the way you are, I will take care of the rest.
I wanted to put in my best, but he asked me to be effortless.
He didn't want me to think too much because my character is very mysterious.
When I went to his office and was yet to sign the film, he said he wanted to take pictures of me.
He said I would understand the role better by looking at the pictures. I loved the pictures and the character.
I have never been shown so intense before.
He is a man of few words. You have to understand and adapt to the way he works. His instructions are specific.
When I saw some rushes and my first scene, I felt it wasn't me.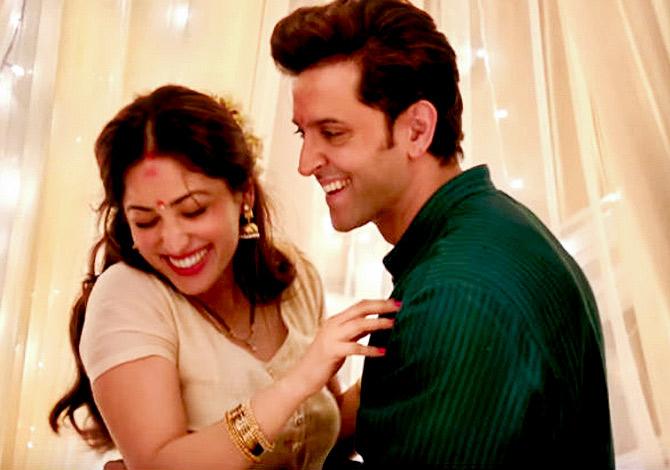 IMAGE: Yami Gautam and Hrithik Roshan in Kaabil.
You were appreciated in Kaabil.
What's important is not the success that Kaabil got; we earned a certain respect, which is not easy. It does not happen with every film.
When we were promoting the film briefly after its release, some people and journalists came up to me and said it's a different subject and that it really touched them.
Parents are the biggest parameters when it comes to the best compliments.
When my parents told me they got emotional after Kaabil, that was remarkable.
Mr Bachchan messaged me after watching Kaabil, but I can't share the message. He loved the film and the performance.
Working with big stars like Amitabh Bachchan and Hrithik Roshan is beneficial for your career, wouldn't you agree?
They have a humongous reach. If you get to do a film with such actors, it is amazing.
But it is important to know if you have a substantial role in the film.
When you have someone as big as Mr Bachchan -- and that too in a series like Sarkar, which has already created a niche for itself -- the reach, popularity and connect with people will be enhanced.
Hrithik is such a big star, but when he is on set, he approaches the role as an actor. He tries to explore the role along with us.
We prepared a lot for the role.
When I met him for the first time, I told him I was nervous. He said even he was nervous.
He told me not to get scared of making mistakes because we find perfection through mistakes. I thought it was very sweet of him to say that.
He helped me a lot too. During a scene, if he was perfect but I could have done better, he would go for another take just for me.
I don't think many people have that quality.
It is very natural for me to just look at myself, my look, my dialogues... But am I so selfless and concerned that I will lift the other actor as well?
When we click selfies, we look at ourselves. He looks at everything.
Even during the dance. He never says, 'It's a simple step, let's go.'
He will rehearse. If he likes something that I try while dancing, he'll say, 'Hey, can you show me that step?'
Imagine Hrithik Roshan telling you that!
Did Hrithik give you any tips on fitness?
I told him that if I become too lean, I will lose my charm.
He said, 'If you feel that, have 10 samosas and it will come back!'
He is one of those people who inspire you to get fit even without saying anything.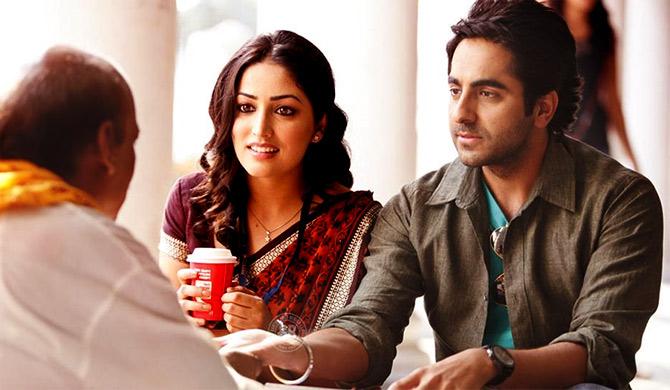 IMAGE: Ayushmann Khurana and Yami Gautam in Vicky Donor.
Your films after your debut film, Vicky Donor, didn't do well. What kept you going?
It was scary!
I started shying away. I had no idea how to face the media and handle those questions.
I am a self-made girl. I do not come from a film background or have a godfather in the industry.
It is not easy when you make a career on your own. And when your film doesn't do well, opportunities become even more limited.
That's when I realised the value of not shying away and embracing reality.
So I worked even harder on myself. I concentrated on my fitness to become a better version of me.
And I think magic does happen. That's when Kaabil happened.
Of course, there will be disappointments and failures, but one must embrace it all.
How do you react to link-ups?
I don't feel anything anymore.
There are times when you feel tempted to speak, but when everybody talks, there is no voice, there is just noise.
Unless something involves my family, I have a lot of patience. I don't come from a background that believes in cheap retaliation.
DON'T MISS the Movie Interviews in the RELATED LINKS ALONGSIDE...