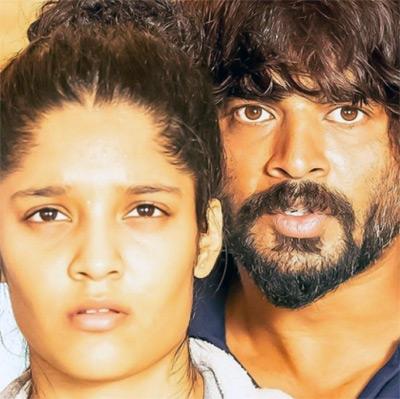 'I never wanted to be an actor. I took it up because it was about a boxer.'

Ritika Singh talks about her amazing film journey so far.
Debutante Ritika Singh made her presence felt in the Tamil film Irudhi Suttru -- made in Hindi as Saala Khadoos -- and earned her a special mention at the National awards.
Ritika, who learnt karate and kick-boxing at a young age, is very excited about winning the award for a film based on boxing.
In this exclusive conversation with Rediff.com contributor Radhika Rajamani, Ritika talks about her big win.
How does it feel to get a National Award for your debut film?
I was taken aback!
I thought I was not eligible for it.
Sudha (director) said I should dub the Tamil lines. She sent me the dialogues, and gave me 24 hours to listen to the voice, so that I could start dubbing for it when I landed in Chennai.
We could not find time to dub as dubbing takes time and I was busy promoting the film.
Then I thought they did not send the film for the National Awards.
The day the National Awards were announced, my phone was in software upgrade mode. Suddenly, I saw lot of messages and I wondered what was happening. I saw the director's message which said 'Congrats' and then a media person called and said, "You won a special mention award."
After I spoke to the media person, I began to cry. Winning this award is like an Olympic medal for me. It was that level of achievement to me.
How did your parents react?
I was at home with my brother. My parents were away at work, so I could not tell them immediately. My brother recorded my emotions including my crying on a video.
You are a sportswoman. How did you get convinced to do the film?
When I got a call from Maddy sir, I was going through a low phase in my life. I have been doing karate since three and kickboxing since six.
The MMA fights were an opportunity to prove myself in the SFL Challengers. On the first day itself, I injured my right knee. It was an opportunity to prove myself but I lost and it was embarrassing.
I was depressed as I let down my dad (who is also Ritika's coach). These fights are all over the Internet. The other fights which I won are not on the Internet.
During this, I got a call from Maddy sir. He saw my poster at one of these events and got in touch with me after getting my contact details from Raj Kundra.
My dad and I met Maddy sir, and he narrated the story.
During the narration, I felt this girl is all fire and outstanding. I felt I should get to play this character. I was happy it was a sports film, a boxing one. Then I was told I was to act in the film!
When I was very young I had asked my dad, what if I star in a boxing film?
It was a childish thought then and I had forgotten about it. I had this idea that if we made a boxing film, I should play the girl.
Were you apprehensive of getting into films?
I never wanted to be an actor. I took it up because it was about a boxer.
Once you were in, what kind of homework did you do for the role?
Sudha ma'm made me watch videos of a local fisherwoman and a lot of World Cinema. I saw films in French, German and Chinese to understand acting.
She wanted me to look real. That's what I understood after watching these films. The actors looked natural and real. I understood how I have to become the character.
You pulled off the fisherwoman's role well. Was it challenging to play the rustic and loud character?
People started to believe that I am a real-life fishergirl and began calling me Madhie (the character's name).
Even when I go out, people say machiiwali (fisherwoman). In fact, I shot the fish market sequence on the first day of the shoot.
When I first landed in Chennai, I was given the dialogues and went to the fish market where I used to observe and talk to the fisher folk.
I even sold fish. It was difficult as one needed that top notch confidence as if you own the area. I don't have that arrogance even though I look confident. It was a tough scene but went off well.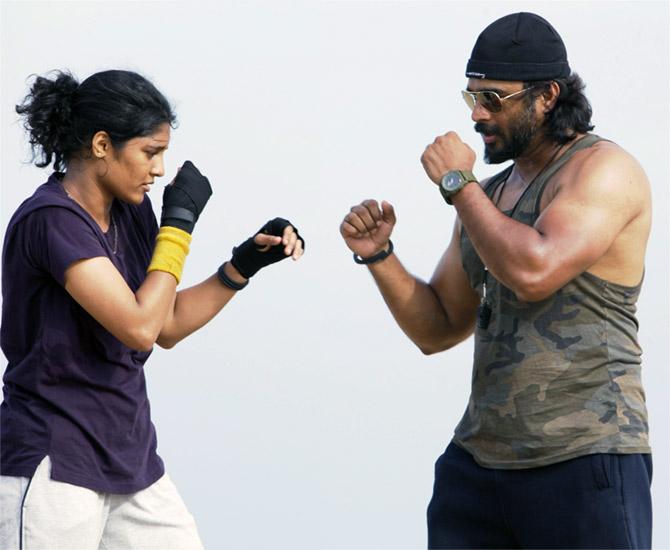 IMAGE: Ritika Singh and R Madhavan in Irudhi Suttru
The bouts in the ring seemed real...
They are real. In the final one, I had to act. In the ring, you will never see our emotions. Here my eye was swollen, my eye make-up was there, I was wearing my gum shield.
This is a film and you have to feel weak. It was difficult to convince myself. I was waging an inner battle. Once I convinced myself, it was easy. All the fighters forgot it is a film.
In fact, in the climax, my head was aching and I even broke down. It was a six-day, non-stop shoot.
The girl in the final was six feet one inch tall and weighed 20 kilos more than me! In normal bouts, one doesn't fight like that. It was a learning experience for me that I could fight a tall girl! I felt good.
Was doing the film in Tamil difficult?
It was quite difficult but I did my homework well. I jotted down some commonly-used words in Tamil and added them during my lines.
The writer and director were shocked. I learnt my lines well.
How did Madhavan and Sudha help you?
They helped me a lot. The entire credit goes to Sudha. I am a director's actor. I gave myself to her. I would listen and deliver.
Maddy sir is such a sweetheart. Even if he was not required in the scenes, he used to be there on the sets and would give me cues just to make sure, since I was a first timer.
We spoke a lot. I was really lucky to act with him.
This film was made over a considerable period of time. Did that help you get into the skin of the character?
I met Maddy sir almost four years back when I was 18-19. I read the script a lot of times, almost every day, as changes were done.
I watched films to see how actors act. I felt I have to live there. When we shot in some places, we had to change in people's houses and I even slept on the floor.
You entered the Hindi and Tamil film industry at the same time. How does it feel?
I feel blessed. I don't think a debutante will get such a chance. I want to relate to my audience. There is so much love. I have to give back!
Did you anticipate the kind of success you got for your acting?
No, I did not. My best friend said, 'you are like a rowdy.'
I found the character graph well drafted.
My friend and I were concerned as people like to see glamorous heroines. The concern was what if they do not like me but they did.
You are already doing your second film with Vijay Sethupati. How is it working with him?
It's nice. He is funny. We joke around the sets. It's cool. I have done the first schedule. He is down-to-earth, humble and simple. I was so relieved to see him.
Have you decided to pursue a film career?
Yeah. I want to do something to promote kick boxing as it is a great sport. I want to give back something to the sport.
Have you got film offers from other languages?
Yes, there have been offers from Telugu and Hindi. I have not decided on them.