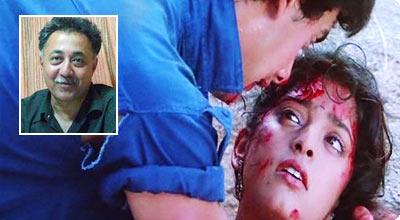 Qayamat Se Qayamat Tak -- a film that made its actors Aamir Khan and Juhi Chawla overnight stars -- released on this day, 25 years ago. The tragic romance touched the hearts of many youngsters at the time.

The film's director Mansoor Khan, who made his debut with this 1988 film, claims the film is relevant even today.

"Although the story was something that had been told earlier, we treated the characters and situations in the film with honesty," Mansoor says. "Our film was not high on glamour nor was it technically advanced but it was made with honest intentions."

Mansoor Khan, who lives in Coonoor, Tamil Nadu, these days, is on a visit to Mumbai to celebrate the 25 years of QSQT, as the film is popularly known as.

Looking back at his memories of making the film, he says, "I remember I wasn't convinced with the climax (at the time, the climax was a happy ending). The cinematographer Kiran Deohans was ready with the shot but I told him that I wasn't convinced with the climax. So I told everyone I was changing it.

"I rewrote the entire climax in an hour's time, and made it a tragic ending where the main protagonists (Aamir Khan and Juhi Chawla) die. A lot of people were against a tragic ending, including my father (Nasir Hussain). He used to make films which were very light-hearted, slice-of-life films. He had made a film called Baharon Ke Sapne in 1967, where the protagonists die in the end. The film was not well received by the audience and I think that was the reason he was not convinced. But once he saw the climax in QSQT, he was convinced. That spontaneity that I have, I cherish even today," Mansoor says.
So how popular was QSQT when it released? Click here to find out!
In the picture: A scene from Qayamat Se Qayamat Tak. Inset: Mansoor Khan