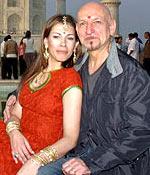 Ever since it moved permanently to the sun and sands of Goa some years ago, with the aim of attracting a better class of guest and quality films from round the world, the reverse has happened to the 10-day International Film Festival of India (IFFI) that ended on December 3.
Like a dying whale, India's oldest government-run filmfest, is firmly beached. No amount of money or talent or support from India's multiple film industries can seem to breathe any new life into it.
It must be the only venture to run aground so spectacularly in the country's top leisure destination in the salubrious end-of-the-year tourist season. Why is IFFI so iffy?
In its 40th avatar, IFFI's top-billed overseas star guest was Sir Ben Kingsley, who, according to the festival's bland, badly-organised website, replete with spelling errors such as "archeive" is also brimming with flat-footed examples of babu-speak such as:
"4. Sir Ben Kingsley addressed a Press Conference which was very well attended. 5.Aftab Shivdasani, Riya Sen, Madhur Bhandarkar, Vishal Bhardwaj, Jaimala and Rituparna Sengupta visited the Festival and swere (sic) given Red Carpet welcome."
This year there were retrospectives devoted to the films of Soumitra Chatterjee, Sharmila Tagore and Asha Parekh (all rather old hat), a kerfuffle over whether filmmaker Gurinder Chadha deserved one or not, and a sprinkling of foreign guests who failed to set the Arabian Sea on fire.
What happened to the glory days when India's premier filmfest that attracted directors of the calibre of Akira Kurosawa, Michelangelo Antonioni, Frank Capra and Elia Kazan, stars high on glamour quotient such as Gina Lolobrigida, and when films like Visconti's classic on Nazi Germany The Damned competed for the Golden Peacock? 
Are ministers like Ambika Soni, with Southern sex bomb Asin trailing her as the obligatory "thali girl" to assist in lighting the lamp, expected to fill the gap?
For better or worse, Hollywood remains India's chief import in foreign cinema. But the American film industry is virtually unrepresented at IFFI with big-ticket draws. This is ironic when some of Hollywood's top filmmakers and stars, including Brat Pitt, Angelina Jolie, Nicole Kidman and Julia Roberts, not to speak of Danny Boyle and the Slumdog cast and crew, have lately been working in India. So, where does world cinema's A-list head to in Asia for their big winter outing?
Believe it or not, but they're attending the international film festival in recession-hit Dubai this week. The filmfest there is only in its sixth edition, as opposed to India's 40th, but it has 13 international premieres, huge productions like Nine and Avatar for its opening and closing galas, the latter being James Cameron's  return to the screen 15 years after Titanic.
New films from Pedro Almodovar, Jim Sheridan, Annette Bening, Samuel Jackson, Drew Barrymore, Juliette Lewis and Geoffrey Rush are on show; Christina Ricci and Matt Dillon will supply the oomph; and the Bollywood brigade is to be represented by India's hottest tickets, including the Bachchans and Ranbir Kapoor.
Lest it should be imagined that the Dubai fest is all frivolous flim-flam, a mirror image of its profligate economy, it features strong showcases of Arab cinema, children's films and speakers who include Jordan's Queen Noor, Hollywood heavyweight Mike Medavoy and MIT professor Rebecca Saxe.
No prizes for guessing who killed India's once-prestigious international filmfest that still doles out prizes worth $140,000. A bunch of babus finished off IFFI, men and women who can't even get a proper website going, much less order a spellcheck.
The Dubai filmfest is a private-public enterprise with investments by its national carrier, duty free shops and film studios.
The Indian government, in its resolve to get ahead with disinvestment, should shut down the Directorate of Film Festivals and palm off IFFI.
Why dump good money after bad in what was meant to be the subcontinent's answer to Cannes by the sea. It will never make waves.