'Woman need to be respected much more in our country. But choices should be allowed for women as well as men.'
'I don't care about the box office collections of Ki & Ka; I care about the thoughts and conversation that it brings on.'
'Every actor has that one film in their filmography where they pushed the envelope further.'
Arjun Kapoor takes on new challenges with Ki & Ka.
Arjun Kapoor tells us that his sister Anshula is very upset with him.
"My sister isn't talking to me because I am not taking care of myself, and I have a pull in my stomach," he explains.
But the actor did not want to cancel the scheduled media interaction, and upset the media.
"I am totally in character for my film Ki & Ka; I went for a sonography. Aaj kal mard bhi sonography karvate hai (nowadays, men also get sonography done)," he adds.
Arjun Kapoor is busy promoting his new film Ki & Ka, releasing April 1. Directed by R Balki, it see him play husband to Kareena Kapoor Khan.
And no, Kareena's off-screen husband Saif Ali Khan is not upset with Arjun or the kisses they share in the film.
Arjun tells Jahnavi Patel/ Rediff.com why he took up the film, and more.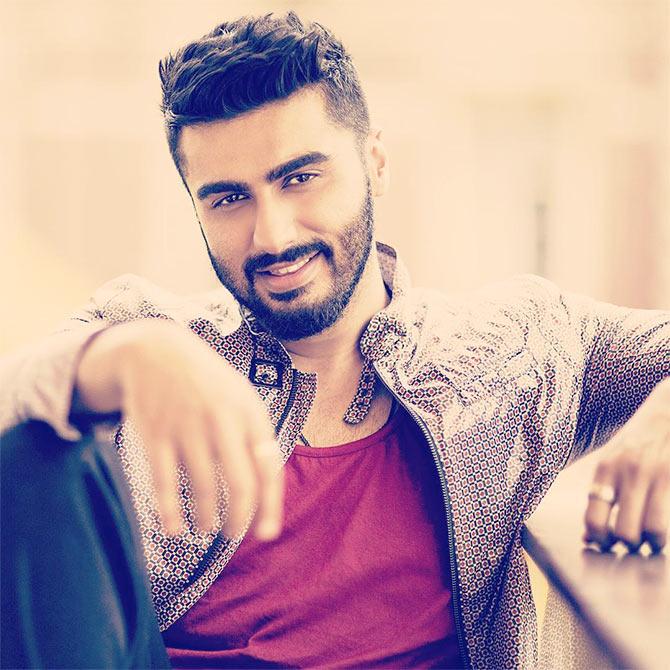 Photograph: Arjun Kapoor/Instagram
Your previous film Tevar released last January and Ki and Ka will be out this April. Why such a long gap?
I was bored of seeing myself on screen, imagine how bored you must have been! The audience had had enough of me and that's why Tevar did not get its due.
I had a release in February (Gunday), in April (2 States), in September (Finding Fanny) and then in January (Tevar) -- four movies in 12 months! That's not right, it saturates the market.
I wanted to take a break anyway. I had got injured during Tevar and had a lot of health issues. I was shooting and promoting movies continuously.
I would have taken a break even if Tevar had done well.
Balki sir (R Balki, director) met me in March. We got Kareena on board in May, started shooting in July and wrapped up the film in September. After that, I started working on Khatron Ke Khiladi. So if I do a movie and a television show in a year, and take a four-month break, what's wrong with that?
But this is not the pattern I would want to follow. If someone offers me three good films, I will sign up. I am hungry for good work.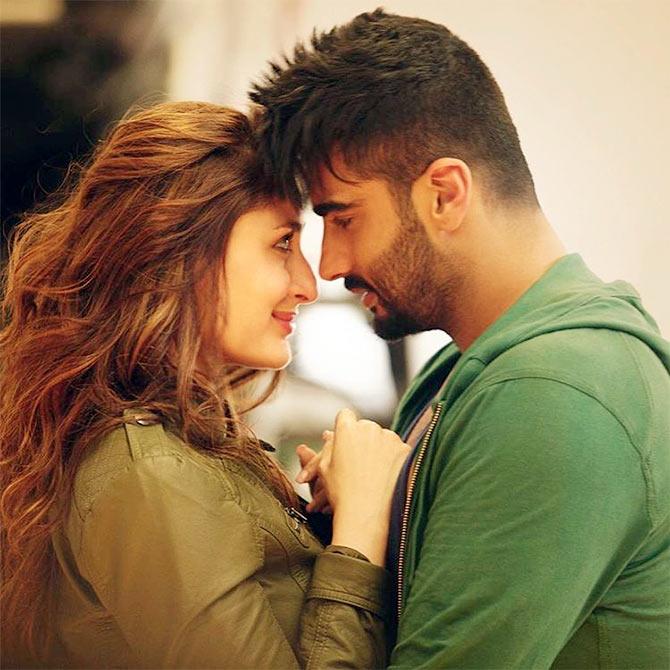 IMAGE: Kareena Kapoor Khan and Arjun Kapoor in Ki and Ka
You had said that you wanted to go slow during Tevar as well.
Not slow, but when a director comes to you with material, he expects you to give your 100 percent to get into the character.
Whether the film is a hit or flop is one thing, but the energy should be there.
Like now, I have to promote a film in the middle of preparing for Half Girlfriend. Technically, I should be preparing for that film. It's not fair to that film, you've to give it time.
When you're young, you cannot be choosy but I think I've done enough now and so can manage one film at a time.
Ideally, I prefer doing one film at a time.
As an actor, how much say do you have in picking a release date?
I suggested the date April 1 to them, and they agreed because there was an empty slot.
Kapoor & Sons was releasing on March 18, and Batman vs Superman on the next Friday. March 25 is also my mother's death anniversary, so honestly, I wouldn't want a film to release on that date.
April 1 is a nice date because we have two weeks until Fan's release. It's also the start of the financial year and we hope it does well.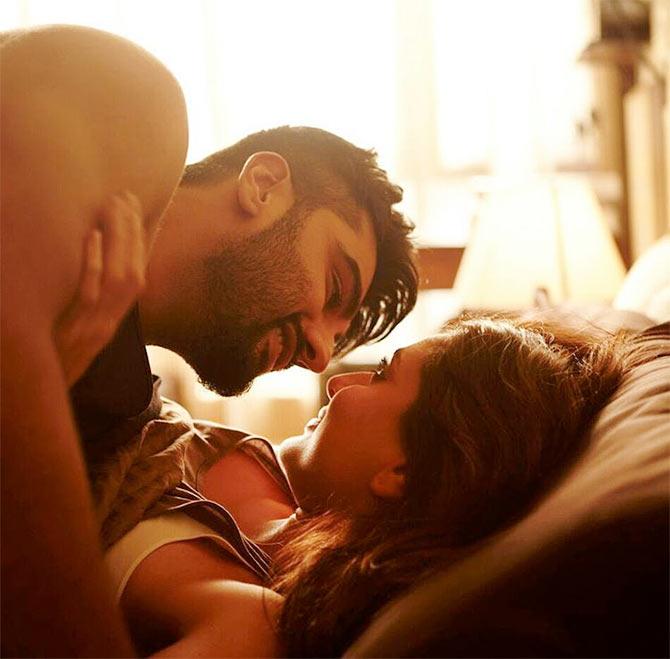 IMAGE: Kareena Kapoor Khan and Arjun Kapoor in Ki and Ka
How difficult is it to approach a character when the film is adapted from a successful book?
I haven't read Half Girlfriend.
Even during 2 States, I had not read the book because there was no need for me to do so. I had got the script.
Mohit (Suri, director) said there's no need to read the book.
I rely on the director. I had a fantastic director (Abhishek Verman) for 2 States and for Half Girlfriend. Mohit is a very capable director.
Besides, I'm not a reader.
IMAGE: Ranveer Singh and Arjun Kapoor at IIFA 2015. Photograph: IIFA Awards/Twitter
If Ki & Ka works out, do you think it will give confidence to the younger generation to opt for such films?
Commercial films always make noise. You always remember the big blockbusters of any actor.
People won't remember Finding Fanny at first when they talk to me, but when they go through my filmography, they will appreciate it.
Varun (Dhawan) did Badlapur. I won't say it's experimental but it's a dark film to do at a time when he had a popcorn image.
Ranveer (Singh) shaved his head and did Bajirao Mastani, and invested a year in it. That's a big risk even though it was made by a commercial director (Sanjay Leela Bhansali).
Ranbir (Kapoor) did Barfi!...
So every actor has that one film in their filmography where they pushed the envelope further.
But I don't care about the box office collections of Ki & Ka; I care about the thoughts and conversation that it brings on.
Woman need to be respected much more in our country. But choices should be allowed for women as well as men. Why should men be pressurised to be a certain way? Why aren't they allowed to cry? Why aren't they allowed to not want to work?
We need to break the stereotypes in a conversation, so Ki & Ka goes beyond numbers for me.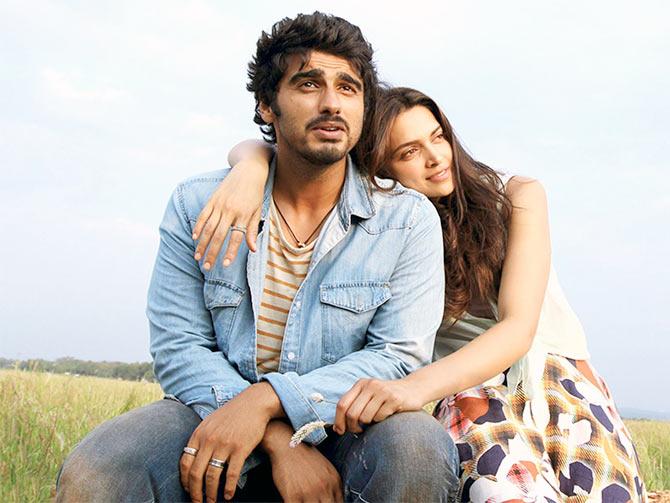 IMAGE: Arjun Kapoor and Deepika Padukone in Finding Fanny
What made you experiment with Finding Fanny?
Finding Fanny was done for a reason.
Ironically, it's my most praised performance. I haven't got so much praise from the critics ever! This, even though Naseeruddin Shah and Pankaj Kapur were there in the film.
I will not stop doing these kinds of films because they don't do well. Finding Fanny wasn't a flop for me. It made Rs 30 crore in India.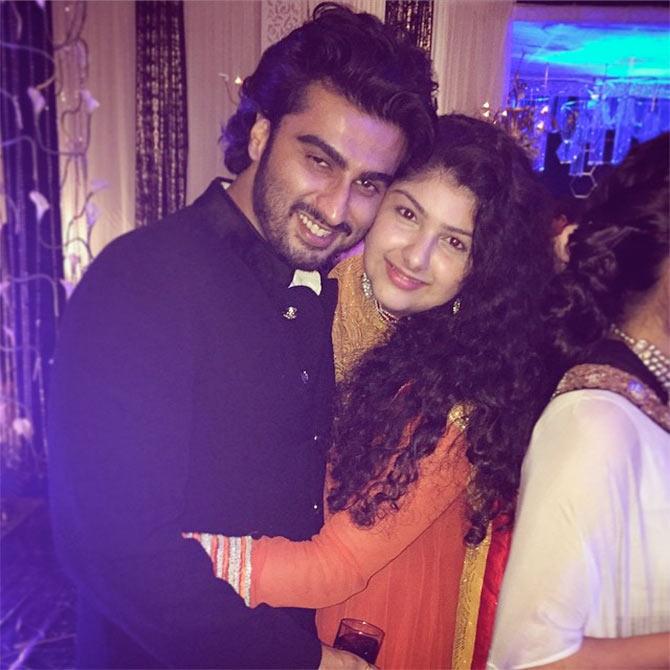 IMAGE: Arjun Kapoor and Anshula Kapoor. Photograph: Anshula Kapoor/Instagram
Were you nervous working with Amitabh Bachchan?
Of course!
In my generation, I am the only one who has worked with Amitji as well as Jayaji.
Someone asked me the other day if I ever got starstruck, and that's the closest I've come to feeling starstruck.
I have grown up with Anil chachu (Anil Kapoor), so for me, Kareena, Priyanka (Chopra), Deepika (Padukone) and Ranbir (Kapoor) are all friends. But Amitabh Bachchan is Amitabh Bachchan! You cannot imagine any casualness with him.
I used to mumble during the rehearsals, then I became okay.
It is an achievement that I will hold very dear to me, that I worked with Amitji before anyone else in my generation did.
And I have been lucky that way, to have worked with some of the most phenomenal actors like Irrfan, Chintu Uncle (Rishi Kapoor), Jaggu Dada (Jackie Shroff), Ronit Roy, Amrita (Singh), Naseer Sir, Dimple ma'am (Dimple Kapadia), Pankaj sir (Pankaj Kapur) and Manoj Bajpayee.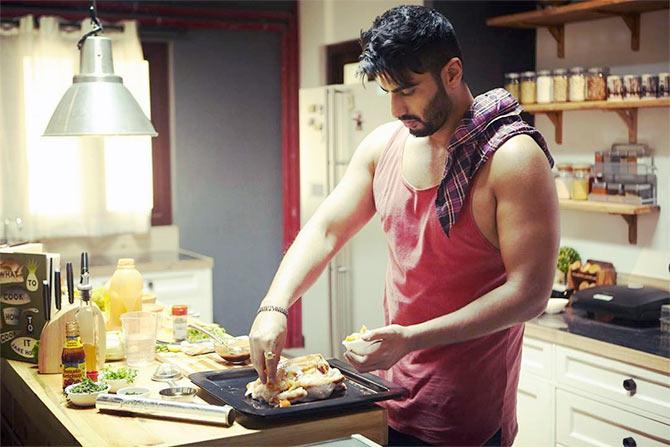 IMAGE: Arjun Kapoor in Ki and Ka
Apart from cooking, has Ki & Ka taught you anything?
I have a new found respect for homemakers because I realised how tough it is to be one. And of course, women who wear heels!
Are you ready for marriage?
I don't believe that I should get married so early because I cannot give my personal life any time right now.
It is unfair to the girl, who will have to play second fiddle (to my career).
It (marriage) will happen at a time when I can make her my priority.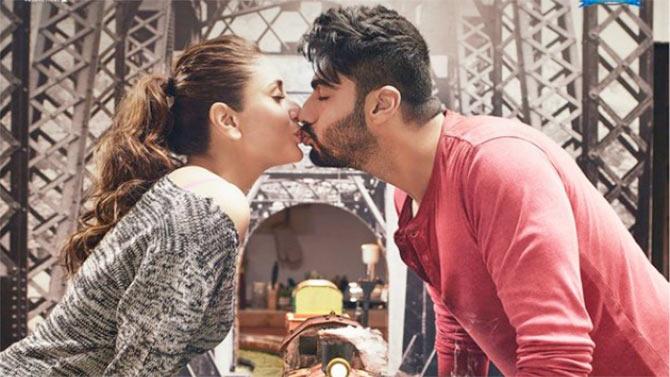 IMAGE: Kareena Kapoor Khan and Arjun Kapoor in Ki and Ka
Some filmmakers use kissing sequences as a marketing gimmick for the film.
It gets picked up very easily by the media because it's titillating.
But I don't think it's a marketing gimmick when it comes to a normal film.
Like in 2 States, how else do you show a live-in relationship?
How do you show the disparity between the older and new generations?
How do you show a couple who is so much in love that they don't care what the world feels?
There has to be some physical intimacy.
It's a simple kiss, really. I serve her tea on our first morning together after marriage, and she pulls me over and kisses me because nobody has made tea for her before.
We cannot show a handshake, na? That would look weird, like something is amiss in the relationship (laughs).