Doesn't he know that the Indian audience has settled itself with a certain strain of mediocrity that lands up at the cinemas every Friday, asks J Jagannath.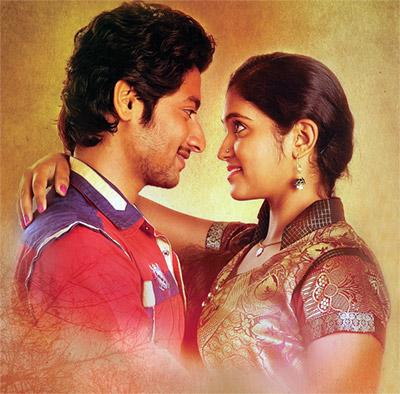 Just who does Nagraj Popatrao Manjule think he is?
Doesn't he know that the Indian audience has settled itself with a certain strain of mediocrity that lands up at the cinemas every Friday?
The vacuous Bollywood nonsense, the snooze-inducing carousel of superhero movies from Hollywood, the hero-worshipping South Indian cinema -- he thinks he's above all these filmmakers?
Even after ruffling enough feathers for a lifetime with his debut feature Fandry, why isn't this Marathi filmmaker nowhere near done with shaking us to our core?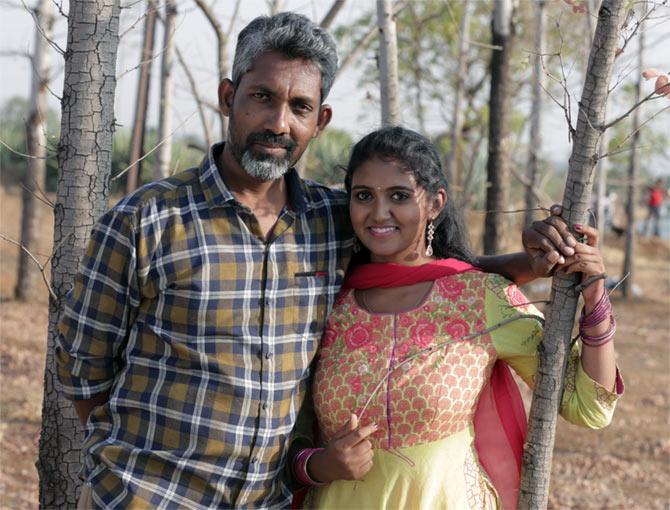 IMAGE: Nagraj Manjule and Rinku Rajguru on the sets of Sairat.
These were a few questions that were swirling around in my head after I watched his new movie Sairat (Marathi for wild).
The film follows the story of Parshya, a lower-caste boy (an understated Akash Thosar), and Archie (a dynamite-like Rinku Rajguru), a daughter of a rich upper-caste landlord and politician, who fall in love despite opposition from society.
The couple manage to elope only to find themselves living under oppressive circumstances in Hyderabad and drawn apart. Tonally, the movie is similar to the 2002 Telugu movie Jayam, but that's where the similarity ends.
Manjule is steadily claiming rural Maharashtra as his own Yoknapatawpha County. Like Faulkner on page, Manjule turns the boondocks into a self-contained universe on screen.
The first half zips through like a TGV in this part social tapestry, part bildungsroman of a movie. Tanaji Galgunde as Langdya and Arbaz Shaikh as Salim, who act as friends of the hero and help him woo his lady love, offer some of the most hilarious scenes in the movie.
With nearly an all-new casting, the director extracted the most possible deftness from their acting and gave it staggering depth. The subtlety in the rawness of the acting will be spoken of for years to come.
Despite its shoe-string budget (Rs 4 crore/Rs 40 million), the movie is a technical achievement. The editing by Kutub Inamdar is taut. The Solapur district is shown at its vibrant best through Sudhakar Reddy Yakkanti's hypnotising lens. Not a single shot in the movie looks 'cinematic'.
There's a shot in the second half where the young couple lands up in Hyderabad after eloping and Yakkanti got the camera tight enough to show us that the girl is drinking bottled water while the boy is quenching his thirst from supposedly dirty water.
Ajay-Atul's resplendent soundtrack took the movie to the next level. This music director duo has barely done any significant work and in Sairat they painted sonic masterpieces like Jackson Pollock (especially in the Yad Lagla track). Quite a few scenes got the requisite fillip from their brilliant background score.
One scene where Archie raises a furore over how Parshya and his friends are being indicted in a false case has slow burning drumbeats reach a deafening crescendo in the background.
IMAGE: Rinku Rajguru and Akash Thosar in Sairat.
Throughout the movie my jaw kept dropping, but it reached the floor when that climactic shot unfolded.
I have been stuck long enough to the blistering barnacles of the cinemas showing insipid, trite stuff that when I witnessed that outstanding climax, Manjule managed to wake me up from my stupor.
He is giving us film goers hope that it's quite possible for an Indian to make that most coveted hybrid of a movie: An international film festival darling (it got a standing ovation at Berlinale last year) and a wonderful commercial success.
This is the kind of a film we expect from Ken Loach, Mike Leigh, Dardenne brothers, maybe even Bela Tarr.
The best part is that Manjule wears his politics on his sleeve and he stands next to each of us at the cinema goading to mess with the status quo.
This year quite a few pieces of art have deeply affected me already: Season Five of Girls, the Neapolitan tetralogy by Elena Ferrante, an album called Pool by Porches, an American synthpop project of New York-based musician Aaron Maine. This brave new film is the latest addition to this list.
PS: If you want to see what this movie would have looked like if the couple had courted each other in their mid-20s, check out the Malayalam film Annayum Rasoolum.