'I may have been six, but children at that age are aware that there is something called death. I was petrified for Pa, but tried not to show it. I would pray every night, begging for his recovery, at the same time sneaking in a request for a new toy or a pencil set.'
'Aishwarya is like an anchor for me. My parents had always given me freedom to do whatever I wanted. I was carefree. After marriage and my daughter's arrival, I have become more responsible. Aishwarya is my buddy, a friend. I can discuss anything with her.'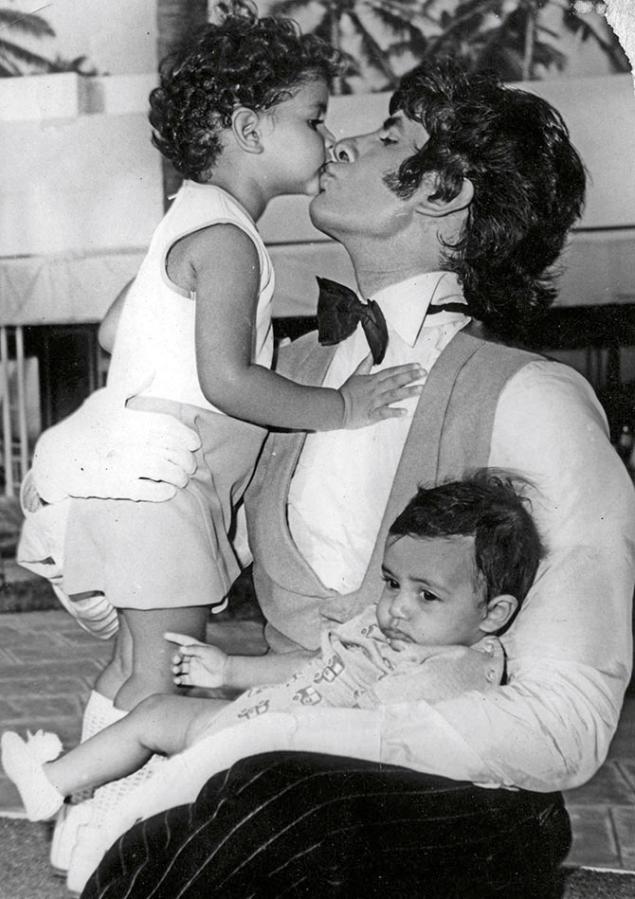 IMAGE: Abhishek and Shweta share a loving moment with their father.
Abhishek Bachchan's life has been documented in a book called Abhishek Bachchan: Style And Substance, which has some interesting anecdotes and photographs from his life.
The book begins with his childhood as son to doting parents Amitabh and Jaya Bachchan and his relationship with his sister, Shweta, before moving on to his movie career, marriage to Aishwarya and, later, as father to Aaradhya.
Author-cum-photographer Pradeep Chandra, who has been clicking the actor since he was a child, also captures Abhishek's state of mind when his illustrious father had a near-fatal accident on the sets of Coolie in 1982. Abhishek was six years old then.
We produce excerpts from the book here.
As a child, the biggest event in his life would be his father returning home at the end of the day: 'I would keep staring at the door and the vacant space beyond it till he walked in dramatically. On sighting him, I would jump on his back and hold him tight right till the time I became heavier, taller and a pain in the neck.'
He goes on to narrate:
'In 1982, when I was six, Pa was carried into our suite at the West End Hotel in Bangalore [now Bengaluru].
'I bounded towards him happily, eager to jump on his back, not realising that he had been grievously injured [he had a near fatal accident during the shooting of Coolie].
'That was the first and last time he pushed me away from him.
'I was so upset about the snub that I immediately went into a big sulk. All four of us in the family are huge sulk masters. Ma and I sulk for an hour or two but Pa's and Shwetdi's sulks can last for a month.'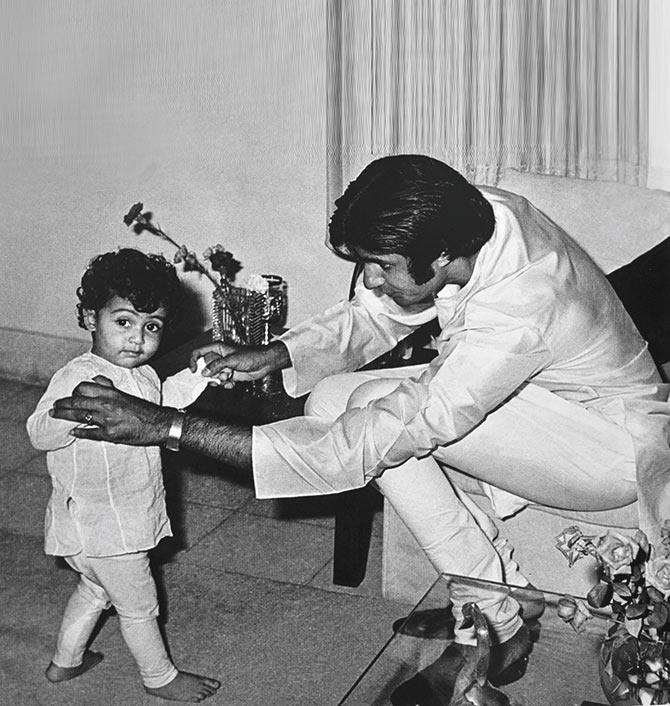 IMAGE: An early photograph of Abhishek where his father helps him take his initial steps.
The door was left ajar and Abhishek could see his father moaning in excruciating pain.
As he was sulking, he ignored his father, concentrating, instead, on his Pac-Man video game.
The next morning, he and his sister were packed off to Mumbai; the first time they were flying alone.
He recalls going to the Breach Candy Hospital (in Mumbai) every day to see his father, who was in the intensive care unit.
In an interview with India Today, he noted that it was like one big game: 'Whenever we walked into the ICU, my dad would point at all the bottles and drips and say, 'Look, I've got kites for you.' We were preoccupied with wearing masks and playing the doctor. It wasn't a time of sorrow or distress.'
The nurses used to give the two children masks so that they could play doctor-doctor in the lounge outside.
While his parents tried to make this phase as mellow as possible for the children, there were times when the dark side of reality would reach him.
Once, when he was playing in the school backyard during recess, a kid came up to him and asked, 'Your father is going to die, isn't he?'
The question had a tremendous impact on Abhishek; he blanked out and, at night, he suffered from a severe asthmatic attack.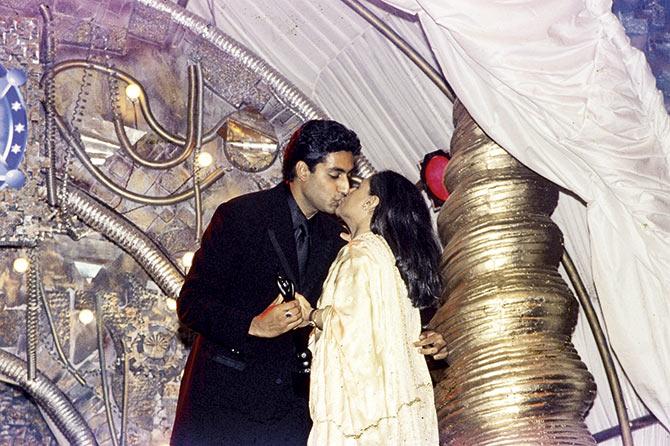 IMAGE: Though a self-confessed disciplinarian, Jaya shares a very close bond with her children.
Ma was going through hell, dealing with two guys, one at hospital and the other at home.
'The next day I was allowed to miss school, which was fantastic for a kid.
'I remember being propped up in bed, watching Star Wars on video and crunching on a chocolate-wafer slab.
'I may have been six, but children at that age are aware that there is something called death. I was petrified for Pa, but tried not to show it.
'I would pray every night, begging for his recovery, at the same time sneaking in a request for a new toy or a pencil set.'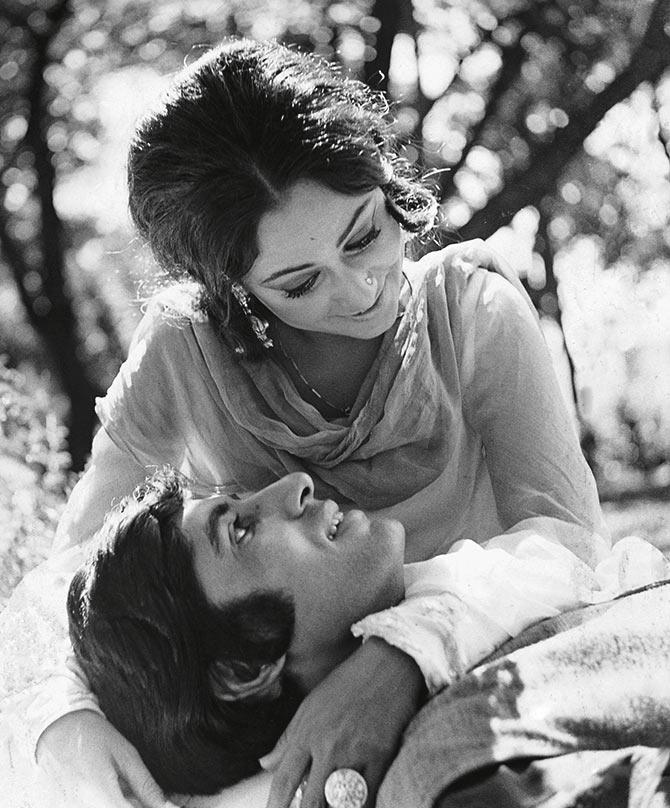 IMAGE: Amitabh and Jaya enact a romantic scene.
The day Amitabh came out of the hospital from Room No 306, hair cropped, walking with a stick, Abhishek, who reached up to his knees, clutched his father's finger tightly and tried to steer him through the massive crowd that had gathered in the hospital's compound.
It was his little way of protecting his dad, a habit which he still has of clutching on to his father's finger in a crowd.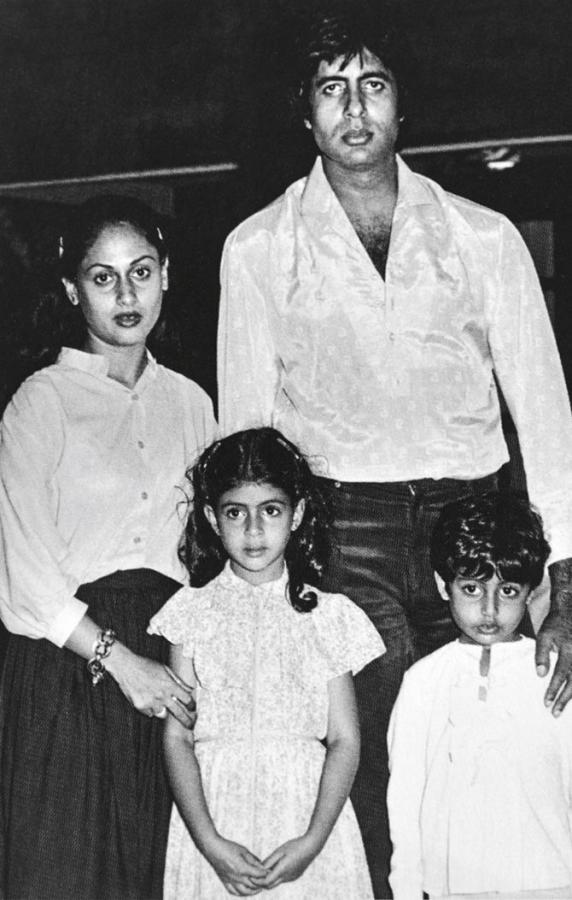 IMAGE: The Bachchan Family: Abhishek recalls having a magical childhood, full of love and care.
The relationship that Abhishek shares with his father is that of a friend: 'It was Dada (his paternal grandfather) who said that a son ceases to be a son the day he can fit into his father's shoes. We both wear size 10 and I fit into Pa's shoes at the age of 14.'
The buddy factor runs back that long.
They watch soccer matches together and, since the time he was a kid, Amitabh would treat him like an equal, like the man of the house.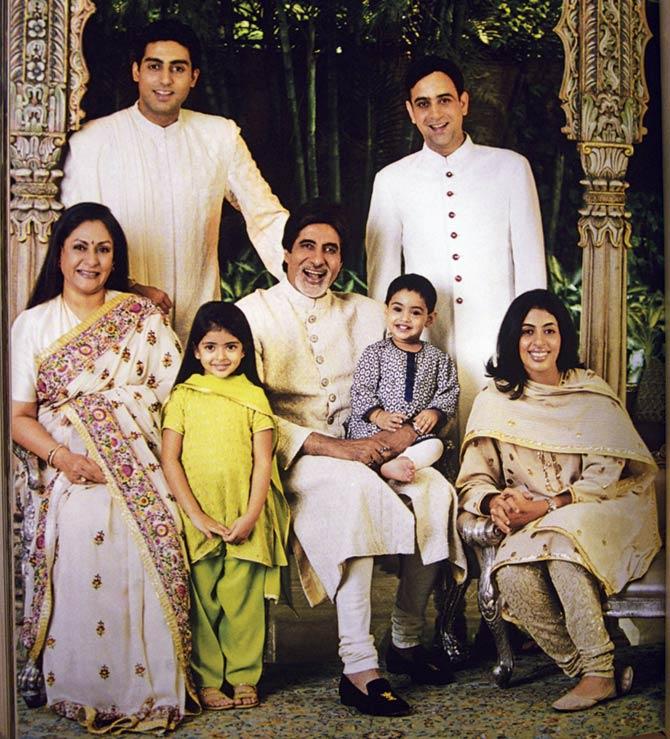 IMAGE: With Shweta's husband Nikhil Nanda and their children, Navya Naveli and Agastya.
When he would leave for an out-of-town schedule, Pa would request me to look after my Ma and sister.
Whenever we would be caught in a crowd, his index finger would drop right before my eyes and I would clutch at it.
Ma and Shwetdi would be there, trailing behind us and he would say, while holding my hand, 'Come, let's look after the women'.
He would encourage me, even as a kid, to take charge of situations.
***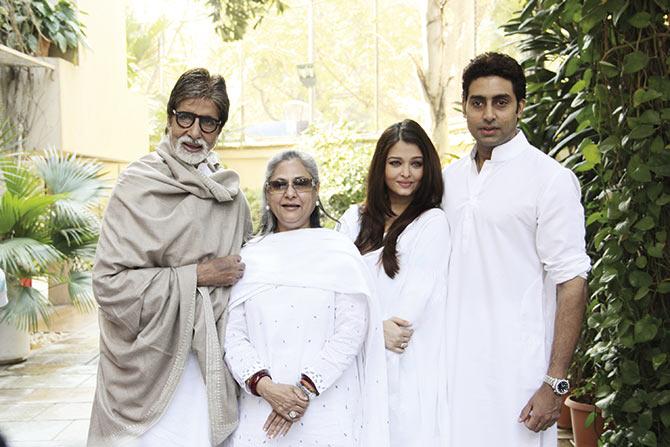 IMAGE: The Bachchan power couples.
Tagged as the 'world's most beautiful Woman', Aishwarya Rai Bachchan was born into a traditional south Indian family.
She was a student of architecture before she took up modelling as a part-time job and was best known for her Pepsi commercial with Aamir Khan and Mahima Chaudhry.
After being crowned Miss World 1994, she was flooded with film offers and went on to win the Filmfare Best Actress Award for her role in Hum Dil De Chuke Sanam in 1999.
Aishwarya has an impressive line-up of films to her credit and is the first Indian actress to be on the jury of the Cannes Film Festival. Once, when asked about her ideal man in an interview, Aishwarya commented: 'My ideal man should be madly in love with me because I won't have it any other way. I am a total romantic at heart, so naturally, my ideal mate better be well versed in the art of romance. Not flirting, but romance. And there is quite a difference. I dig dignity. It is rare and priceless in a world that's so taken over by images and put-ons.'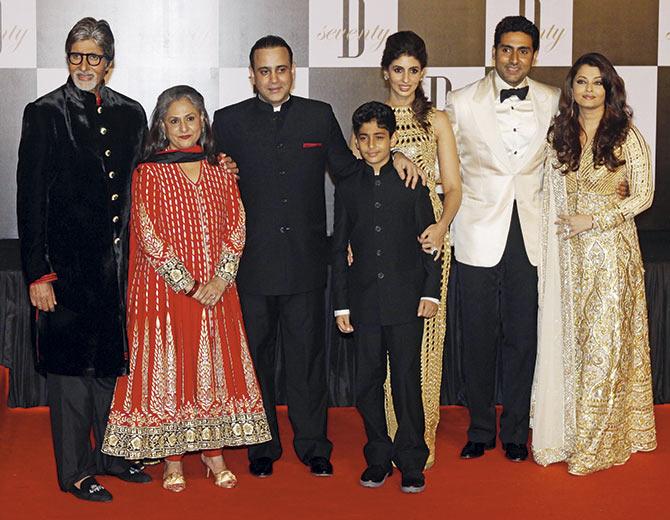 IMAGE: All in the family.
Her search ended when she found Abhishek, who, she says, is her source of inspiration: 'He is always so supportive. Whenever I am confused and don't know what to do, I look at him and he solves the duality in me like magic.'
How did this magic begin? Even though the two did a string of films together, each had their personal love lives. It is said that it was during the shooting of 'Kajra re' for Bunty Aur Babli that the chemistry between the two was noticed.
They came closer while shooting for Guru and got married on April 20, 2007.
During an interview with Oprah Winfrey, Abhishek shared, 'I was filming in New York for a movie and I used to stand on the balcony of my hotel room and wish that one day, wouldn't it be nice if I was together with her, married.'
Several years later, when they were in. New York after attending the premiere of Guru in Toronto, Abhishek took her to that balcony and proposed marriage.
The ring he carried was a prop from the sets of Guru -- the same ring that Abhishek had slipped on Aishwarya's finger in the film.
He, in fact, had asked the producer if he could keep the ring for sentimental reasons.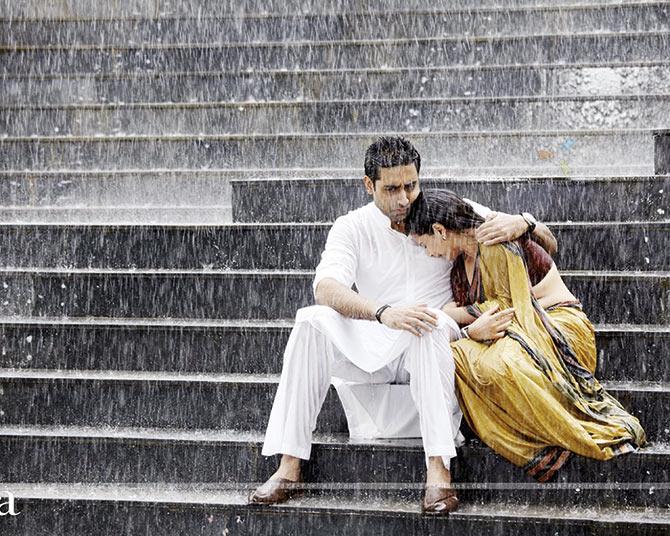 IMAGE: With Vidya Balan in R Balki's Paa, where Abhishek played Amitabh's father.
Abhishek confessed in an interview with DNA After Hrs: 'Aishwarya is like an anchor for me. My parents had always given me freedom to do whatever I wanted. I was carefree. After marriage and my daughter's arrival, I have become more responsible. Aishwarya is my buddy, a friend. I can discuss anything with her. Our relationship is not based on her being the Aishwarya Rai or me coming from an illustrious family. It is just about two people falling in love which was organically grown. We shot three back-to-back films for a year at that time. It started during Guru. We were meant to be, it is destiny.'
A father since November 16, 2011, Abhishek has embraced this new role in his life wholeheartedly.
Aaradhya Bachchan means everything to him, he enjoys every aspect of her growing up, from the first bubble bath to her first word.
He feels that, at times, Aaradhya behaves older than him.
'She is a very easy, very happy and very loving kid. I will never do anything that will bring shame to my daughter today or 10 years down the line,' he declared in an interview (DNA After Hrs).
As for his experience as a father, he told People magazine, 'Every parent has a special bond with his or her children. The greatest thing about parenting is (that) it's an instinct. On the arrival of your baby, it just kicks in. I'm just very happy spending time with her.'
Excerpted from Abhishek Bachchan: Style & Substance by Pradeep Chandra, with the kind permission of the publishers, Niyogi Books. Photographs: Pradeep Chandra