'The biggest myth is that one can achieve six packs by working out for six months and taking supplements and steroids.'
If you're in showbiz, a beautiful body is as important as acting talent.
And that's why Bollywood stars line-up behind fitness instructors to help them achieve their dream figures.
Fitness instructor Yogesh Bhateja trains Esha Gupta, Sonu Sood, Farah Khan and Kapil Sharma.
He shares the secrets behind their slim bodies.
Esha Gupta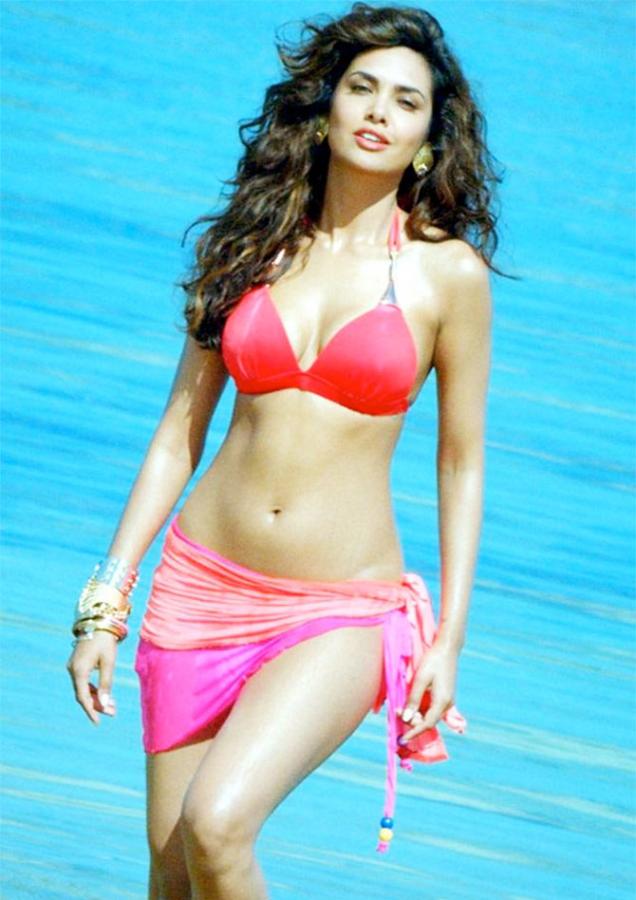 Image: Esha Gupta in Humshakals
When Esha Gupta came to me, she was already in good shape.
Esha loves working out in the gym and takes her fitness very seriously.
Most of the time she does weight training and likes to go for long walks on a natural surface. She doesn't like to walk on a treadmill.
Fitness Regime
Her neuromuscular coordination is so good that we can easily perform compound movements.
Compound movements are when at one go, we are targeting to develop more than one part of the body, building multi muscles. Normally, we just work out on one part of the body, but in Esha's case, we can easily target to burn fat faster and get into good shape really fast.
Our exercise routine varies from day to day, from single body part workouts to circuit workouts, heavy weights to normal weights.
Diet
Esha starts her day with black coffee, oats and a couple of boiled eggs.
She is an eggetarian. After her workout, she has a protein shake.
For lunch, she has brown rice with dal.
For an evening snack, she prefers poha or besan cheela. She likes dhokla as well.
She keeps dinner light -- boiled eggs or egg white omelettes. Sometimes, she has idli with grilled vegetables.
She loves fruits and binges on them in between meals.


Sonu Sood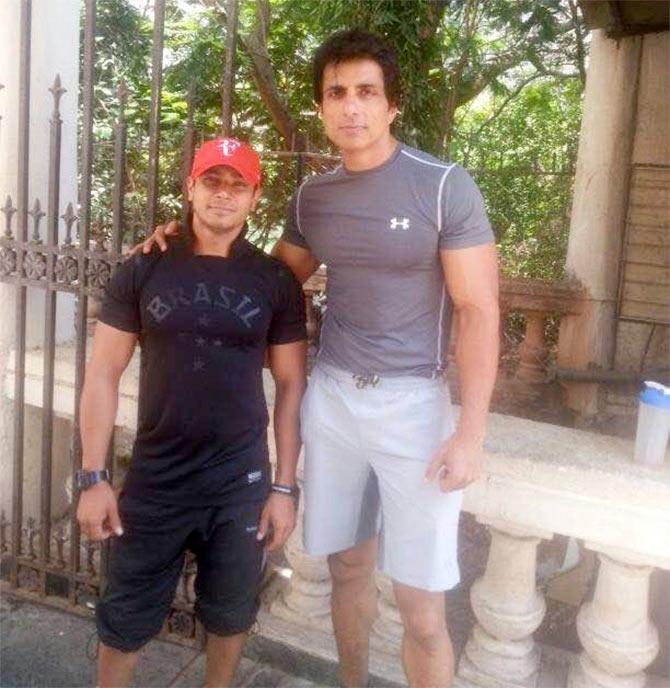 Image: Yogesh Kumar with Sonu Sood
I have been training Sonu sir for a couple of years.
Just before he came to me, he had twisted his right ankle and suffered multiple fractures, playing a Celebrity Cricket League match.
He was a little out of shape, but his enthusiasm was high. I have never seen anyone so passionate about fitness.
Fitness regime
Gym trainers usually advise you to work out five days a week but Sonu works out every day.
His schedule is very busy and erratic. On days he is travelling or shooting, he might skip the gym. His thinking is that if he aims to work out all seven days in the week, he will end up hitting the gym for at least five days.
Sonu is very dedicated to his workouts. I have seen an amazing transformation in his body. His muscle mass has increased and he looks toned, fit and healthy.
There is no fixed fitness routine. We perform a mix of circuit training, functional training and cardio exercises.
Sonu has been working out for the last 17 years so his six pack abs are not an overnight phenomenon.
The biggest myth is that one can achieve six packs by working out for six months and taking supplements and steroids. I am totally against these artificial things.
Even if a person takes these supplements or steroids, he has to work out and modify his diet and change his lifestyle.
Diet
Sonu wakes up by 6 am. The first thing he does is drink a lot of water, which helps in flushing out all the toxins.
Like Esha, Sonu is an eggetarian, doesn't have any caffeine and is a teetotaller.
For breakfast, he has oats with around four to five boiled eggs.
He then hits the gym and works out for between an hour to an hour-and-a-half.
After the workout, he has a protein shake and a banana.
For lunch, he has brown rice, dal and a lot of salad.
In the evening, he has another protein shake and an apple.
For dinner, he has five to six boiled eggs, boiled vegetables and a protein shake.
He must have protein shake three times a day because he doesn't eat non-vegetarian food and there must be a good source of protein to maintain a good and healthy physique.
A person's intake should be 1.2 grams of protein per kilogram of his own body weight.
Sonu weighs around 90 kilos so he needs around 110 to 120 gm of protein every day.
He also takes multivitamin tablets. I would suggest that everyone who does any kind of workout should have multivitamins so as not to miss out on essential nutrients.
Farah Khan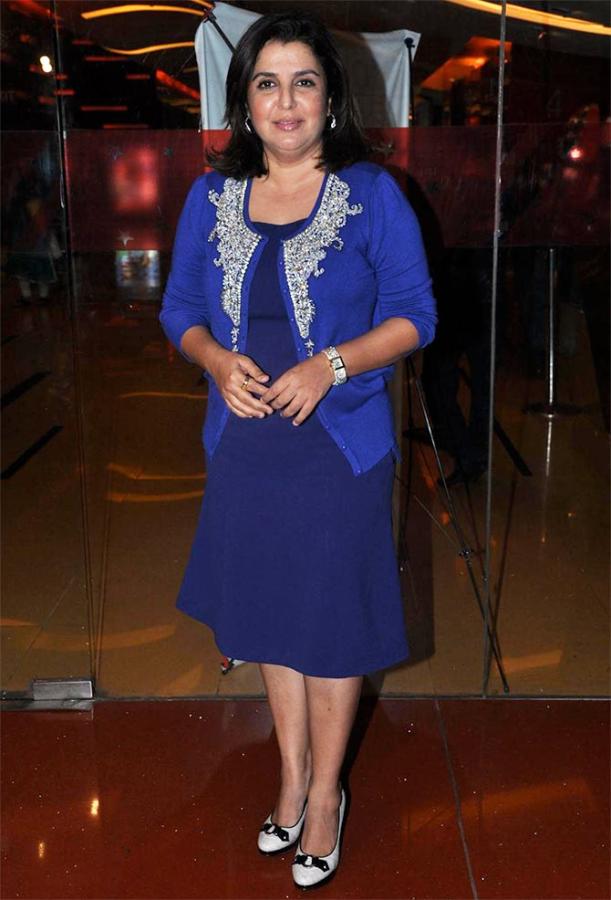 Image: Farah Khan. Photograph: Abhijit Mhamunkar
Sonu Sood introduced Farah Khan to me. I first met her in December 2013, when she had started shooting for Happy New Year.
Farah is a very dedicated person. The problem is, she has a very hectic routine because of which her weight fluctuates a lot.
Whenever she stops working out, she gains weight very fast. It just takes a week for her to gain two to three kilos.
But in the last one year, she has become very dedicated to her workouts.
She has lost more than seven kilos in the last one year.
Fitness regime
Farah's day starts at 6 am, as she has to send her kids (Anya, Czar and Diva) to school.
She enjoys her workout; working out is recreation for Farah.
She always hits the gym at around 10 am. The next one hour is a fun session.
She likes to try different variations and we do a a variety of exercises in the gym. She starts of doing some stretching exercises for 10 minutes and then moves on to the cross trainer for 10 minutes and then asks me what to do next.
I look at her mood and modify her exercise. If I feel that she is stressed with her work, I don't ask her to lift weights; instead, we do normal floor workouts.
I include everything in my workout -- from cardio to running, whatever helps.
There is one exercise we rigorously followed during the shooting of Happy New Year.
Farah lives on the 35th floor, so every day, after the workout, I made her climb the stairs. We added one floor every day. We did it till 17 floors and, trust me, it was not easy.
We have recently started working out again and this time our target is 35 floors.
Diet
I haven't put Farah on an aggressive diet, as she knows exactly what is good for her.
She starts her day with a cup of tea along with one or two biscuits or two boiled eggs.
After the workout, she has vegetable juice.
She gets her protein intake from chicken. She prefers grilled chicken or fish for lunch. In the evening, she has muesli or vegetable salad.
For dinner, she has a clear chicken soup.
She eats a lot of fruits during the entire day.