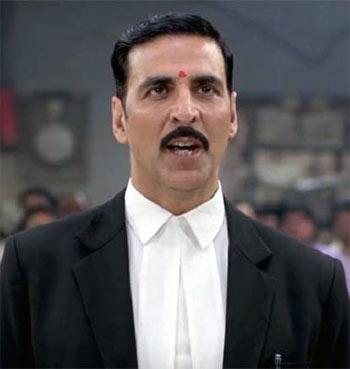 Before Akshay Kumar takes centrestage in the courtroom this Friday, here's looking at filmi lawyers before him.
Dev Anand tricks a woman into admitting her crime in Paying Guest.
Nargis argues no man is born a criminal in Awara.
Rajendra Kumar picks ethics over emotional ties in Kanoon.
Sunil Dutt proves his brother's innocence in Waqt.
Bottom-line: Courtrooms get a lot of love from Bollywood.
Here, words wield power while offence and defense collide to persuade the judiciary and provide engaging indoor action or amusement. Comedy or drama, the lawyer gets to say all the punch lines, have the last laugh.
Jolly LLB 2 chronicles Akshay Kumar's escapades as a small-time, smart-alecky legal eagle after he decides to use his cunning for the greater good of the common man.
Meanwhile, here's a list of actors who made their case most notably before him. Got a favourite? Take this poll!
Amitabh Bachchan, Pink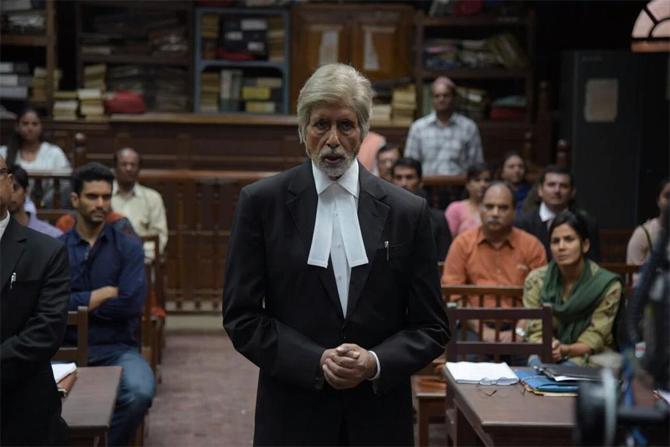 The Big B's weighty presence and a baritone that says business like no one else combine powerfully in the critically-acclaimed Pink to legally represent a trio of harassed girls and duly emphasize why 'no means no.'
Rajkummar Rao, Shahid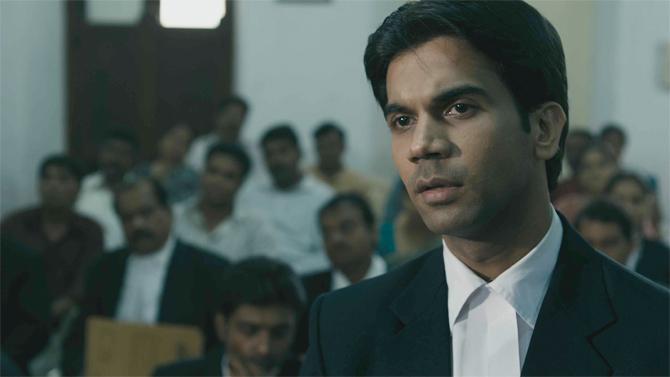 Rajkummar Rao's National-award winning portrayal of a real life lawyer and human rights activist stays true to the gritty, uncompromising tone of Shahid.
Aishwarya Rai Bachchan, Jazbaa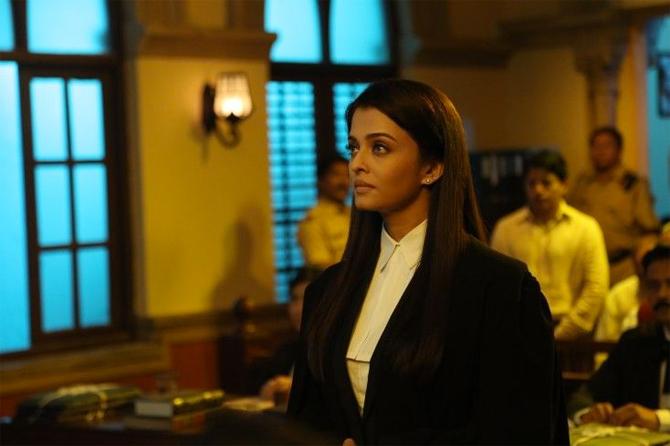 As the tough criminal lawyer with an unblemished record blackmailed into defending a rapist by the kidnapper of her daughter in Sanjay Gupta's remake of South Korea's Seven Days, Ash is captivating if not quite compelling.
Read the reviews: Sukanya Verma/ Raja Sen
Arshad Warsi, Jolly LLB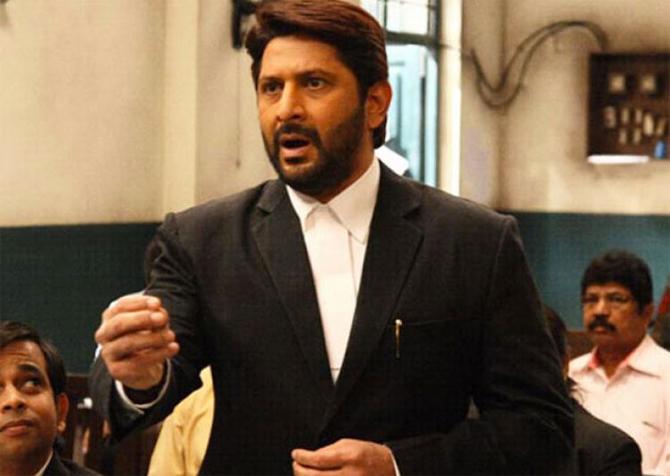 Akshay may have raised the scale of the satirical franchise but its credit goes to Arshad Warsi. His fun and fabulous depiction of the titular character in the first is the reason why there's understandable buzz around the second.
Rani Mukerji, Veer Zaara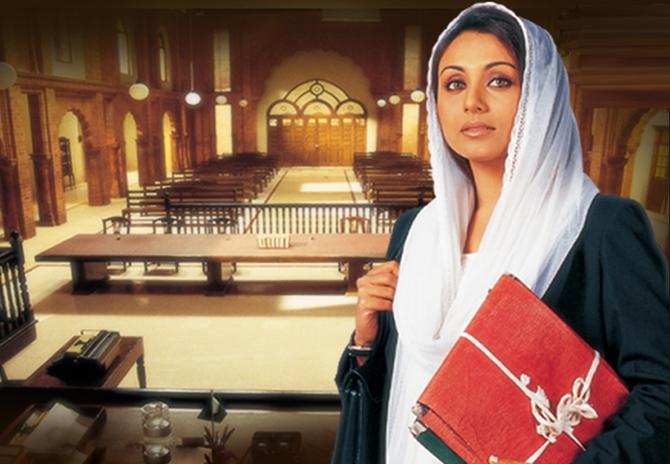 Rani Mukerji isn't only a kaabil waqeel but a romantic one too. Thanks to her spirited efforts, a cross-border romance caught in a limbo for two decades finally achieves its fairy tale ending in a way only a Yash Chopra film can.
Kareena Kapoor, Aitraaz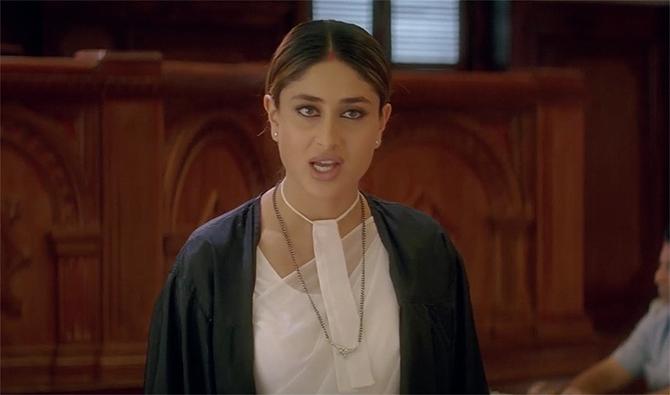 Kareena Kapoor brings out her claws and lawyer's costume to fight for her husband in a case of sexual harassment and ensure the lustful ex-girlfriend is put behind bars under Abbas-Mustan's fully filmi direction.
Lara Dutta, Azhar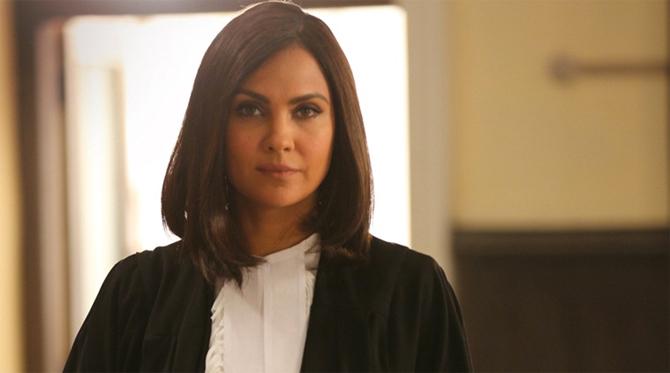 In this bombastic biopic of Indian cricketer Mohammad Azharuddin, nothing is subtle. Certainly not Lara Dutta's wrath as the brooding fan behind the brutal barrister.
Read the reviews: Raja Sen/ Prem Panicker
Sunny Deol, Damini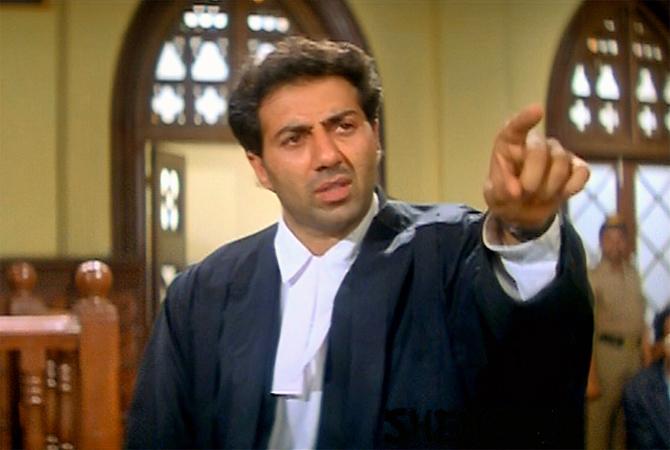 The silver screen still trembles at the memory of Sunny Deol's temper and volatile dialoguebaazi as Damini's extraordinary lawyer and Amrish Puri's worst nightmare.
Anil Kapoor, Meri Jung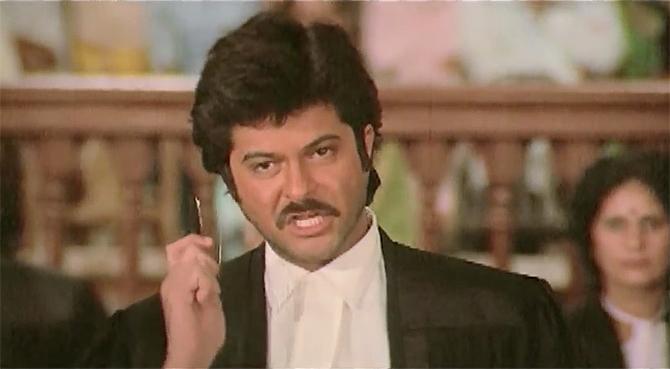 Few lend the sort of intensity and conviction Anil Kapoor can whilst taking on a pushy colleague or a shot in the dark as the shrewd, dramatic trial lawyer of Meri Jung.
Govinda, Kyo Kii… Main Jhuth Nahi Bolta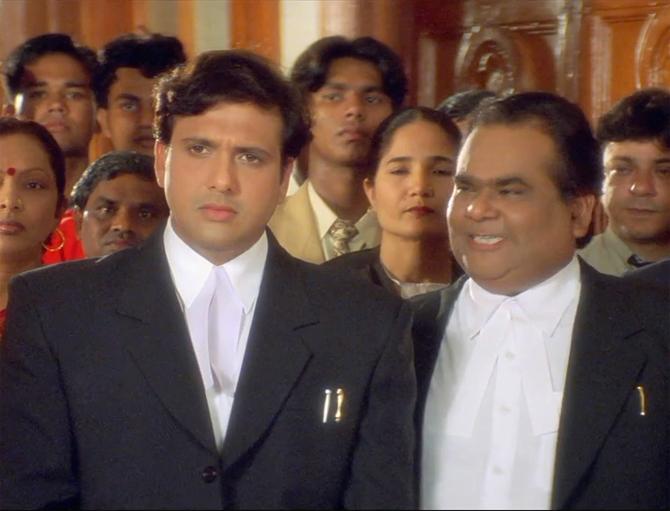 Govinda is reliably rib-tickling going from devil's advocate to truth-telling attorney as the desi version of Jim Carrey's Liar Liar.
Sushmita Sen, Main Aisa Hi Hoon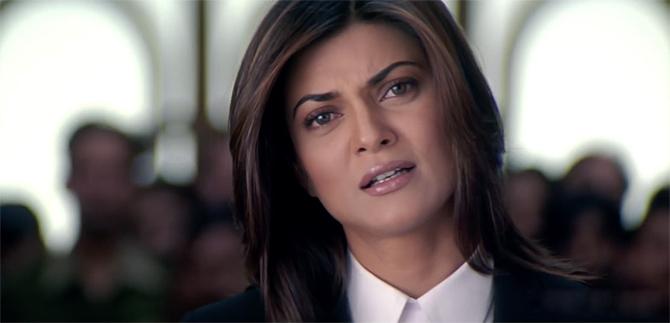 The former Miss Universe infuses her signature blend of beauty and benevolence to substantiate her autistic client's ability in raising his kid alone. And when she cannot, she promptly marries him to win the case. Advantage Bollywood.
Akshaye Khanna, Deewangee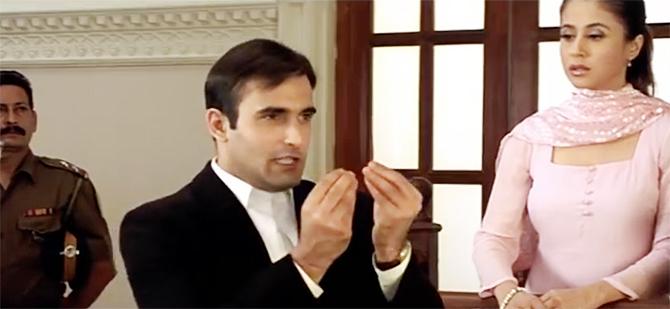 The always impressive and underrated Akshaye Khanna gets inside the messed up head of a man he believes to be guilty to confirm his suspicions aren't unwarranted in this Primal Fear rip-off.
Lisa Ray, Kasoor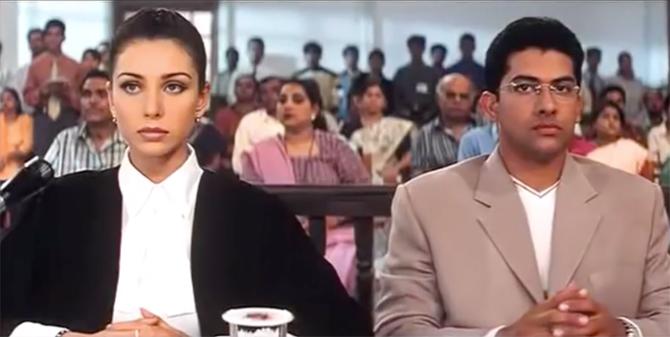 What's it with attractive advocates and their tendency to fall for the handsome criminal mind they're defending?
Lisa Ray keeps the tradition alive with little seriousness and a lot of sizzle in the successful copy of Hollywood's Jagged Edge.
Abhishek Bachchan, Phir Milenge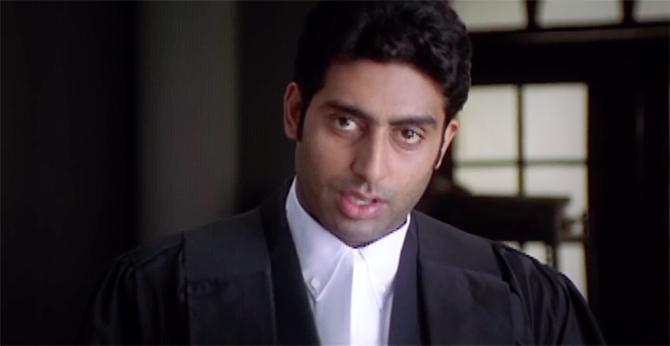 Phir Milenge showcases Abhishek Bachchan's strength as the sensitive lawyer, who successfully helps his HIV positive client in suing the company that's unfairly fired her as well as bust a few myths about the disease.
Konkona Sen Sharma, Right Yaa Wrong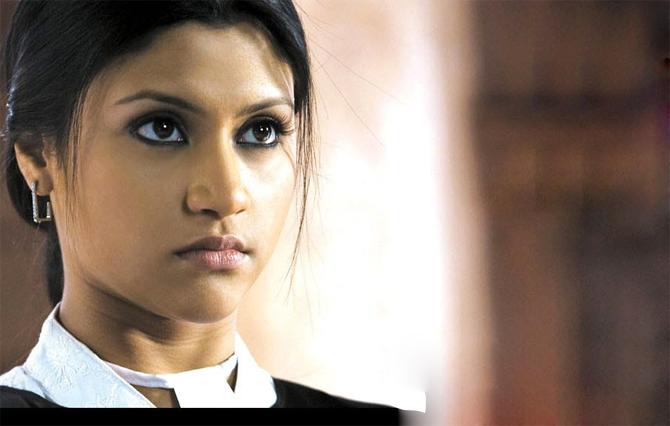 There's not much of a role or screen time but Konkona tries her best when she steps up to defend her brother's friend-turned-foe in court.
Amjad Khan, Chameli Ki Shaadi
Laughs and love-related gyaan follow as Amjad Khan's Advocate Harish meddles to bring about the union of young, foolish lovers in Basu Chatterjee's delightful comedy.
Naseeruddin Shah, Aakrosh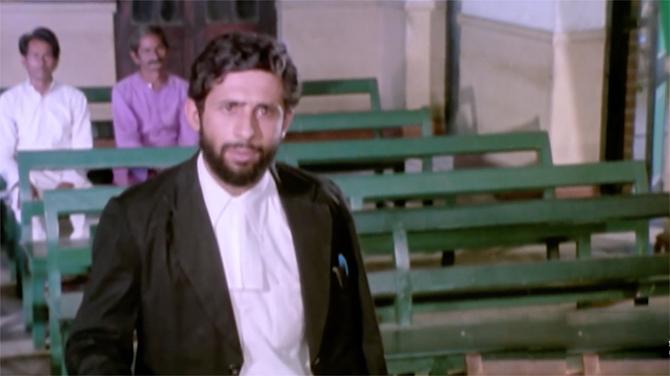 Gifted actors and pithy storytelling power the Govind Nihalani classic. It boasts of a superlative performance from Naseer as the idealistic lawyer desperate to extract a statement from the tribal, who refuses to utter a word against a convoluted legal system that won't make life easy.
Jeetendra, Justice Chaudhary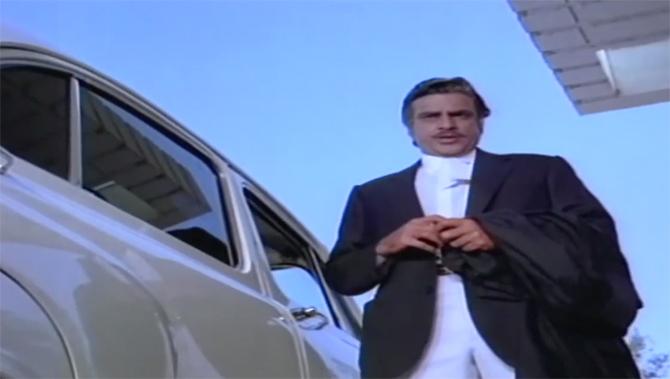 In this money-spinner, Jeetendra plays a can-do-no-wrong brand of legal eagle even when he's extorted to otherwise. Bollywood would be better off reviving Justice Chaudhary in place of that shoddy Himmatwala.
Shatrughan Sinha, Vishwanath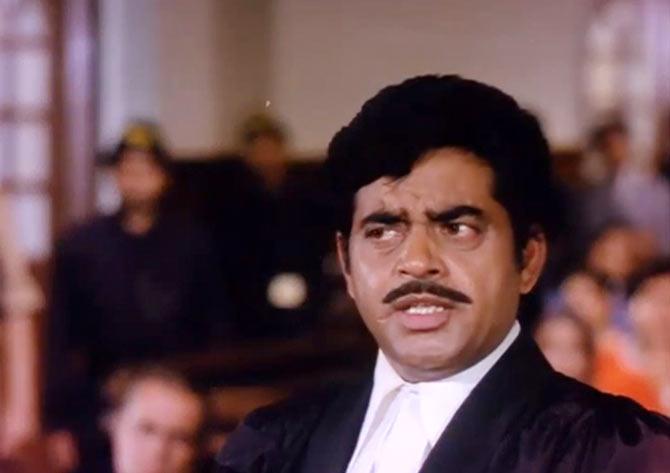 From lawyer to lawbreaker, Shotgun makes his own rules in one of his milestone movies. "Jali ko aag kehte hain, bhuji ko raakh kehte hain. Jis raakh se barood bane, usse Vishwanath kehte hain." Who dare stand up against that anyway?
Rekha, Mujhe Insaaf Chaiye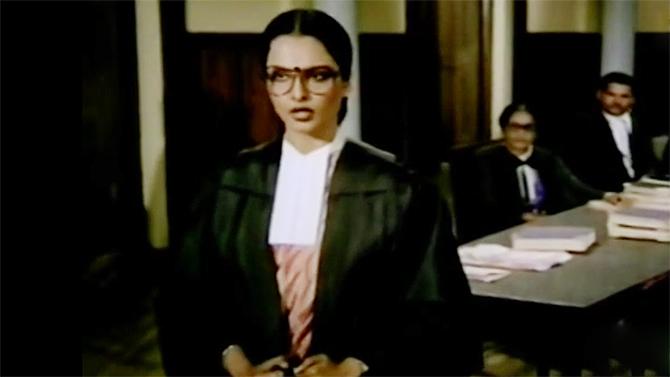 Ever so eloquent and authoritative, Rekha advocates women's rights in a short but strong turn for a script that's almost unworthy of her presence.