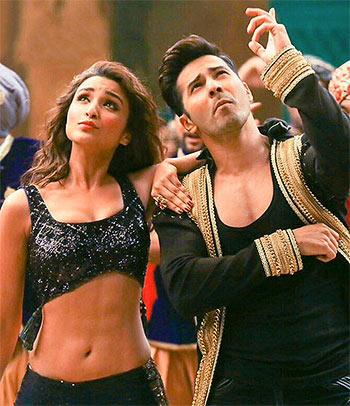 'I have failed many times before getting the songs that you have been hearing since 2012. Go Go Govinda was my first song. Before that, there was a lot of struggle for eight-nine years. I faced only rejection and failure then.'
'When you fail, you have more willpower and hunger to do good work.'
But for now, singer Aman Trikha is riding on a wave of success.
Jaaneman Aah seems to have contributed to Dishoom's big success at the box office. And singer Aman Trikha is elated.
He calls this song, 'the most likeable and attractive dish of the restaurant' and says he knew he would be a hit.
Trikha, who has sung songs like Gerua (Dilwale) and Prem Leela (Prem Ratan Dhan Paayo), tells Jahnavi Patel/ Rediff.com more about the song, and himself.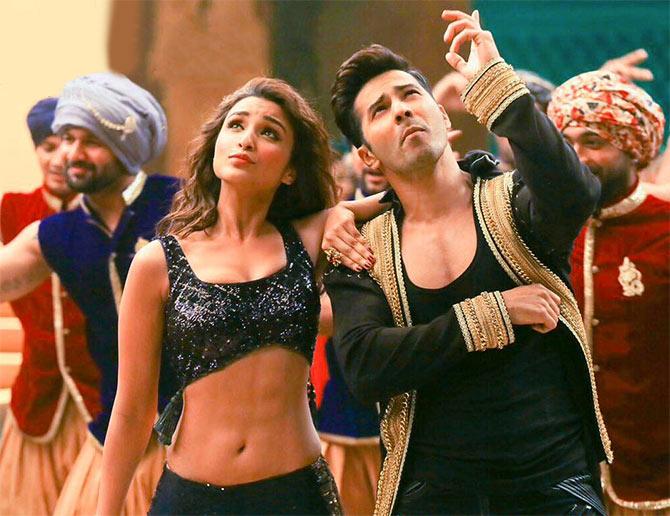 IMAGE: Parineeti Chopra and Varun Dhawan in the song Jaaneman Aah from Dishoom
How was the experience working with Pritam, who gave the music for Jaaneman Aah?
I was longing to work with Pritam. To get this big song was a bonus.
Songs come and go but there are some rare songs that are properly recognised by people.
Pritam and I have worked together before -- I have sung scratches for him -- but this time, everything clicked. I'm so happy.
He is very particular about what he wants in the voice or the song. He and (director) Rohit Dhawan liked the song.
At the song launch, Varun (Dhawan) and Parineeti (Chopra) also had great things to say about it.
The lyrics are quite unusual.
I knew it was a super-hit song when I was singing it. When you sing a song, you know if it will be huge. How huge, you don't know. That's decided by the people once it's out. But I knew it would create an impact.
A lot of songs have been made with the word 'Jaaneman' but what is Jaaneman Aah? That would make people curious.
Lyricist Mayur Puri has written the wackiest lyrics. It is typical 1990s masala lyrics. The lyrics are bold in nature, and the lyricist wrote his heart out according to the demand of the song. It's basically the most extrovert declaration of anyone's love for the other person.
The song has an addictive tune as well.
How much do lyrics matter for a song?
Lyrics are the backbone of the song. They should justify the nature or theme of the song. You can't write joyous lyrics for a sad song or vice versa.
The tune and lyrics go hand-in-hand and the singer adds his inputs. A mediocre tune can be taken to another level by superlative lyrics. If the tune is superb and the lyrics are hollow, they will not justify the song.
Video: Aman Trikha sings the Jaaneman Aah song from Dishoom
Do you think it is necessary to emotionally connect to a song when you are singing it?
Absolutely. You have to role play the song. I became Varun Dhawan while singing it.
Frankly, I did not know on whom the song would be picturised. I knew it would be for Dishoom but did not know which hero would be in the song.
I was given the brief, and told to emote as madly as possible.
You have to be in the space of the song or else your voice will not connect to it.
When I sang Prem Leela (from Prem Ratan Dhan Payo), I was Salman Khan and was emoting like how he would on particular words and expressions.
Varun is young, energetic and a great dancer, so I had to be like that.
Varun Dhawan and Parineeti Chopra's chemistry has been much appreciated. Do you think that helped the song?
Yes, of course, it helped. The audio value of the song added to the video, it was very powerful.
Varun and Parineeti got into that mood of madness, which was very important. They did not go wrong because they loved it.
They got just 16-17 hours to rehearse, so it was a great thing to pull off the song. They have done a fabulous job and taken the song to another level.
Ahmed Khan, the choreographer, must be appreciated too.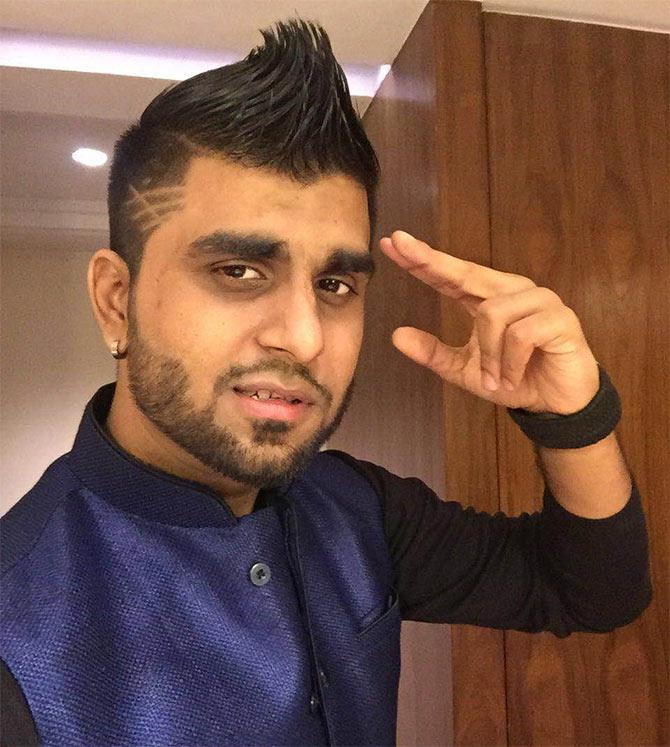 IMAGE: Aman Trikha
You have sung many hit songs. Do you fear failure?
Yes. It isn't like I haven't failed earlier.
I have failed many times before getting the songs that you have been hearing since 2012.
Go Go Govinda (from OMG- Oh My God) was my first song. Before that, there was a lot of struggle for eight-nine years. I faced only rejection and failure then. I had my share of struggles.
I take everyday as a new challenge and experience.
When you fail, you have more willpower and hunger to do good work. When you get success repeatedly, you want to repeat that and take it a level higher.
Which composer would you like to work with?
I haven't worked with A R Rahman, and it's my dream to work with him.
I want to work with Sachin-Jigar, Mithoon, Vishal-Shekar and Amit Trivedi.
Amaal Mallik has been doing well recently, and I want to work with him too.
There are many young composers, who are very talented, like Tanishk Bagchi.
Which actors would you like to playback for?
Shah Rukh Khan is at the top of the list.
Also, Ranbir Kapoor, Ranveer Singh and Aamir Khan.