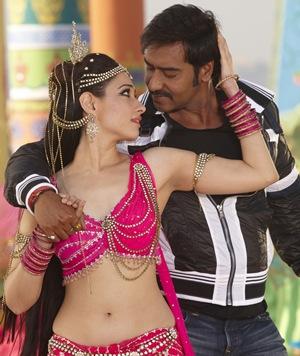 The very filmi Valentine's Day Special!

Love is a many splendoured thing.

And who knows this better than Bollywood?
Its larger-than-life cinematic fervour allows no room for the mundane.

Whether a character can afford it or not, romance, as a rule, must be most opulent, spontaneous and inimitable.
With Valentine's Day just around the corner, here's looking at the various scenes of new couples celebrating their feelings for one another in fully filmi style.
Don't Miss: 50 Shades of filmi lovin': Jab they met

Meet in mustard fields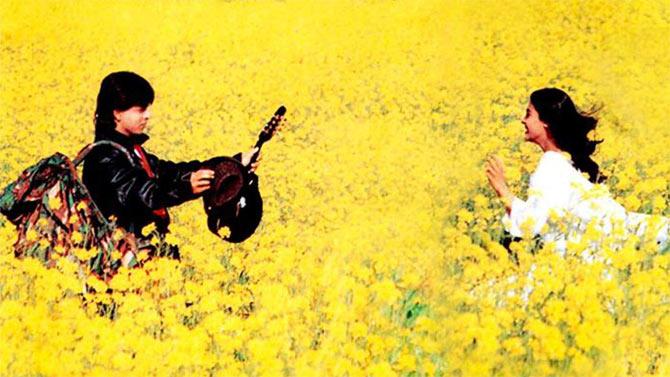 Image: Shah Rukh Khan and Kajol in Dilwale Dulhaniya Le Jayenge
A girl and a boy rushing towards each other to embrace in a lively turf of yellow flowers is any day more dramatic than the sight of a girl and boy dodging traffic and crowds to reach each other at a busy Dadar bus stop.
That's what makes Shah Rukh Khan and Kajol's '...pyaar hota hai deewana sanam,' admission all the more pertinent and pleasurable.

Cut to Alps!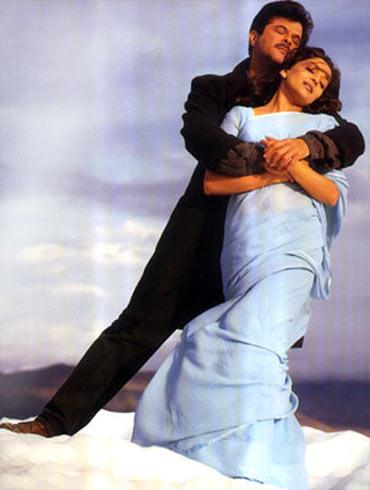 Image: Anil Kapoor and Madhuri Dixit in Pukar
They could be in the middle of a rainstorm or held hostage by a dangerous terrorist but the minute the heroine accepts our hero's proposal, the duo miraculously land on the highest peak of a snow-clad mountain.
One such optimistic-against-all-odds couple -- Anil Kapoor and Madhuri Dixit take off to Alaska conveying the extent of their cosiness and commitment, in Pukar.

A trip to the moon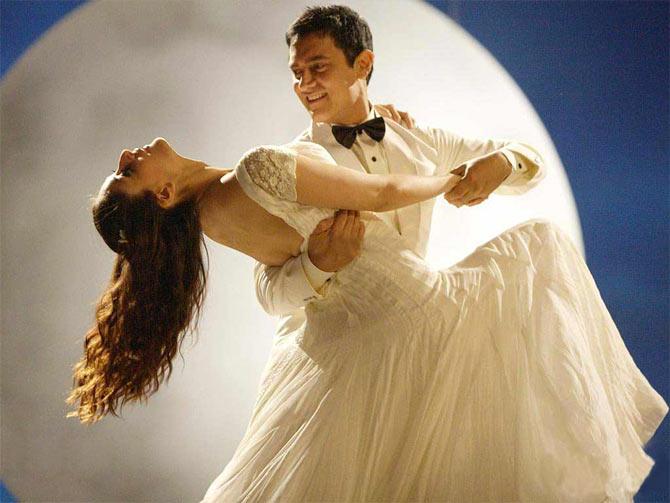 Image: Kareena Kapoor and Aamir Khan in 3 Idiots
While most pairs would be content to just canoodle while watching Gravity, Aamir Khan and Kareena Kapoor Zoobi Doobi all the way to the moon and back in 3 Idiots' Bollywood-inspired scenario.

Of matkas and jhatkas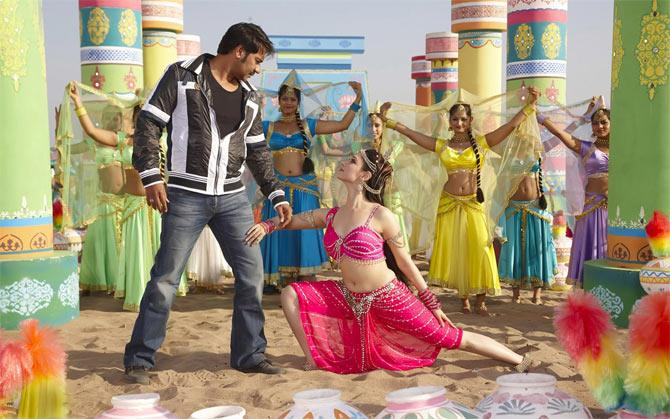 Image: Ajay Devgn and Tamanaah Bhatia in Himmatwala
We've read how love makes a man do crazy things. Only Bollywood romantics are an altogether different breed.
And so you have Ajay Devgn and Tamannaah romping on the beach flanked by multi-coloured dancers and kitschy props!

Splash dance!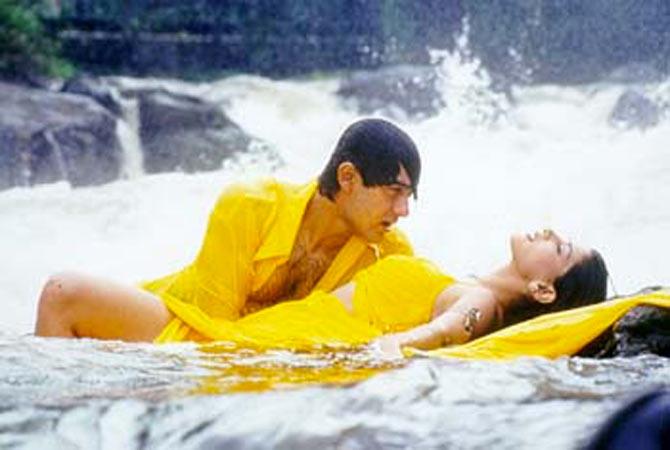 Image: Aamir Khan and Sonali Bendre in Sarfarosh
Trust our movies to compel a perfectly sober, subdued IPS officer like Aamir Khan's in Sarfarosh to let his hair down (and drenched) with Sonali Bendre in colour-coordinated outfits (no less) proving ACP Rathod can sizzle off duty too.

On the right track?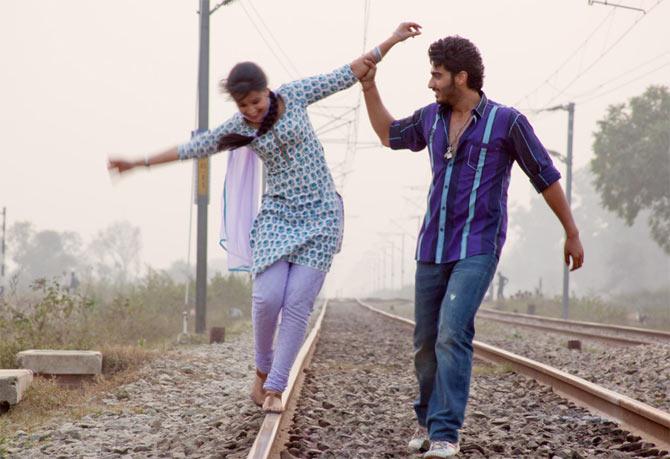 Image: Parineeti Chopra and Arjun Kapoor in Ishaqzaade
Not every couple is sugar and candy.
Here's a peek of reckless romance courtesy Parineeti Chopra and Arjun Kapoor's goofing by the railway tracks that screams: DO NOT APE.

Uff, uff Mirchi! Hai, hai Mirchi!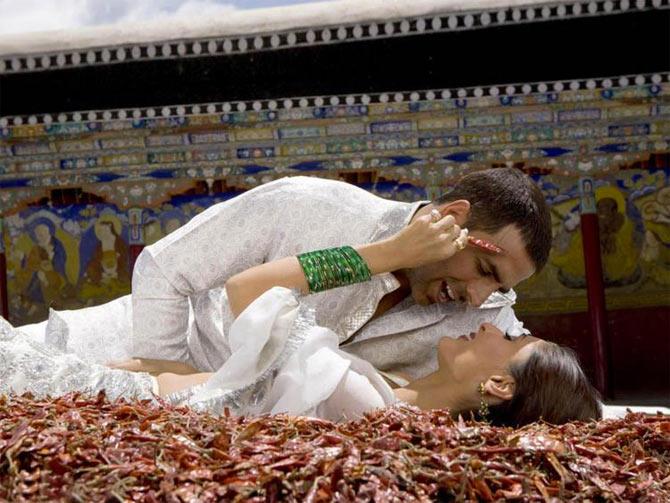 Image: Akshay Kumar and Kareena Kapoor in Tashan
From roses to apples to red chillies, Bollywood's warped symbolism knows no bounds.
Does that explain Akshay Kumar and Kareena's need to roll in a pile of hot spice -- paprika prem, anyone?

Dance around trees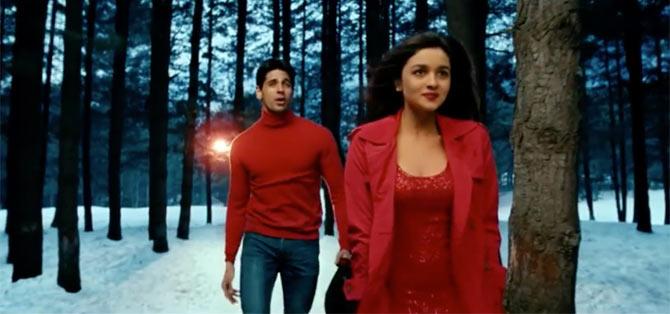 Image: Siddharth Malhotra and Alia Bhatt in Student Of The Year
If there's one Bollywood romantic custom that refuses to go out of fashion even after so many decades, it's the sweet serenade of the hero and heroine around sprawling trees.
Right in their debut movie, Siddharth Malhotra and Alia Bhatt raise a toast to this brand of love sporting passionate hues of red.

Let's get bubbly!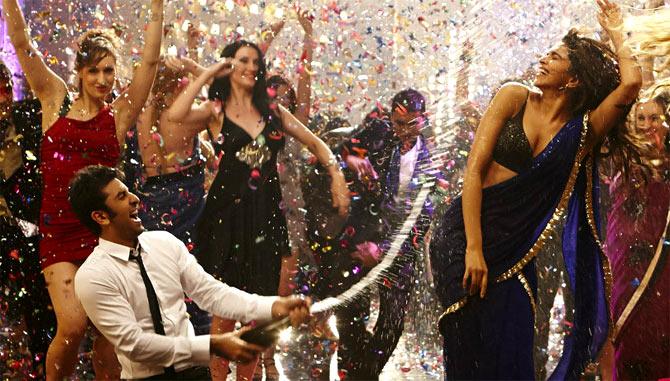 Image: Ranbir Kapoor and Deepika Padukone in Yeh Jawaani Hai Deewani
Regular folk pour a glass of champagne for their lovely. Roguish Ranbir Kapoor streams it all over a hawt Deepika Padukone.
Because 'Budtameez dil maane na," remember?

Monument of love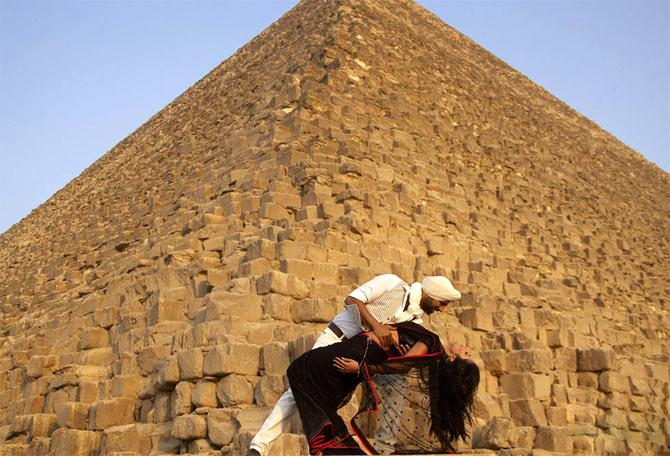 Image: Akshay Kumar and Katrina Kaif in Singh is Kingg
Even as us, ordinary folk, rampage to click a selfie around a flock of tourists Bollywood royalty hog all the seven wonders and more to themselves posing for lovey-dovey portraits.
Like Akki-Katrina here, against the ancient Egyptian pyramids.