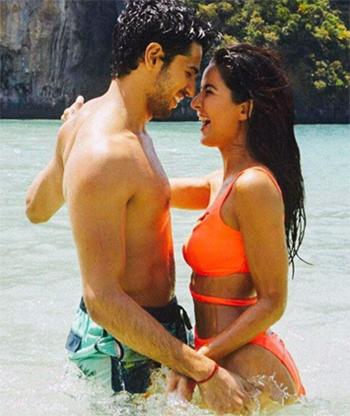 Baar Baar Dekho looks vibrant and genuinely intriguing, writes Raja Sen.
There are few Hindi film trailers that hook a viewer on a purely conceptual level, and Baar Baar Dekho -- apparently a romantic comedy involving time-travel -- does more than enough to pique one's interest.
Starring Sidharth Malhotra and Katrina Kaif, the visually lush film is directed by debutant director Nitya Mehra.
The film is about Jai and Diya, a couple in love who have a big fight.
This, the trailer suggests, leads to an odd situation where Jai's life keeps time-jumping -- overnight he skips 10 days, two years, 18 years.
Malhotra sincerely grapples with the absurdity of the premise -- his indignant shock at finding himself 46 is spot-on -- and Kaif shimmies around, looking even more spectacular than usual.
Why is Jai jumping timelines like a hyperactive Ekta Kapoor soap?
Why does Kaif so frequently look sad?
These are questions worth waiting to have answered, and Mehra's film is surely a step away from usual Bollywood fare.
Shot by master cinematographer Ravi K Chandran, Baar Baar Dekho is looking vibrant and genuinely intriguing, and the vibe looks good.
It's also great to see Kaif casually propose marriage to her hapless suitor. Forget the remixed remix of the sunglass-song, this one could hold something truly cool and weird.
Baar Baar Dekho hits theatres September 9.