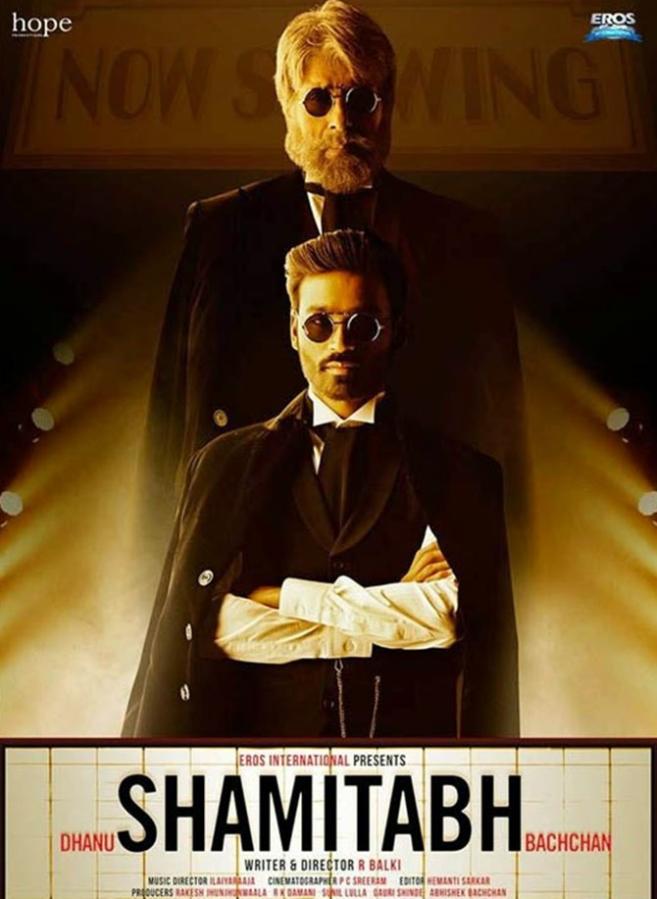 R Balki's back with his latest film, and we have to admit it looks mouthwateringly intriguing.
Titled Shamitabh -- the title conflating the names of the film's leads, Dhanush and Amitabh -- the film seems to be about a young boy learning the ropes to superstardom.
It all looks unconventional and heavily stylised, and both actors look in really good nick.
Dhanush does most of the heavy lifting in the trailer, but nobody in recent times has quite been able to milk Bachchan's screen presence like Balki. The megastar with the gravelly voice intrigues us here as well.
We see Dhanush practicing, dancing, on the run, pretending to be a star and actually out there as a larger-than-life star, prompting him finally to show the SH of his name dwarfing Amitabh. That then leads to Bachchan nudging him off-centre as the duo, clad in matching suits and sunglasses stare at the camera.
Somewhere in the middle is Akshara Haasan, looking cute and, from behind a face-covering fringe of hair, bewildered.
Is Bachchan real or an alter-ego?
Is Dhanush losing it?
All we know is that this film -- shot gorgeously by PC Sreeram -- is looking super, and ends with a sharp metaphor about how water needs whisky but whisky doesn't need anything else.
Bring on the mix, Balki.
Shamitabh releases on February 6.