Beautiful movies, from across the world.
The year 2014 was big when it came to foreign language films, as many film festival award winners played in theatres in New York City.
This year 83 countries submitted their films for the best foreign language film category at the Oscars, which was a record. While the list has been shorten to nine semi-finalists, the original submissions include strong stories that examine human conditions around the world.
Here, Aseem Chhabra lists his 11 favourite films that released in the US in 2014.
Ilo Ilo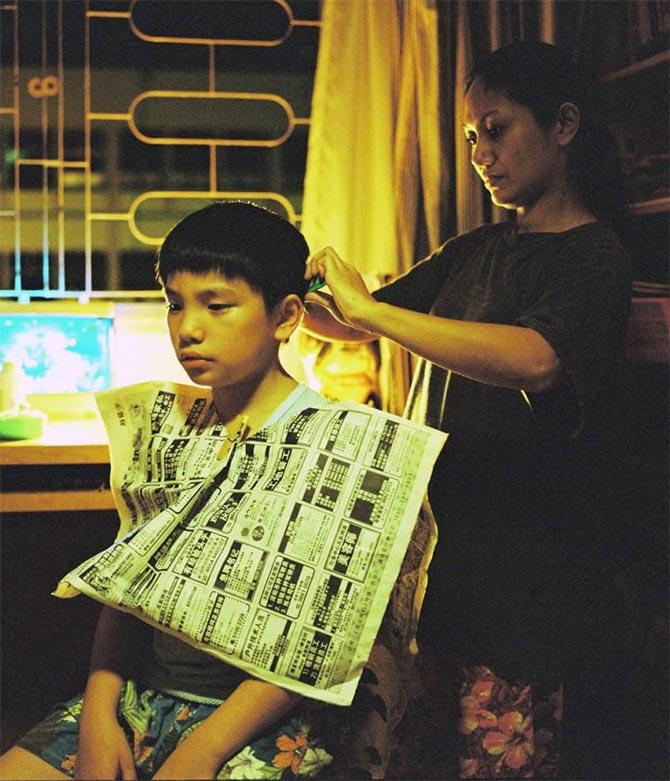 Image: A scene from Ilo Ilo
Director Anthony Chen, 30, gives us a warm film that looks at the class situation in Singapore in the most heartfelt way.
Ilo Ilo is the story about a Filipino nanny, who leaves her child behind to come to Singapore to take care of an upper middle class family's school-going son.
Her struggles involve being accepted by the family, shortage of cash and missing her own child. As things start to normalise, Singapore gets hit by an economic recession and that also impacts the family, who has hired the nanny.
There is no major drama, surprise twists or acts of violence in the film. In a way, Ilo Ilo is a very quiet story. It is also utterly charming and relatable, especially for people who have grown up with domestic help.
Force Majeure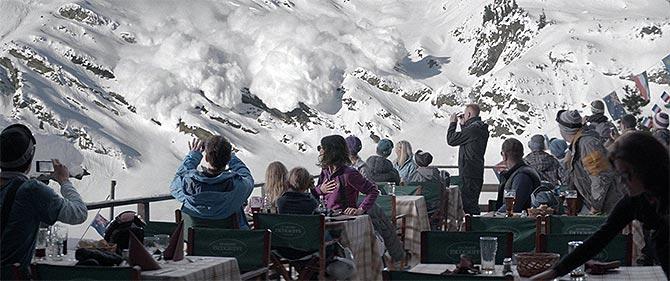 Image: A scene from Force Majeure
Winner of the Grand Jury prize in the Un Certain Regard section at the Cannes Film Festival, Swedish director Ruben Östlund's Force Majuere is one of the most original stories I have seen in 2014.
A young Swedish family goes on a ski trip to the Swiss Alps. On the second day of their trip, while they are having lunch in an open-air restaurant, facing a ski mountain, a sudden avalanche hits them. The husband picks up his cell phone and gloves and runs away, leaving the wife to watch over the kids.
The family survives the avalanche, but the event becomes a defining moment in their relationship.
Force Majeure takes up complex issues of a marriage under stress, but adds comic moments to balance out the emotional tension. It is a very engaging film and goes to places films rarely do.
Sweden's official entry for the 2015 foreign language Oscar race, the film already has a Golden Globe nomination, making it a strong contender during the award season.
Like Father, Like Son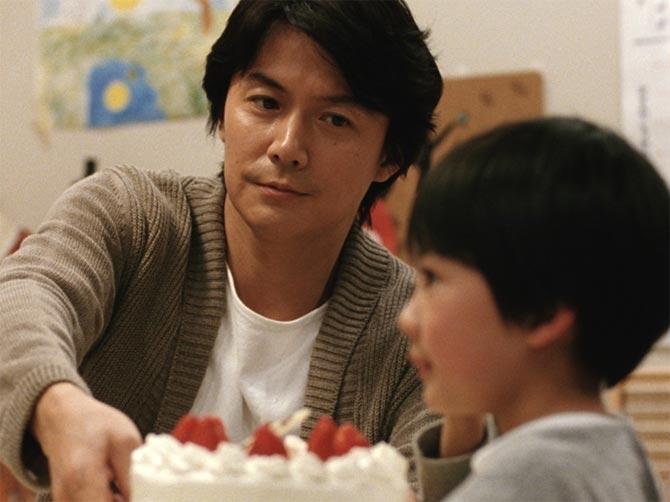 Image: A scene from Like Father, Like Son
Last year's Grand Jury winner at Cannes, Like Father, Like Son opened in New York in early 2014.
A devastating family drama by Japanese master Hirokazu Kore-eda, who often works on heart-wrenching stories about children making sense of the complicated adult world around them, Like Father, Like Son is a solid follow-up to his earlier works (After Life and Nobody Knows).
In the film, two young families (one working class and one educated, white collar) are informed by a hospital that their six-year-old sons were accidentally exchanged at the time of the birth.
The two sets of parents take time to digest this news, accepting their harsh fate. They get to know each other, and two boys.
The little kids -- unable to understand the enormity of the situation -- have to make their own adjustments. There are no winners or villains in Kore-eda's film and no solution is perfect.
Life Father, Like Son is not an easy film, but it is so real and beautifully made that it will haunt the viewer for days.
Leviathan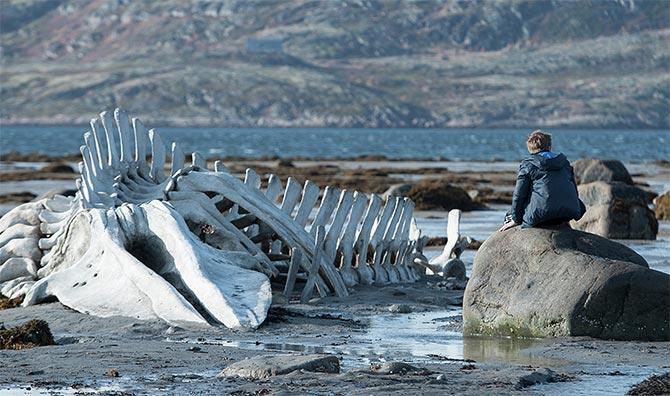 Image: A scene from Leviathan
Another Cannes winner (for screenplay), Russian director Andrey Zvyagintsev's Leviathan is a stark look at the post-communist Russia, especially in smaller towns, where corrupt politicians and the clergy work hand-in-hand while ordinary folks suffer.
Stunningly shot in a remote fishing village, Leviathan is a devastating story -- futile attempts by a man to protect his home built on a land which belonged to his ancestors. In reality, that story could take place anywhere and would be all too familiar to viewers from India.
While it is a powerful drama, very well acted, and with unexpected twists, Leviathan also leaves the viewers frustrated. One wants to step in and work for truth to be told, but it is all too pointless, given the way the system works in the interest of the rich and the powerful.
Omar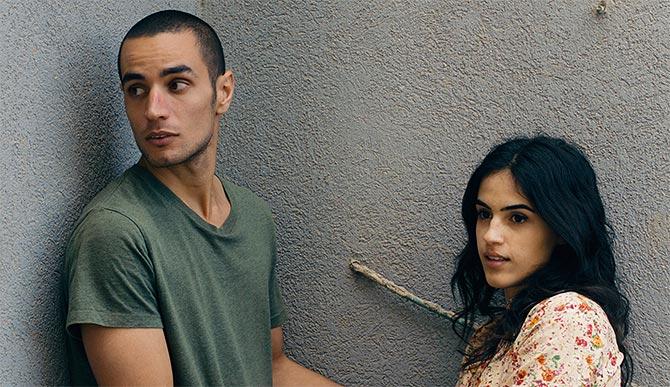 Image: A scene from Omar
Last year's Oscar nominated film Omar, explores the lives of young Palestinian men, their frustrations of living under the Israeli occupation and how degrading it can be to a person when he starts to collaborate with the enemy.
Directed by Hany Abu-Assad, whose 2007 film Paradise Now also received an Oscar nomination, Omar works like a gripping thriller. But at the centre of the film is a heartbreaking love story between the title character and his childhood friend's sister Nadia.
In a deeply moving performance, Adam Bari plays Omar, who becomes a collaborator when he realises that the life and honour of the woman he loves, Nadia (Leem Lubay), is at stake.
The bleak message of the film is that once a Palestinian turns a collaborator, he really has no way return to a normal life.
Winter Sleep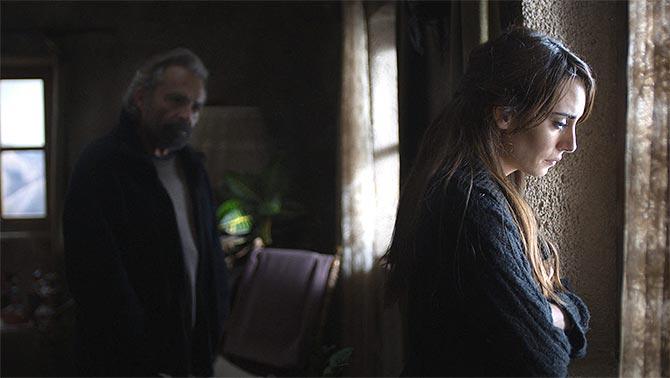 Image: A scene from Winter Sleep
Turkish filmmaker Nuri Bilge Ceylan is one the best observers of the human condition, the sadness that we all carry within us, and the plans we keep making, while life passes by.
His latest Winter Sleep -- winner of the Palm d'Or at the Cannes festival -- is a remarkable study of the quiet and tragic lives of three people: Aydin, a former actor, who runs a small hotel in the Anatolia region. He keeps a distance and yet maintains his marriage with his wife Nihal. His sister is the bitter Necla, who is troubled about her divorce from an abusive marriage.
At 196-minutes in length, Winter Sleep takes its own time in narrating the story of these three lives. But like a beautifully written, well observed novel, it also introduces us to the existence of other characters in the film -- from Japanese tourists, to the workers in the hotel, and the local people -- and gives a deep sense of the class elements as they play out in the setting.
As the snow starts to fall, and the tourists depart and the hotel becomes empty, our three main characters are relegated to their lonely existence in their respective rooms, where they will hibernate for a long time. It will be a tragic winter sleep for them.
The Lunchbox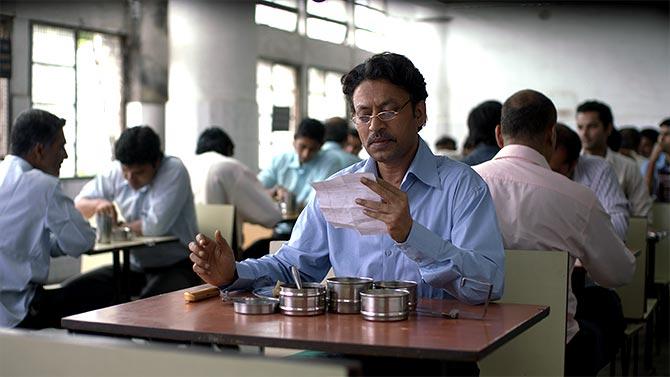 Image: Irrfan Khan in The Lunchbox
Much has been written about Ritesh Batra's celebrated film The Lunchbox that won an audience award at the Cannes Film Festival. Even though India did not submit the film as its official entry for the Oscars, the Toronto Film Critics Association recently recognised it as the best first film by a filmmaker.
Beautifully written with fine performances by Irrfan Khan, Nimrat Kaur and Nawazuddin Siddiqui, The Lunchbox is at times very funny.
But eventually, it is sad tale of lonely people in a big metropolis.
Batra uses the clever ploy of a misplaced lunchbox to create romance between his two protagonists who will never meet. He gives us a strong dose of heartbreak, by keeping the end open.
The Lunchbox was a success in foreign markets, earning over $4 million in the US and nearly $10 million worldwide. It is a good reminder that in the crowded field of foreign language films, there is always room for a sharply written and well-executed story, if it is marketed smartly.
Ida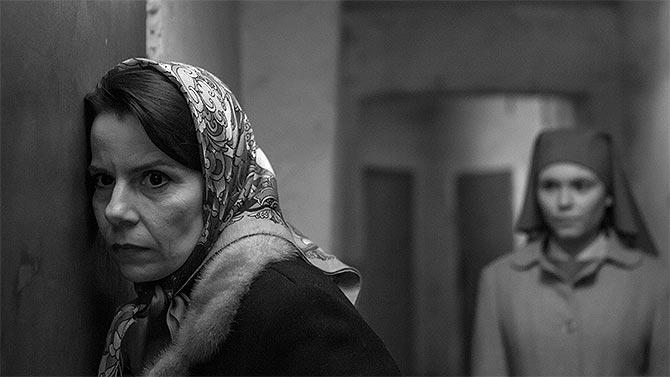 Image: A scene from Ida
This black and white film from Poland won the hearts of many film festival-goers last year and had a very successful run at New York City's art-house Film Forum theatre.
Ida is a story about a young apprentice Anna, who is about to become a nun when she learns that she is actually Jewish and was raised in a Catholic orphanage after her parents were killed during the Second World War.
Director Pawel Pawlikowski weaves a lovely story about the young woman, who sets out to find the truth about her heritage.
Along the way, Anna meets her aunt (a terrific Agata Kulesza), a successful judge and a woman who has seen a lot in life.
Anna even gets a chance to experience the simple pleasures of life that she would never get a sense of if she had spent her life dedicated to the church.
Beautifully shot with touching performance, Ida is the reason why we like foreign films.
Norte, End of History
Image: A scene from Norte, End of History
Filipino art-house filmmaker Lav Diaz is known to make long experimental films that often run into five-plus hours. In comparison Norte, his most accessible film, is only four hours long.
Norte is set in contemporary Philippines, with references to the country's current political and economic situation. Some of it will seem foreign to the viewers and it might scare others who are used to watching subtitled films that are 90 minutes or shorter.
The film's story is inspired by Fyodor Dostoyevsky's classic novel Crime and Punishment. Norte is a thoroughly gripping and engaging film. The crimes its protagonist Fabian, an embittered law student, commits are disturbing. Yet, we follow his hellish journey with such curiosity.
Stranger By The Lake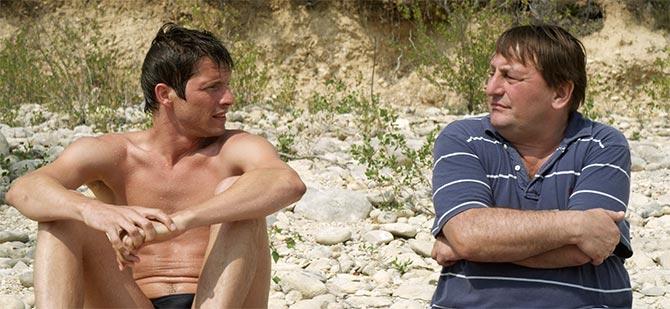 Image: A scene from Stranger by the lake
French filmmaker Alain Guiraudie's works are not that well known outside his home country. For that reason, the Film Society of Lincoln Center held a retrospective of his films around the time of release of Stranger By The Lake. He usually takes up gay themes in his works, but Stranger By The Lake is his most fully realised gay story about love, physical attraction, sex, murder and betrayal.
Winner of last year's best director award in the Un Certain Regard section of the Cannes Film Festival, Stranger By The Lake is set by a lake in a remote part of France. It is summer and the lake becomes a cursing spot for gay men. They sunbathe and hope for summer flings.
The film's protagonist Franck develops a strong attraction for a slightly older man, who might be a suspect in a crime. But Franck is willing to overlook the crime to satisfy his lust and his summer love affair.
Not afraid to show explicit sex scenes between men, Stranger By The Lake reminds us about the dangers of anonymous sex. But it is also shows how regular men can make grave errors when lust and passion overshadow their rational minds.
Bird People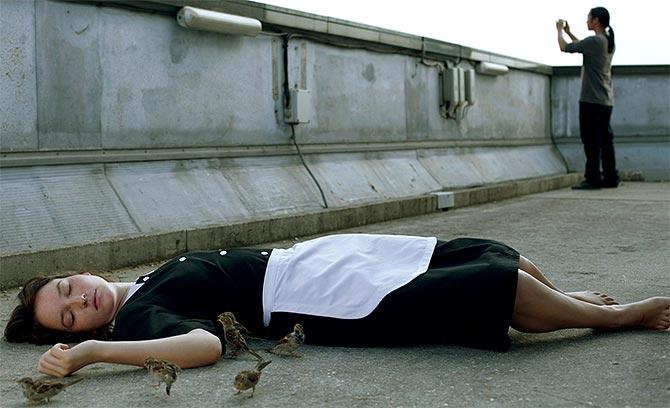 Image: A scene from Bird People
French filmmaker Pascale Ferran's Bird People follows two people living different lives. Gary is an American executive, married, on his way to the Middle East, before he makes a quick business trip stopover at a Paris airport hotel.
Audrey is a young maid in the same hotel, dreaming of a better life.
Bird People shows us how life's major decisions can happen at the snap of a finger.
Gary going through a mid-life crisis suddenly decides to quit it all -- marriage, work, the comfortable life that he knew.
Audrey's dream to leave her mundane job results in her taking the shape of a bird, a free soul who can roam from room to room in the hotel, meeting and engaging with interesting travelers.
We know the two are destined to meet, but Bird People does not jump into the obvious territory of romance between two strangers. Instead, it lets the viewers soar with the passion of its protagonists.
The film makes us believe that we can change our destinies, our lives, move on from the mundane and find happiness.