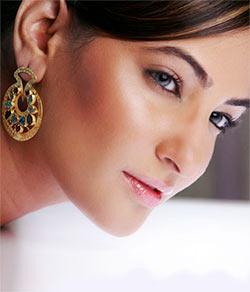 'Once you are a mother, you don't have time for yourself, especially if you are a first-time mother. You want to do everything for the child and then you realise that you don't have 10 hands.'
Rakshanda Khan is back, and ready to thrill!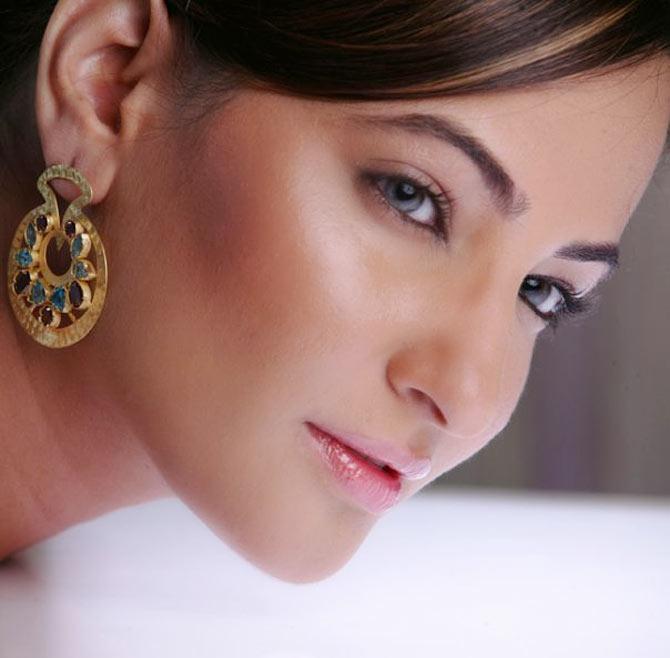 Photograph: Rakshanda Khan/ Twitter.
Rakshanda Khan returns to television after a maternity break of three years.
Her show -- a thriller called Brahmarakshas: Jaag Utha Shaitaan on Zee TV -- premiered on August 6.
It centres around a ferocious monster, who directs his wrath towards newly-wed brides.
The cast includes Krystle D'Souza, Aham Sharma, and Kishwar Merchant.
Rakshanda tells Rediff.com contributor Rajul Hegde about the new show, and how she balances it with a little baby in tow.
How is motherhood treating you?
It's not easy managing the house and a child. I would like to apologise to my mother for giving her crap when I was young.
Once you are a mother, you don't have time for yourself, especially if you are a first-time mother. You want to do everything for the child and then you realise that you don't have 10 hands.
Now, I have managed to take time out for myself. Recently, I went to a watch a movie but I got a call asking me to come back as my daughter was crying.
I don't know how much longer it will take but my aim is to take a holiday with my husband (Sachin Tyagi, actor).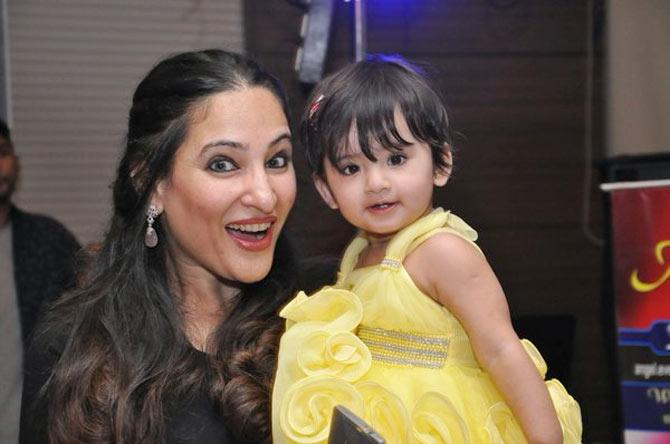 IMAGE: Rakshanda with her daughter. Photograph: Rakshanda Khan/ Twitter.
Who takes care of your child when you are working?
My daughter is 18 months old. My husband and I have been exceptionally lucky so far. The days I am shooting are somehow his holidays. Or, if my call time is early, his is late, and vice versa. This will obviously not continue for long.
We are lucky that his mother stays with us, and my mom lives close to our place.
How tough was it staying away from her?
It was really tough for the first few days.
Since my husband was at home on those days, I would ask him to send videos. She would be busy playing, watching nursery rhymes, sitting on a swing with her nani, sleeping...
The best thing about kids is that you can get them accustomed to what you want.
They feel insecure when they don't have their loved ones around. I am blessed that we live with our family, so someone is always around. Ever since I have started working, everyone has been pampering her. I thought the moment I would go home, she would hug me and cry but no such drama. She doesn't miss her mother!
What is your daughter like?
My daughter doesn't show any interest in the camera. I think she will become a PT Usha or a wrestler. She loves wrestling with her father, climbing, sitting on his shoulder. If she is put down, she will start running!
I was just wondering how a lazy person like me can have such an active daughter! But she has gone totally on her father. I love to eat she hates to eat.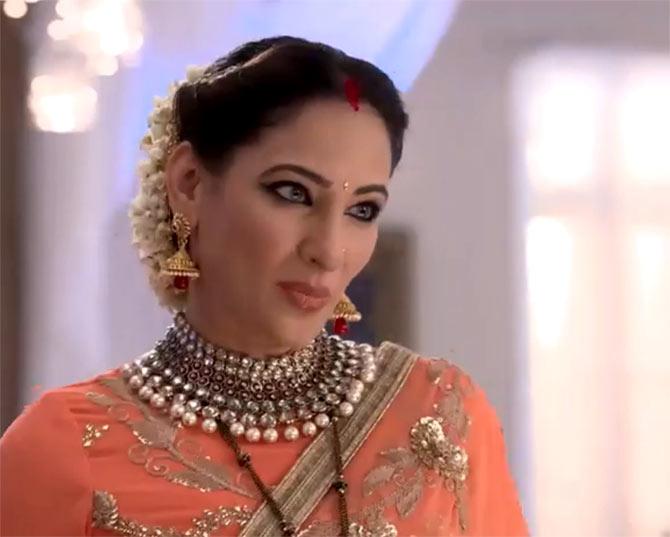 IMAGE: Rakshanda in Brahmarakshas
What's your character in Brahmarakshas like?
Mohini is a strong woman, who is the matriarch of the house. She is Rishabh's (Aham Sharma) mother.
This is a story about Rishabh and Raina (Krystal D'Souza), who come together to unravel the suspense about what happens in Kamalpura, Mohini's ancestral house.
What made you take it up?
There are many reasons, the main reason is Ekta Kapoor.
Thankfully, by God's grace, I have a good equation with Ekta. She has always offered me good roles. If I am getting back to work, there must be a very good reason for it. If I have a prominent role only then will I step out of my house. I was clear about that, and this was one such role.
Again, I was going to be a part of the production house with whom I have done 90 percent of my work. Why would I say no to them?
It's a finite series. I think I will be shooting for seven-eight months.
Since I know when the show starts and ends, I can plan my holidays.
Are you attracted to thrillers?
I think thrillers are attracted to me.
I started my career with Kya Hadsaa Kya Haqeeqa and now, I have come back with Brahmarakshas. As an actor, it's important for me to explore more genres. Unfortunately, you don't get many opportunities in TV like in films.
After Kya Hadsa, I could have easily been type-cast. But right after that, I did Jassi Jaisi Koi Nahi, which was the most real character television has ever had. I got to play Mallika, who believes she deserves the man more than anyone else.
It was followed by Kyunki... Saas Bhi Kabhi Bahu Thi, which was a positive character that turned negative, then became positive again. I was lucky to explore both sides.
Then, I did Ammaji Ki Galli, where I did comedy as well. Unfortunately, the show didn't run for long. I got the opportunity to work with someone hugely talented like Farida Jalal.
You did a couple of episodes for Adaalat.
I was in a dilemma, because I felt my child is too small and will she be able to adjust if I step out. That's when the production house called me for Adaalat. I did it because it was for a certain time frame, where I played a public prosecutor. It was episodic and did not need too many dates.
Ronit Roy (the protagonist of Adaalat) is my Raakhi brother. He has a special place in my heart. I thought that since I have to work, I should test the waters. I did two episodes, that was actually my make or break. My daughter was happy, even when I was not around. Then I decided to do something longer.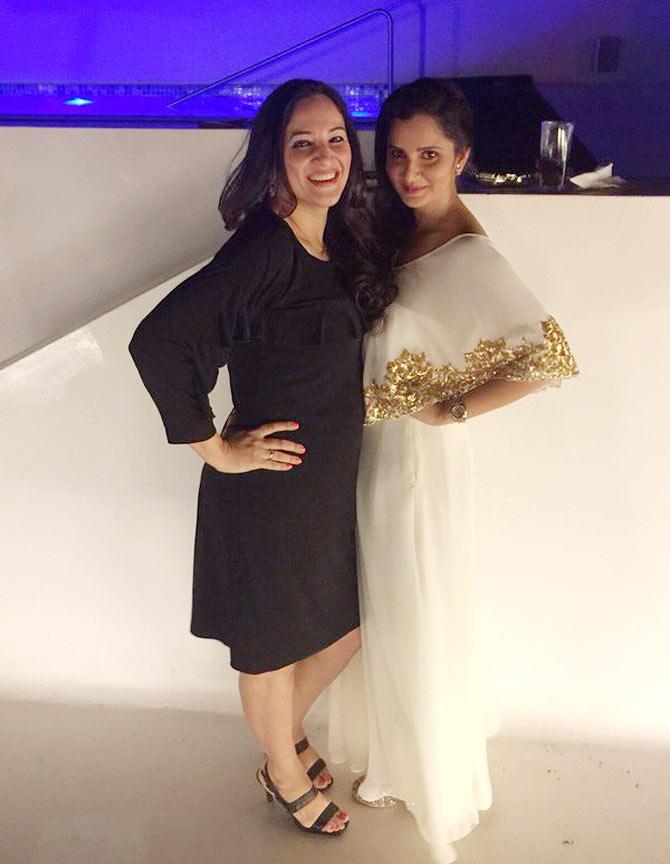 IMAGE: Rakshanda with Sania Mirza. Photograph: Rakshanda Khan/ Twitter.
You were supposed to attend your friend Sania Mirza's autobiography launch. Did you read the book?
I was supposed to attend the launch of her book. It was the second day of my shoot, and the press conference was 10 minutes away from my work place. I kept messaging her that I would be attending but the shoot just didn't end. The press conference got over and she went back to Hyderabad.
I didn't get to see her but it's okay. I will read her autobiography someday. Sania is an inspiration. When you speak to her, she is so normal you don't feel that you are talking to an international star.
Did you speak to her since she's playing for Rio Olympics?
Unfortunately, I could not. I'm in touch with her younger sister because of her wedding.
Earlier I would go to Hyderabad and meet Sania or meet her when she came down. Now I cannot lug my baby around. Our schedules don't permit much meeting.
But my friendship with her, and even with (choreographer) Geeta Kapoor are not bound by time. We always pick up from where we left off.