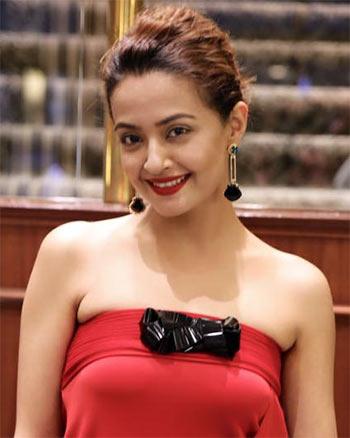 'I don't want to do a film for the heck of it.'
'Because of industry pressures, it happens sometimes that after waiting for a long time for a film, you give in and do the next project that is offered to you. I am happy I haven't given in to that pressure.'
Straight talk with Surveen Chawla.
Surveen Chawla, who started her acting career with the hit television show Kahin Toh Hoga, is back on the small screen.
The 31-year-old actress will be seen sharing screen space with Anil Kapoor in the second season of his upcoming mini-series 24.
She tells Rediff.com contributor Rajul Hegde why she decided to do 24 instead of doing more films.
What brings you back to television with the second season of 24?
Doing 24 is not like coming back to TV. Fiction on Indian television sadly does not offer anything like this.
You just see saas-bahu dramas and I don't know when that's going to change.
This brave man called Anil Kapoor (actor and producer of the show) has decided to bring something like (the American serial) 24 for Indian television. It bridges the gap between films and television, like in the West.
It's important for concepts like this to hit our television screens so that everybody comes together -- film actors as well as television actors -- to make good content.

Have you seen the American original or the first Indian season of 24?
I have watched all the nine seasons in one go.
I watched it before I was offered this role, and then after. I am a big fan of the protagonist Jack Bauer.
Anil Kapoor has done a fabulous job as Jai Singh Rathore in the first season of the Indian 24. I have seen it in bits and parts.

How important is your role since we see Anil Kapoor doing all the action?
I would not say this for a film, but I will say that for 24, you cannot be a selfish actor and be greedy for a meaty role.
The show is such that nothing moves in the absence of any one actor or character; it is intertwined. You will not find an unimportant character in the show; they are all relevant to the plot.
I play the love interest of Sikander Kher's character (who plays the antagonist) and I am in love with Jai Singh Rathore. My character is extremely layered and complex.

Can the audience expect some sizzle along with the action?
There is so much more to tap in me than sizzle, sexy and sassy (smiles).
There is so much to learn from the West. Their casting is done on the basis of what you haven't done in the past and what you are capable of doing.
There is a slight shift in approach and attitude that we must have here in India, so that viewers can see different actors playing various characters, other than just bracketing them and saying this actor can do only these kinds of characters.
This is the only reason I haven't signed a single film in the last one-and-a-half years. It's so sad that I am offered the same kind of roles.
So when 24 was offered to me I was, like, I would rather do a show like 24, which is made just like a film.
I didn't miss doing a film when I was on the sets of 24 because my character is complex. It has layers and there is so much going on with it.

Did the pressure of 'out of sight is out of mind' make you to start working again?
I didn't do anything to get 24. It hasn't happened to me to date and I hope it doesn't in the future.
I don't want to do a film for the heck of it.
Because of industry pressures, it happens sometimes that after waiting for a long time for a film, you give in and do the next project that is offered to you. I am happy I haven't given in to that pressure.
I have created a standard for myself and sometimes that pressurises me. It's not my ego. It's just where you want to see yourself. I feel you should filter, select and do good work. That will take you forward.
That is the simple thing that I follow. So, when 24 came my way, I thought I would rather do 24 than a bad film (smiles).

Will you do more fiction shows on television?
No.

Anil Kapoor has acquired the rights for some international shows. If you are offered one, will you take it?

Yes, because I know the level of work they are doing.
If the work is good, it doesn't matter if it's television, film or digital.

Hate Story 2 was portrayed as an erotic thriller even though it didn't have erotic content. How comfortable are you doing erotic scenes or going nude in a film?

I played my part in Parched and there's nudity in that film. I am okay doing whatever it takes to be true to my character.
When I signed the film, I did it for the meat and content that it offered me.
I cannot control the marketing strategy of the film -- that is not in my hands.