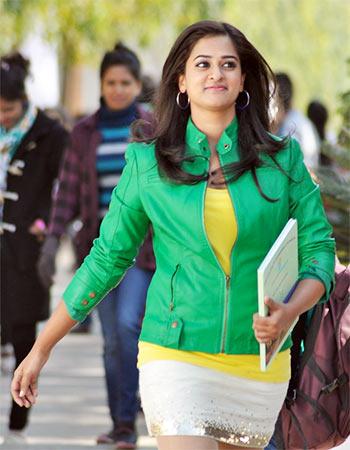 Nanditha Raj made her debut with director Teja's Neeku Naaku Dash Dash. Subsequently, she went on to do Prema Katha Charitram and London Bridge in Malayalam and then Lovers in Telugu.
Nanditha's sixth film, Krishnamma Kalipindi Iddarini, the Telugu remake of the Kannada hit Charminar, is finally up for release this Friday, June 19.
Just before leaving for the shoot of her new film, Sankarabharanam, Nanditha spoke to Radhika Rajamani/Rediff.com regarding Krishnamma Kalipindi Iddarini.
On what basis do you sign your films?
I go by the story and my role in it. These are the two main things. Also, I should like the story.
Are you getting the roles you would like to do?
Not as much. It is very limited.
The stories in Telugu cinema are commercial and repetitive. There are few who are brave enough to be different.
Are you happy with the way your career is shaping up?
I am pretty much content. I don't expect much.
I like acting and enjoy it. I liked a few subjects and I did those films.
How did you get Krishnamma Kalippindi Iddarini, the remake of the Kannada hit Charminar? Had you seen the original before signing?
The makers approached me. I met Sridhar Sir (the producer). Chandru Sir (the director) was also present and he gave me the DVD of Charminar and told me to have a look and decide.
I watched it. I thought that if he takes it up in Telugu it would work. I said I am on board.
Why did you feel it would work in Telugu?
Because of the content. It is a pure love story. There are a lot of true incidents in the movie.
Everyone will relate to the film at some point. The film has a lot of intense emotions and feelings.
How did you tackle the role? It's supposed to be quite an emotional one...
It is. My role is not a bubbly, active one which I have played so far. I play a shy, introvert.
That was tough as I am used to doing highly energetic roles. Initially, I used to feel dull and sad and wonder about this role and what people will think about me doing it.
When I saw the outcome, I was really surprised. Chandru Sir is brilliant.
In what sense did you feel surprised?
The way we acted, which was captured on screen.
Those moments between two characters did not seem like a film. It was so natural.
For me, it was a new role and a transformation too!
How was it acting with Sudheer Babu again after Prema Katha Charitram?
He is my favourite co-star. The comfort level we shared was visible.
He has really improved. He will be a surprise element in terms of his performance.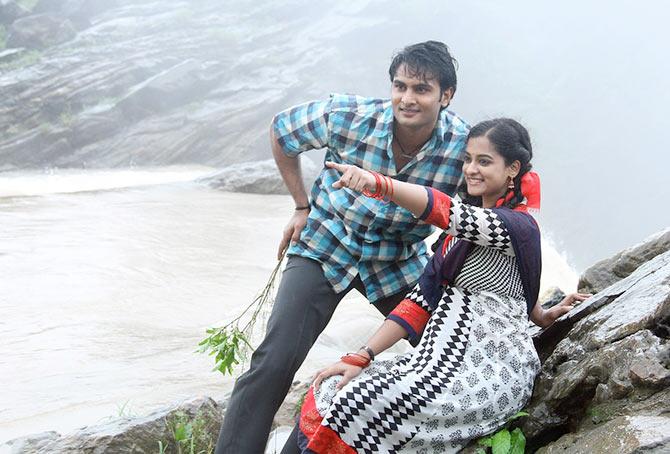 This film is directed by Chandru who is from the Kannada industry. Did you see any difference in terms of direction?
Although he is from another industry, Chandru Sir's mother tongue is Telugu. He spoke in Telugu, guided us to get into the skin of the character.
He is a hard taskmaster and a perfectionist and this is visible in the film.
Were you disappointed that your last two films Lovers and Ram Leela didn't do as well?
Lovers did well. I can't expect all my films to do well.
What was your experience of doing the Malayalam film London Bridge and working with Prithviraj?
That was good. It meant going to another industry where the working style is different and I had to learn another language.
We shot in London for 60 days. Though the film didn't play well in the theatres, it did well on the Internet (YouTube).
I wasn't sure I would be part of it, but the makers insisted on having me.
Prithviraj is a wonderful person. He has no starry airs while working and is a cool guy.
Malayalam is the toughest South Indian language. It was a struggle to learn it. Overall, I had a good experience.
What are you working on right now?
I am doing Sankarabharanam with Nikhil. We are leaving for Pune to shoot in a while.