Last September on the eve of the release of Gurmeet Ram Rahim's MSG: The Warrior Lion Heart, Rediff.com's Patcy N and Afsar Dayatar attended a huge concert in Sirsa, Haryana, to promote the film.
This is what they discovered: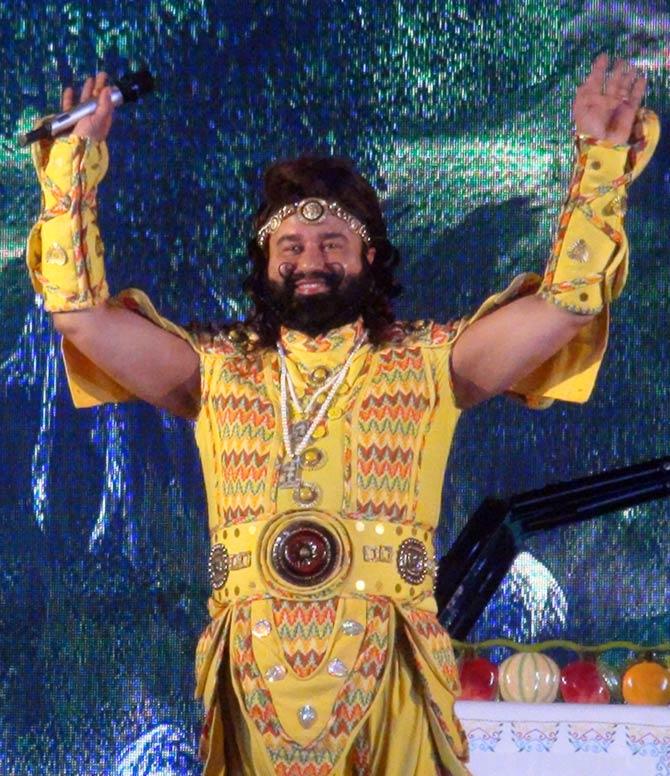 IMAGE: Gurmeet Ram Rahim at the concert.
Spiritual leader-turned-actor Gurmeet Ram Rahim Singh Insaan is ready to grace the big screen once again.
After MSG: The Messenger of God and MSG 2: The Messenger, he will be seen in the third film in the series, MSG: The Warrior Lion Heart.
The Rockstar Baba recently promoted his film with a concert at the Dera Sacha Sauda headquarters in Sirsa, Haryana.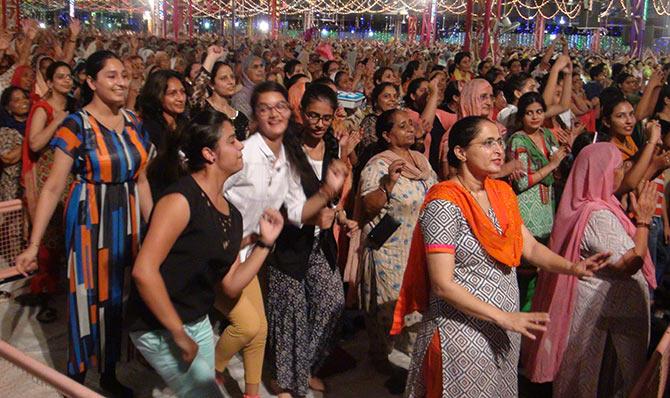 IMAGE: Young girls dance as Gurmeet Ram Rahim performs.
It was on September 23, 1990, that Guru Shah Satnam publicly conferred sainthood and passed on the spiritual leadership of the order upon Gurmeet Ram Rahim.
Therefore, he chose the same date to launch his new film's trailer.
Reportedly, some 4 million people attended the mega event.

IMAGE: Some 150,000 lamps were lit by the Baba's followers.
Fans lit some 150,000 lamps to create a world record.
Two drone cameras shot the event for the Guinness Book of World Records.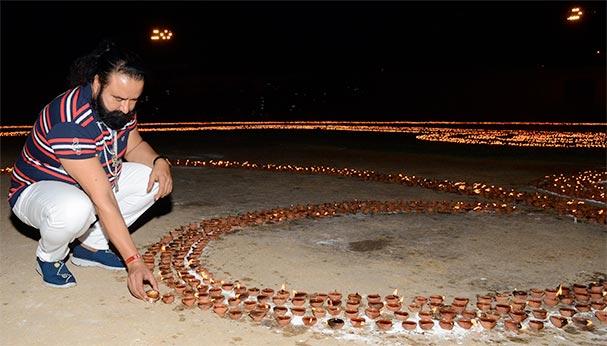 IMAGE: Gurmeet Ram Rahim lights the last lamp.
After lighting the lamps, the Baba changed into his MSG: The Warrior Lion Heart get-up.
He sang a couple of songs, showcased the trailer and interacted with the media.
He also announced his fourth film, Online Gurukul.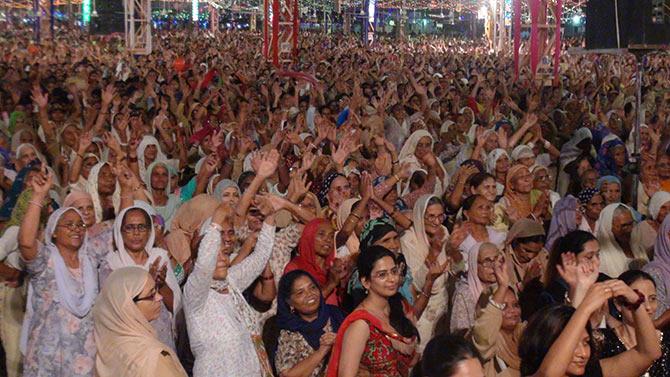 IMAGE: Women of all ages attended the event.
The Baba has various names given to him by his followers -- Babaji, Guruji, Param Pitashree, Pitajee...
Entering the Dera headquarters is an experience altogether.
Spread over a huge premises, it houses an international school, girls college, engineering college, hospital, medical store, clothing showroom and a cinema hall.
Dera volunteers, the Green S, are said to help people during disasters.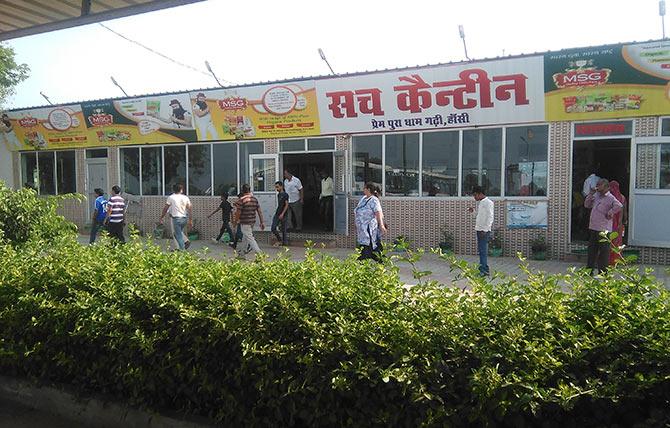 IMAGE: The Sach canteen on the way to the Dera Sacha Sauda in Sirsa, Haryana.
There are places to eat and stay in the ashram, like the Food Party restaurant, the Kashish Resort. There is even a 5-star MSG Resort.
Everything available is homegrown, from rice, flour, potatoes, vegetables, pulses, sugar, jaggery, ghee, turmeric, masala and aloe vera.
The Dera has 40 ashrams all over India.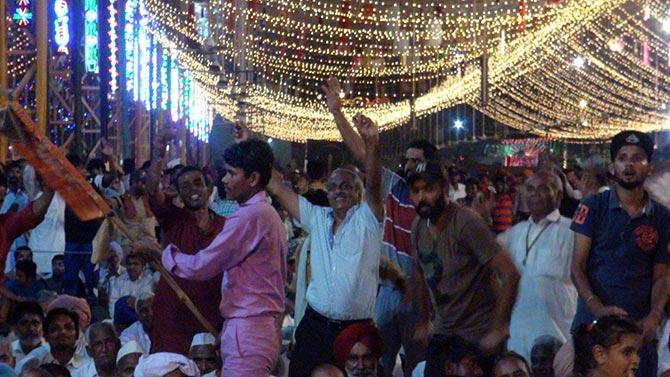 IMAGE: Men join the celebrations.
The Baba has three daughters -- Amarpreet, Charanpreet and Honeypreet -- and a son.
MSG: The Warrior Lion Heart has been co-directed by Honeypreet and co-stars Charanpreet.
VIDEO: Baba enthralls the crowds.
Meet some of Baba's followers
Sonu, who is in his early 30s, works as a driver with the Dera.
He ferries people from Delhi, Haryana and Rajasthan to Sirsa.
He doesn't get a monthly salary. Instead, he gets between Rs 10,000 and Rs 20,000 whenever he visits his family.
That, of course, happens only when the Baba gives him permission.
He hasn't been home for three months, but he has no complaints.
Groups of 15 people each are in charge of the cars at the Dera.
The maintenance and petrol costs get divided between them, and they work for free.
The Baba never travels alone.
When he leaves the Dera, 35 vehicles follow him.
IMAGE: Geeta Verma, at the back, in the Dera uniform, with her aunt Maya Devi, mother-in-law Kamlesh and children Tanisha and Rishabh.
bhakt of Gurmeet Ram Rahim since she was a child. She hails from Kurukshetra, Haryana.
"I saw his second film six times! He makes good films," she says loyally.
Geeta is a Green S volunteer, and her job includes serving food in the langar, gate-keeping or fanning people who attend the satsang.
Her mother-in-law Kamlesh has been doing seva for 40 years.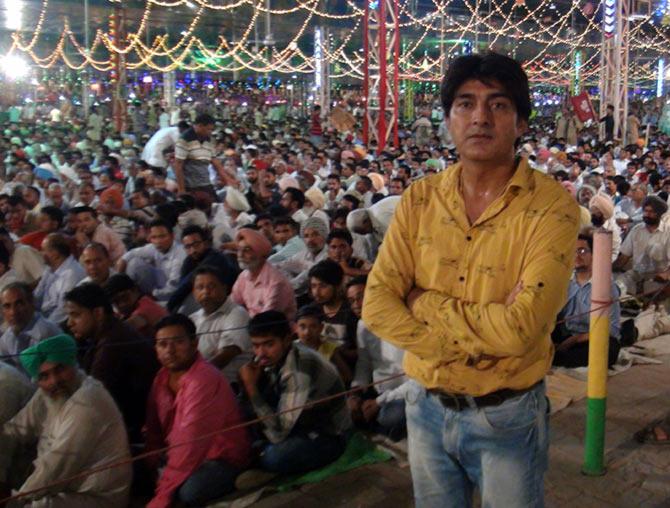 IMAGE: Punjabi singer-actor Pargat Bhagu.
In 2003, he started following Gurmeet Ram Rahim, and attends the satsangs regularly. In 2007, he left Bhatinda and settled down in Sirsa.
"Even though I was earning well in my hometown, I wanted personal peace. That's why I came to Baba," he reveals, referring to his income from his live performances and private shows in Punjab, Haryana and Rajasthan.
"It is my daily duty to sing at the satsangs. I don't get paid for it, but get blessings. Only if Baba is not in town, I do shows outside," he adds.
"I have seen all the MSG movies and loved them! He has done everything from script-writing, direction, stunts, set design and acting. He is a one-man army," Bhagu says.
"I follow Guruji's aadesh," he says.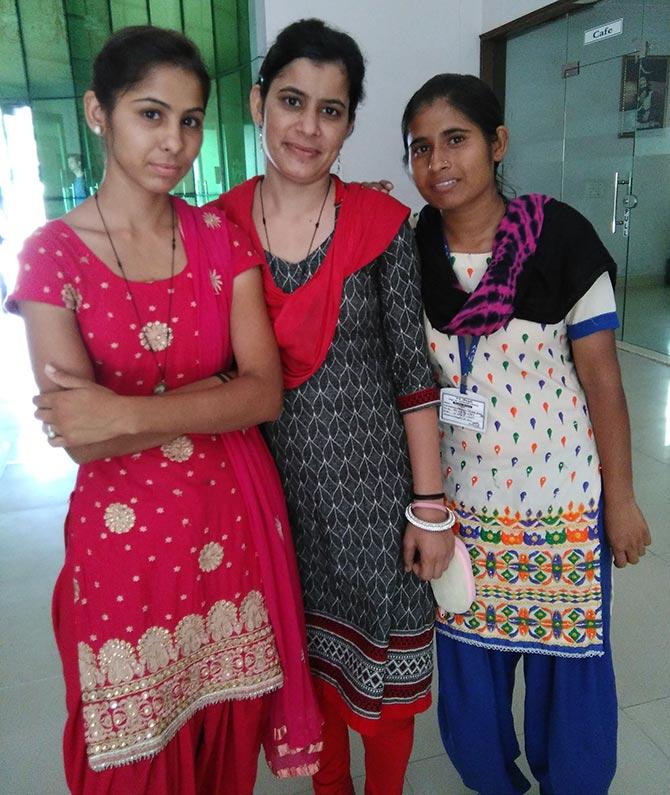 IMAGE: Kaifi, Ritu and Uma.
Ritu Insaan, 27, Uma Insaan, 20, and Kaifi are from Diwani in Rohtak, Haryana.
Ritu has been a follower since Class 6 while Uma joined nine years ago.
Kaifi is new to the cult; she joined the organisation only six months ago.
She reveals that she went through a big problem and her faith in the Baba helped her a lot.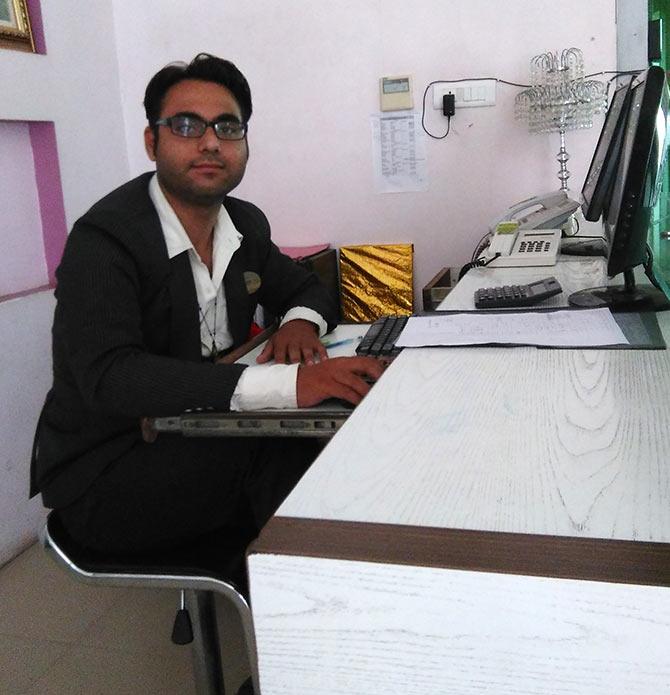 IMAGE: Lucky Chopra.
Lucky Chopra, 28, has been a follower since she was 16.
After completing his graduation from Delhi University, he took up a job at Pizza Hut and then later at a BPO.
In 2010, he started working with the Dera Sacha Sauda in the MSG Hotel.
"I get a salary, I am not doing this for seva," he explains.
"I am happy because my previous salaries were too low. Here, everything is good. Not many are educated here so when an educated person joins, he is treated and paid well."
Chopra earns Rs 30,000, double his previous income. He also has a place to stay with his parents.
The food is free and his clothes and shoes are paid for.
"Since I don't have to travel, all my money is saved," he says.
Photographs and Video: Afsar Dayatar/Rediff.com
This feature was first published on Rediff.com on September 30, 2016.