In reel life, folks.
Meet bubbly Ishita Dutta.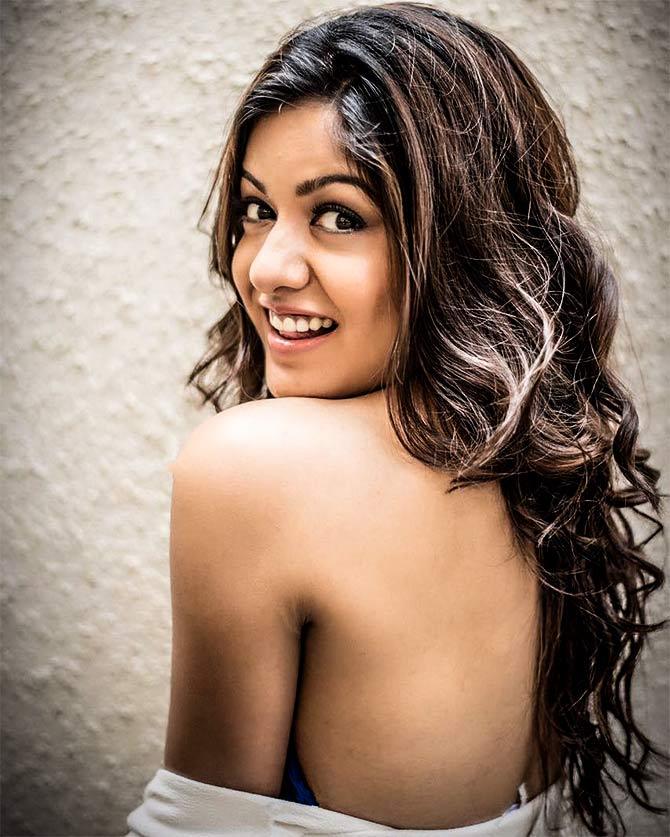 Photograph: Kind courtesy Ishita Dutta/Instagram
It's been a big week for Ishita Dutta.
First, she wed her Rishton Ka Saudagar: Baazigar co-star Vatsal Seth in an intimate ceremony.
Friday will see Firangi release; she plays the heroine to Kapil Sharma's hero in the film.
"I am not boasting, but I am pretty confident Firangi will do well," Ishita tells Rediff.com's Prasanna D Zore.
How were you chosen to play the lead in Firangi given that you played a much younger character -- Ajay Devgn's daughter -- in Drishyam?
Vicky Sidana, the casting director who chose me for Drishyam, was casting for Firangi too. He thought I would suit Sargi's role perfectly.
He called me, I gave a look test and that's it!
Sargi is a simple girl, very shy. There's no glamour to her.
Is character main poore us zamane ki nazakat, jaise woh rehti thi, jaise baat karti thi (This character belongs to a time when girls showed grace in everything they did, how they lived, how they spoke).
She's not modern, speaks little, and is quiet by nature.
This village girl falls in love with Manga (Kapil Sharma's character) but expresses her love only through signals and gestures.
The way girls expressed their love in those days must have been very different.
This film is a big step for my career because my next step will depend upon it.
I know the film will do very well; I have complete faith in it.
Like people appreciated my character in Drishyam, they will love Firangi's Sargi as well.
Why will this generation like Sargi?
I was so overwhelmed when I heard the scenes!
When we shot the film, in all those 83 days, I always spoke and dressed like Sargi to get the feel of her innocence and grace.
Guys of my generation will like Sargi because she is so different from girls today. Girls will be able to connect with her.
The older generation will like the film because it would make them nostalgic about an era gone by.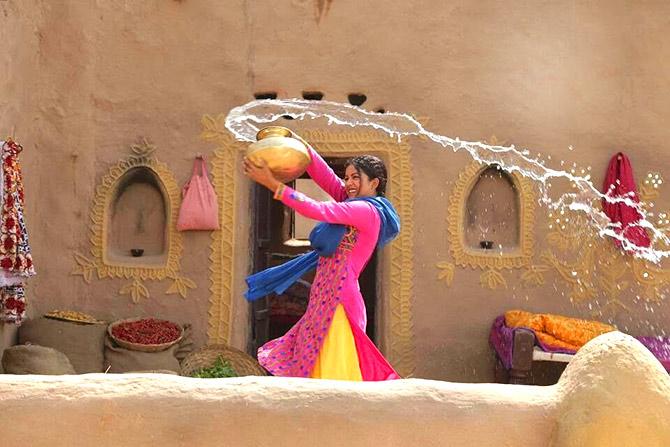 IMAGE: Ishita in Firangi.
How does Sargi see the film?
From Sargi's point of view, the film is about her and Manga's love story.
It's about how this guy comes to the village for a marriage. He meets the girl, and falls in love with her at first sight.
He expresses his love for Sargi through gestures and body language; there is no conversation.
In those days, girls and boys would not get space to talk to each other at social dos, so Manga keeps finding ways to talk to her and express his love for her.
Gradually, Sargi falls for Manga's charm.
But they face opposition from the family.
The girl's grandfather, a Gandhian, opposes the match with Manga who works for the British.
There are some interesting twists and turns how Manga convinces Sargi's family.
Manga tries to establish himself as a patriot, but whatever he does, it goes against him and he finds himself trying harder to impress the girl's family.
Is it a romantic comedy?
It is a mix of rom-com and drama, action, patriotism...
It's a light movie and by the time the film reaches the climax Manga becomes a deshbhakt, and convinces everybody that he is not a firangi, how he madly loves both his nation and Sargi.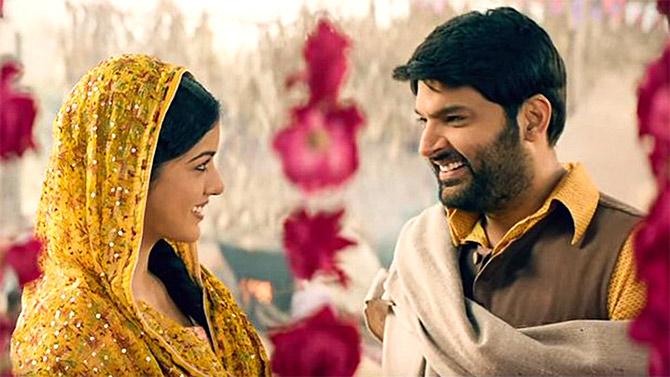 IMAGE: Ishita and Kapil Sharma in Firangi.
What was your reaction when you were told you would be paired opposite Kapil?
I am a huge fan of his show (The Kapil Sharma Show); I have seen almost all the episodes.
Smile apne aap aa gayi hotho pe ki arre inke saath kaam karne ka mauka mila hai, kitna maza aayega (I smiled because I got an opportunity to work with him, I thought it would be good fun).
We had a lot of fun shooting the film.
Kapil and Rajiev Dhingra (Firangi's director) are childhood friends so they shared a nice bond.
A lot of the actors in the film were part of The Kapil Sharma Show. They welcomed me and were warm to me.
It was my first time in Punjab and the best thing was I had to gain weight for this film.
I enjoyed the entire culinary range from Punjab -- ghee, makhan laga laga ke kha rahi thi (I would eat dollops of ghee and butter).
I have had lassi so many times in Bombay, but when I had it there, I could not believe ke lassi isko bolte hai (I didn't realise this is how lassi really tastes).
How did you lose the extra weight?
I must have easily lost six or seven kilos after the shoot.
I don't follow a single (exercise) regimen because I get bored easily. I think the body also gets bored doing the same thing.
I do Kathak, Pilates. I run. I did a month-long kick-boxing course... I keep changing my exercises.
I don't believe in dieting. I eat proper meals every day.
I love sweets, but don't have them every day. I have them maybe once a week or during social functions or festivals.
I would advise people never to diet!
Why do you work so hard? For eating only, na? To live your life, na?
What's the point if you stop living and enjoying your life?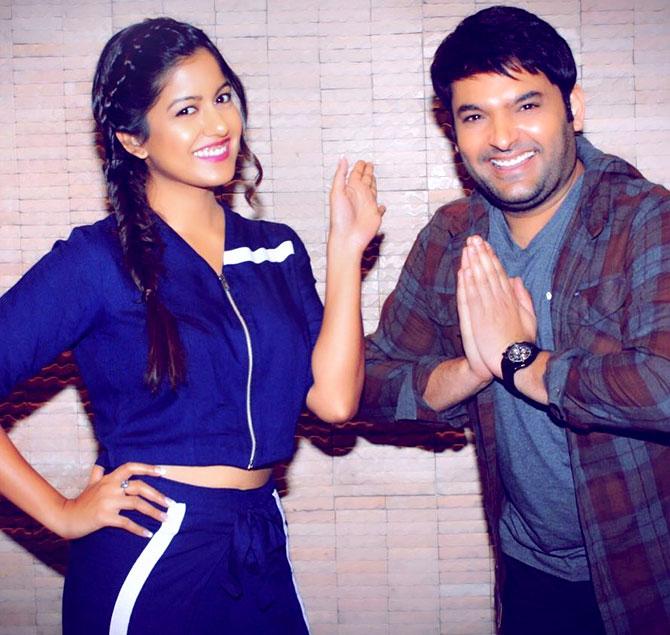 IMAGE: 'How can u not laugh with this one around haha @kapilsharma my jaw still hurts'. Photograph: Kind courtesy Ishita Dutta/Instagram
Tell us something about Kapil that nobody knows.
He is very, very, down-to-earth.
During the shoot, we were not supposed to reveal much about our characters or outfits to keep up the interest. So, we were not allowed cameras or mobile phones.
But huge crowds would gather to see Kapil from all over Punjab. Everybody would request pictures with him.
He would stop the shoot, change his costume, click pictures with everybody, come back, change again and continue shooting.
That was a very sweet gesture because your fans appreciate the way you treat them.
Also, Kapil is a dream producer. He would postpone the shooting to the next day if the weather turned nasty or there were problems with lighting.
He took a lot of effort to make it look like a period film.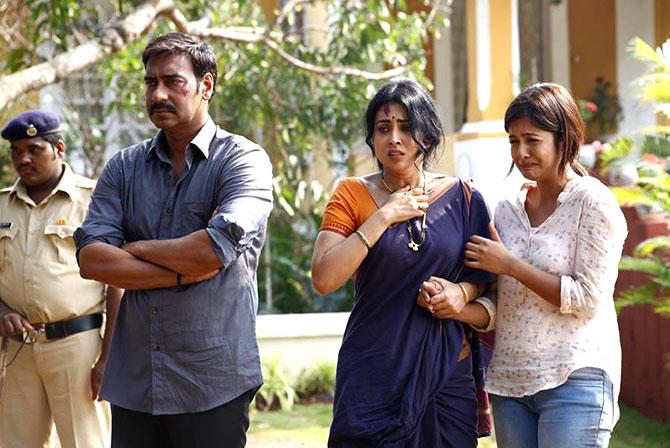 IMAGE: Ajay Devgn, Shriya Saran and Ishita in Drishyam.
This is your first lead role. How nervous are you?
Honestly, I feel anxious only about the promotions (laughs). It's so hectic!
Otherwise, I am not boasting, but I am pretty confident Firangi will do well.
Abhi toh kuch kar nahi sakte; jo hona tha woh ho gaya; abhi tension leke kya fayda? (The film's done. Whatever had to be done is done; what's the point feeling tense?)
I am really excited to see the film with my parents. They will come over with my mausis (aunts). We will watch the film first day, first show.
I was very nervous during Drishyam, but when I saw the expression on my parents' and sister's face, I was very relieved and happy.
Drishyam was a risky bet for me. I was a newcomer and got my first character as a child artist.