'We used to have beautifully crafted, witty and touching duets which taught the genders how to speak and romance each other.'
'Where else would we get the genius of Lata Mangeshkar and Asha Bhosle from?'
Nikita Puri discovers how Sona Mohapatra is forging her own path.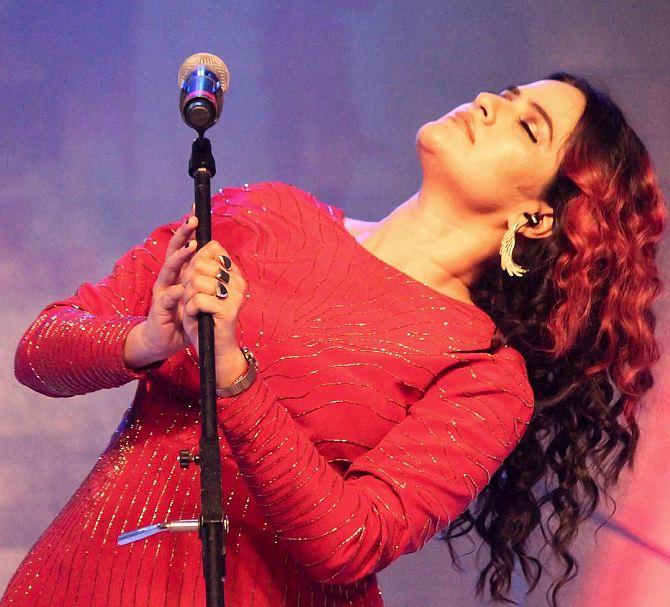 IMAGE: Sona Mohapatra was born to perform on stage. Photograph: Sona Mohapatra/Instagram
When Sona Mohapatra, whose freshest hits include Qatl-E-Aam from Anurag Kashyap's Raman Raghav 2.0, expressed her angst over Salman Khan's infamous rape comment, the musician faced a severe backlash from Sallu Bhai's fans.
While Khan reportedly had almost immediately realised the folly and insensitivity of comparing a hard day's schedule to rape, Bhai's fans were not so easily 'enlightened.'
Within a span of 48 hours, the Ambarsariya hitmaker had received thousands of rape threats and was inundated with morphed pornographic images, besides being threatened to be put out of work.
Following the abuse flung at Mohapatra, the women and child development ministry, headed by Maneka Gandhi, made a move to counter Internet trolls by requesting Twitter to suspend the account of one of the abusers involved.
'I will not let the stupid, dangerous, nasty few win,' Mohapatra had said in a Facebook post then, but the intensity of abuse directed at Mohapatra had Gandhi tweeting: 'Are you a woman who is trolled or abused? Inform me at gandhim@nic.in.'
Mohapatra isn't one to cower in the face of such abuse -- she never has been in all her 40 years.
On Facebook, where she actively interacts with fans, Mohapatra calls herself an 'Alpha Female,' 'Main Hun Laal Pari Mastani,' she says.
Celebrity culture is responsible for how our society reacts, believes the performer.
"We have an entitled class in this country which operates above the law no matter which government is in charge and this must end."
The silver lining here, she feels, is that after being bombarded with propaganda, India's youth is finally beginning to question things on a fundamental level and privilege is one of them.
Once a brand manager for a consumer goods company, Mohapatra has an MBA and an engineering degree, but music has always been her "first love."
It's a love that runs in the family. All three Mohapatra sisters -- Sona, Madhumita and Pratichee -- are trained Hindustani classical singers.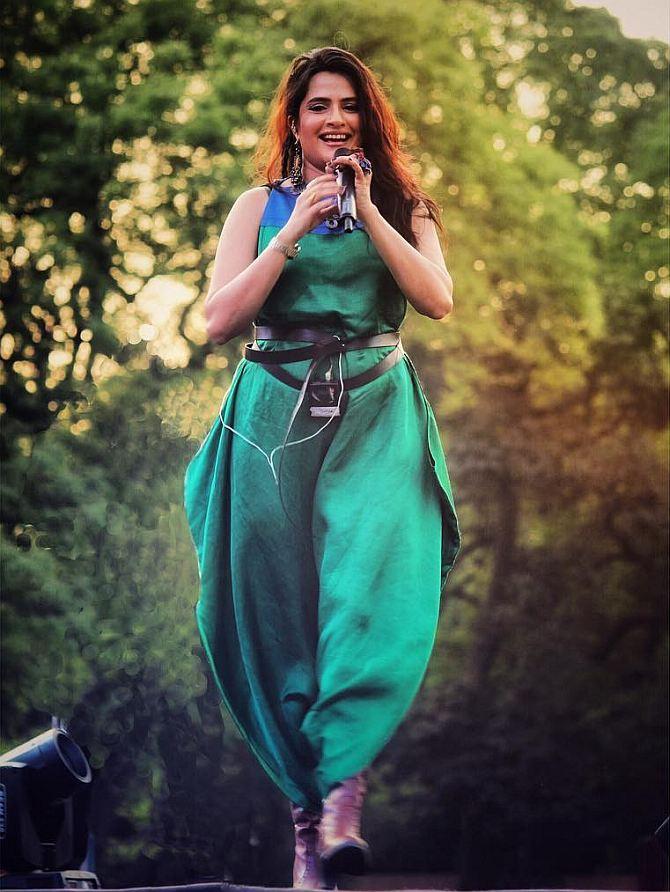 IMAGE: Sona Mohapatra loves her boots and clunky jewellery. Photograph: Sona Mohapatra/Instagram
Back in May 2012, towards the end of the third episode of Aamir Khan's Satyamev Jayate, the audience on the sets of the show became visibly teary eyed when the woman on stage, Mohapatra, began to sing.
She sang of blossoming like the morning and meeting fate. Arre Mujhe Kya Bechega Rupaiya, she sang with great resolution.
Her voice was powerful, soulful and rustic, but what moved the audience across an arc of emotions was the way the singer rendered the song composed by her husband Ram Sampath and penned by Swanand Kirkire.
And just like that, Mohapatra, then dressed in an anti-fit layered dress worn with boots and chunky jewellery, became a voice that was YouTubed over five million times in its first week alone.
Mohapata's relationship with the average Indian music-lover may have been cemented by her association with Satyamev Jayate, but this Cuttack-born Odia's debut album had long heralded the coming of a confident new voice back in 2006.
Tere Ishq Nachaya and Bolo Na continue to be hit singles from her debut album, SONA.
The singer has always been somewhat of a firebrand. When Sonam Kapoor's Khoobsurat courted controversy for a track called Anjan Ki Aeeti, where it was alleged that the song was ripped off one of Anu Malik's compositions, the ever candid Mohapatra, also a staunch supporter of folk music, swiftly came to Kapoor's aid on Twitter.
Her sister Pratichee, of the now defunct girl band Viva, said last year, 'Sona does not bother about her celebrity status and truly stands for what she believes is right.'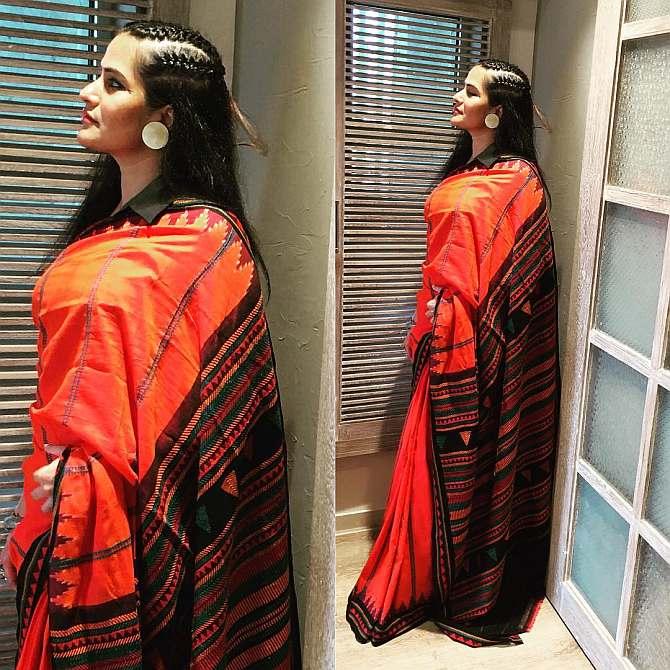 IMAGE: A vision in red. Photograph: Sona Mohapatra/ Instagram
Even while growing up, Mohapatra shares how she was always the "insolent" one.
As a child she had earned the moniker 'Chandi ro jhio' (Odia for Chandi's daughter) because she'd never shy away from speaking her mind.
"Durga is the deity that I most connect with and Chandi is another form of Durga," says Mohapatra.
At college events, Mohapatra is often spotted talking to students about body image: 'Amazonian' and 'Rubenesque' are just some of the labels associated with the songstress, and these are descriptions she's comfortable with.
"I'm very comfortable in my skin and wouldn't change a thing. I cannot diet without it affecting my mental faculties which I hold very dear. I choose comfort over high fashion any day. I don't plan to ever go under the knife for cosmetic reasons," she says.
In 2011, when Sampath's compositions for Delhi Belly were all the rage, Mohapatra was seen on screen in the track Bedardi Raja.
Teeming a long-sleeved décolleté blouse with a sari and a big red flower pinned to her hair as she plays a bass guitar, Mohapatra not only paid homage to the kotha tradition of India, but also gave us a brazen new song with an old world charm.
Another inspiration from Durga is Mohapatra's love for the shades of red.
"It's Durga's colour, and it invokes passion, energy, sensuality and femininity in me," she says.
Often spotted wearing full-length gowns and even saris with combat boots, Mohapatra's unconventional ethnic-fusion sensibilities have only added to her diva image.
"I think most of the 'civilised' world ends up like clones of each other and where's the fun, the personality in that? I'm profoundly influenced by Indian folk traditions that are full of colour, vibrancy and individuality. I try and bring a modern twist to that idiom," says Mohapatra.
Somewhere in her closet, beside her collection of precious handlooms and combat boots, there's also an antique silver anklet that weighs eight kilos.
"I picked that up from Bhuj. It is a reminder of how our society likes to literally weigh down women to ensure that they cannot run away or go too far from home," says Mohapatra.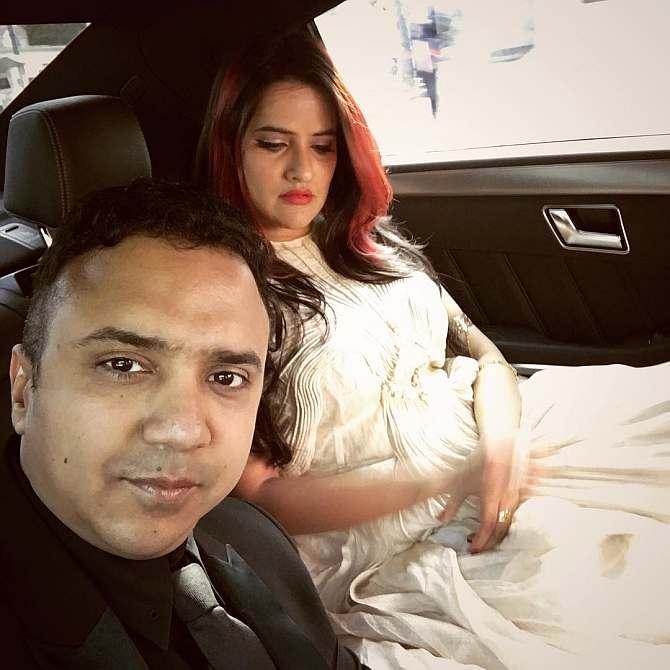 IMAGE: Sona with husband Ram Sampath. Photograph: Sona Mohapatra/ Instagram
What Bollywood needs, believes Mohapatra, is a "feminine perspective."
"We used to have beautifully crafted, witty and touching duets which taught the genders how to speak and romance each other. Where else would we get the genius of Lata Mangeshkar and Asha Bhosle from?"
"I think today the film business has been made very insecure by the Friday mafia, which is all about numbers," she rues.
Mohapatra shares how Abhi Nahin Ana from her first album continues to be requested by both college-goers as well as music aficionados at the Lincoln Centre, New York.
"I present it with Aaj Jaane Ki Zid Na Karo and Abhi Na Jao Chhod Kar (the Asha version). Many top directors from Bollywood have come up to me praising the song, saying it's their personal favourite, and yet they will not have a place for such songs in their films."
"There is no place for a singular feminine expression like that in a film nowadays."
While Bollywood misses out on making the best of Mohapatra's talent, she continues to celebrate life with OmGrown Music, a music production she runs with her husband.
"The stage is my life's true calling. I believe I was born to perform on stage; the larger the audience, the better," says the singer.
For those who've missed out on her energy-fuelled concerts, there is YouTube for the soothing Jiya Lage Na from Talaash. And there is also the upbeat Paas Aao Na, a catchy number that was used as the jingle for a toothpaste brand in 23 countries over 18 languages.