'There is nothing objectionable about the film.'
Sanjay Leela Bhansali's Padmaavat opened in India on Thursday, January 25, to mixed reactions.
Whatever they liked or disliked the film, one thing remained constant: Viewers did not find anything objectionable in Padmaavat, nothing that should enrage the Karni Sena whose cadres have run amuck in north India.
Rediff.com's Prasanna D Zore spoke with cine-goers who watched the film, first day, first show, in Mumbai.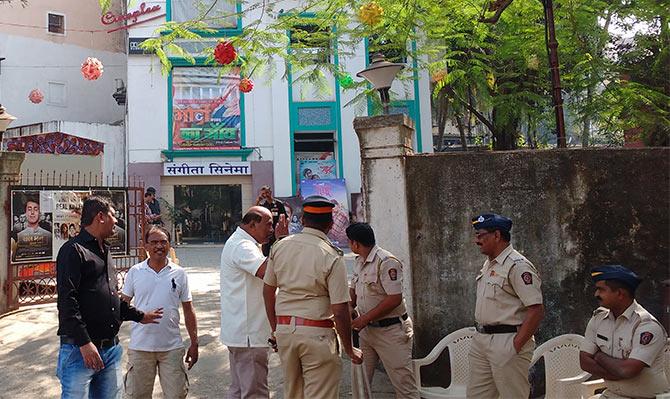 IMAGE: Police bandobast outside the Sangeeta Talkies in Malad, north west Mumbai. Photograph and Videos: Prasanna D Zore/Rediff.com
"The film shows the honour of Rajputs, there is nothing objectionable about the film," one viewer said.
Interestingly, theatres screening Padmaavat did not have hoardings outside indicating that the film was playing within its precincts.
These college students liked Ranveer Singh and Shahid Kapoor in the film.
They had come to watch the 8.15 am show!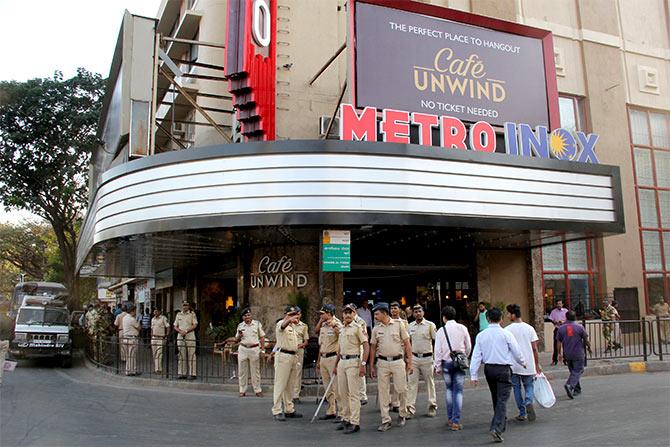 Policemen posted at the famed Metro theatre in Dhobi Talao, south Mumbai. Photograph: Sahil Salvi.
The G7 multiplex in Bandra, north west Mumbai, saw fans troop in to catch the film. Video: Afsar Dayatar/Rediff.com