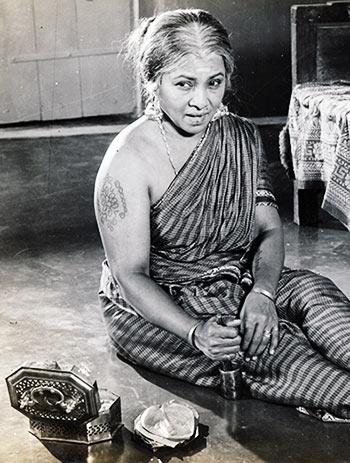 Eight reasons why we've loved Manorama Aachi.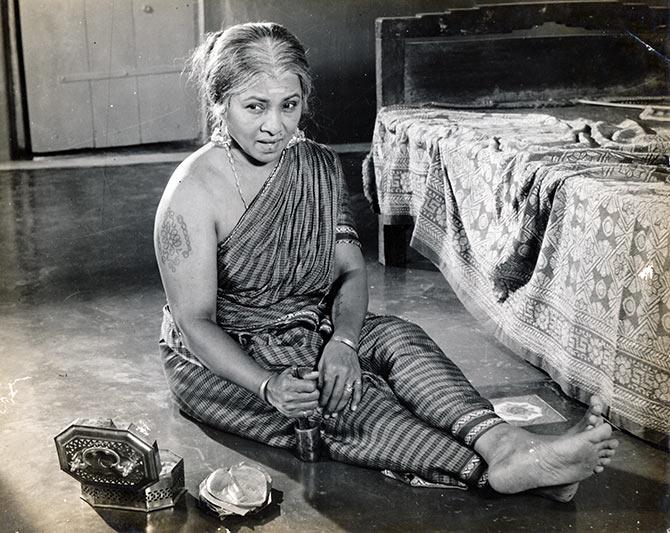 Veteran actress Manorama passed into the ages on October 10.
She has over 1,500 films to her credit, in a career spanning six decades. She was affectionately called 'Aachi'.
Manorama started her acting career at the age of 12 and was last seen in director Hari's Singam 2 in 2013.
Though she started her career as a heroine, she found her calling as a comedy artist. It was not just her keen sense of humour, but the ease with which she mastered the various Tamil dialects that endeared her to the public.
Though her comic timing was legendary, she could just as convincingly move you to tears with her heart-wrenching performances.
She was honoured with the Padma Shri in 2002 and was also the recipient of the Kalaimamani award by the Government of Tamil Nadu.
She has worked with all the leading actors of Tamil cinema from the 1960s to the present, including MGR, Sivaji, Jayalalitha, Rajini, Kamal, Prabhu, Arjun, Ajith, Vikram, Suriya and several others.
Here is a look at some of her memorable performances.
Saraswati Sabatham, 1966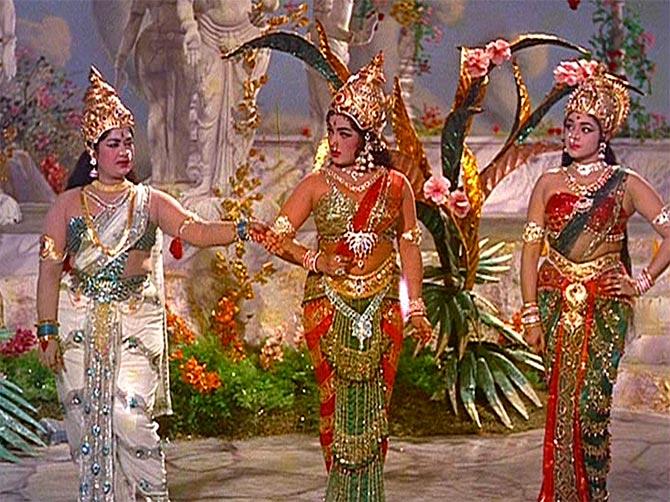 Image: A scene from Saraswati Sabatham
Manorama and Nagesh have worked together in nearly 50 films, and were an unbeatable combination in the 1960s.
Saraswathi Sabatham, starring Sivaji and Gemini Ganesan, was one of their more popular films together.
Nagesh teasing his wife Manorama, who has difficulty pronouncing 'r,' adds a lot of entertainment to this mythological film.


Thillana Mohanambal, 1968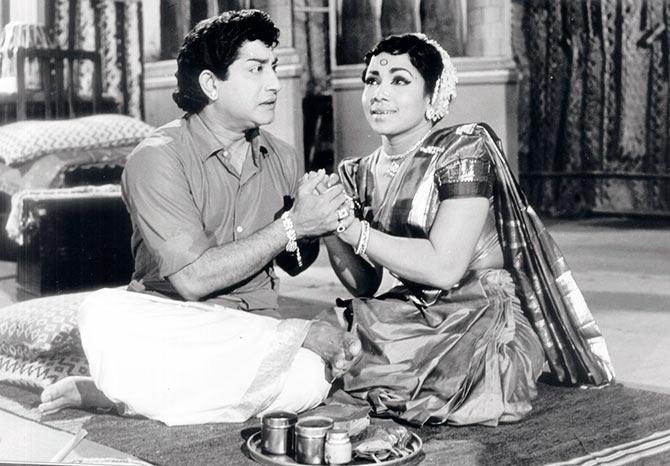 Image: A scene from Thillana Mohanambal
The cult classic Thillana Mohanambal may be remembered for the performances of legends Sivaji Ganesan and Padmini, but one cannot forget the exuberance of a young Manorama as a folk dancer.
Manorama, who was a relative newcomer at the time, is believed to have confessed in an interview that she was extremely nervous working with Sivaji and TS Balaiah.
She played the character of Karuppayi alias 'Jil Jil' Ramamani, Sivaji's sister in the film.
Her easy, light-hearted banter struck the right chord bringing in plenty of cheer, making it one of the most memorable performances in the initial days of her career.


Unakkum Vazhvu Varum, 1978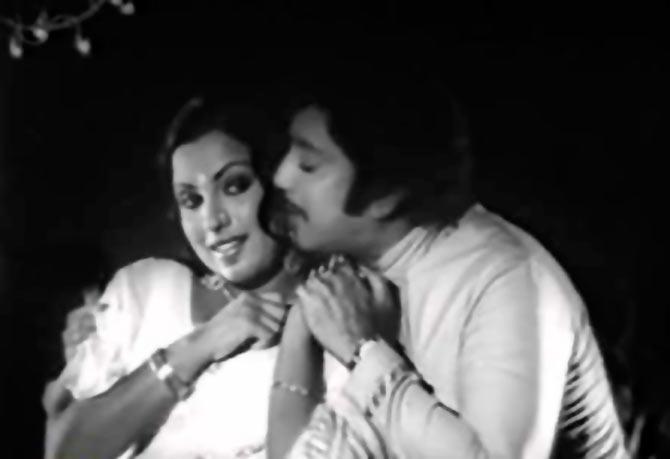 Image: A scene from Unakkum Vazhvu Varum
One of Manorama's personal favorites is her character in the musical Unakkum Vazhvu Varum, starring Pandharibai.
She plays a talkative girl, who is forced to act dumb throughout the film.
The film saw her paired opposite Thengai Srinivasan with whom she has worked in several films in the 1970s and early 1980s.


Samsaram Adhu Minsaram, 1986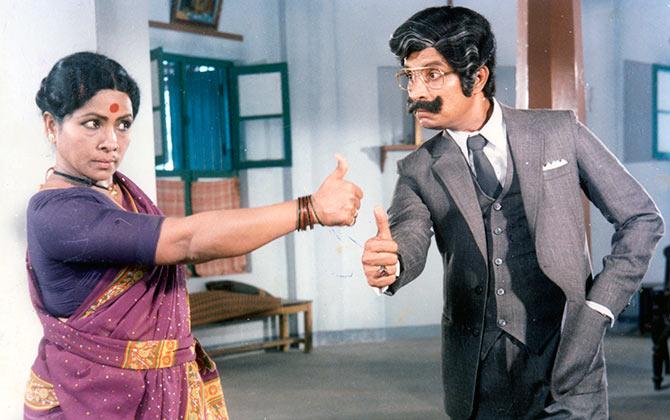 Image: A scene from Samsaram Adhu Minsaram
In the National award-winning film Samsaram Adhu Minsaram, Manorama plays a housemaid named Kannamma, who tries to resolve the issues of a joint family separated by circumstances.
She has always been known to bring authenticity to her character with her perfect dialects and one popular dialogue from the film that is fondly remembered even today is Gammunu Kada.
Repeated in her typical style in Chennai slang, the scene was a huge hit and one of the highlights of the film.


Apoorva Sagodharargal, 1989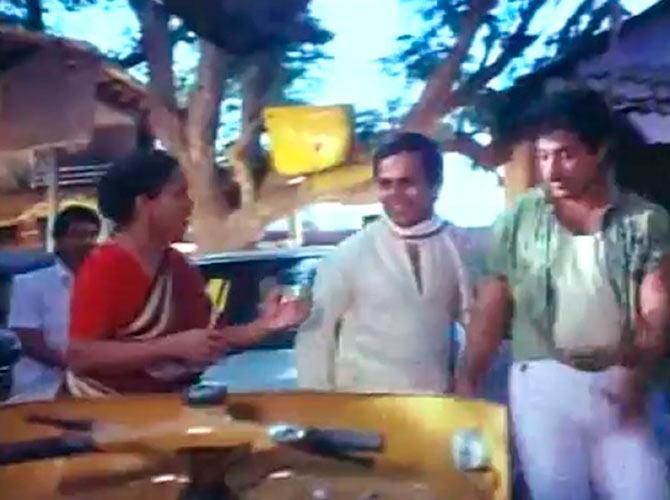 Image: A scene from Apoorva Sagodharargal
Another popular dialogue that Manorama made memorable and hilarious was 'Ayyayayayo ayyo' in the film Apoorva Sagodharargal.
Standing outside the police station, she continues to rant as the police question her son on a murder charge.
Directed by Singeetam Srinivasa Rao, the film had her portraying the foster mother of Kamal, who essayed a triple role in the film.


Nadigan, 1990
Image: A scene from Nadigan
Director P Vasu's Nadigan was a huge blockbuster. The film had Manorama essaying the character of Baby Amma, a 50-year-old unmarried aunt and guardian of the heroine, Kushboo.
She is simply hilarious as she unwittingly falls for the hero, a young Sathyaraj, who pretends to be an old tutor.
In an interview, the veteran actress once claimed that the role was extremely challenging as one wrong step would have made her character seem vulgar.


Chinna Gounder, 1992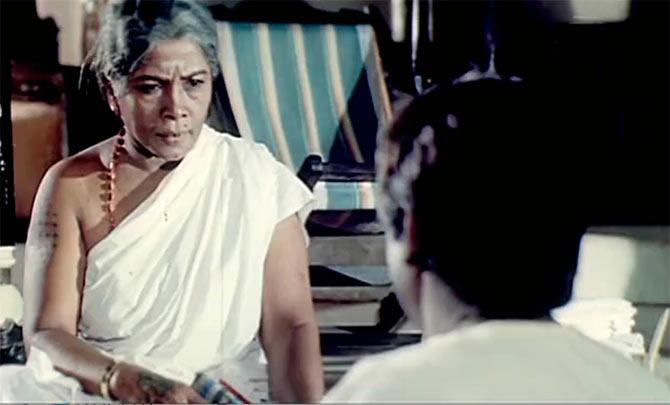 Image: A scene from Chinna Gounder
The brilliant combination of Manorama, Goundamani and Senthil was one of the biggest strengths of the super hit film Chinna Gounder.
Actor Vijayakanth and Sukanya essayed the lead role, while Manorama played Vijaykanth's widowed mother.
In a rustic get-up with big protruding teeth and superb sense of humor, Manorama was a laugh riot.


Gemini, 2002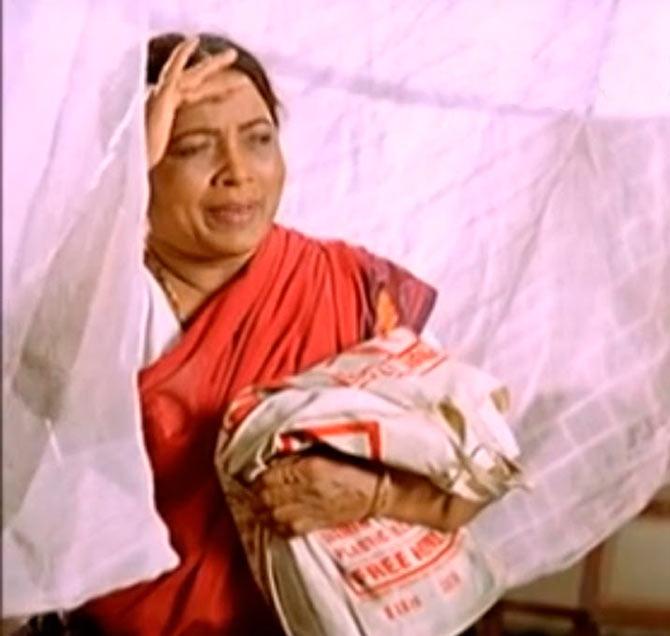 Image: A scene from Gemini
Manorama played the quintessential mother or grandmother of the present generation of actors more times than we can count.
In director Saran's Gemini, she played Annamma, a woman out to kill the hero Vikram, who she suspects of killing her only son.
She pretends to be a cook and plans to avenge her son's death by poisoning his food.
Gemini went on to become one of the highest grossing Tamil films of the year.