With her final act, paddleboarding from Rishikesh to Varanasi during the last months of her battle with cancer, Michele Baldwin fought for the promise of life. Filmmaker Frederic Lumiere tells Arthur J Pais about the inspiring story of Lady Ganga.
When Michele Baldwin told her professor at the University of New Mexico's EMSAcademy 'I'm going out with a bang,' she was not making an empty boast.
The cervical cancer-stricken mother of three, who was in her early 40s, had decided to reject a scholarship and instead embark on the journey of a lifetime: Standup paddling down the Ganga.
Nothing was off the limits to her in the last months of her life, Baldwin, who is going to be heroine of the documentary Lady Ganga, told herself and her family.
'It was August of 2011 when, two months after being told there was no longer any treatment available for my cervical cancer, I came up with the idea of paddleboarding the Ganga,' she wrote in her journal. 'It came to me like a little secret whispered in my ear. It's an original synthesis of pilgrimage, athletic challenge, and opportunity to raise awareness about the cancer I have which kills 250,000 women a year worldwide. So, it's not so much as a want, but something I feel I must do.'
She had begun her 'lifelong interest' in India at 19.
'Now I would like to return to India for a final trip... The reason I am writing is that I have this dream of being one of the first women, if not the first person, to Stand up Paddle from Rishikesh to Varanasi in India. It would be an epic trip, my final act, encompassing a great sporting feat, a spiritual journey, and a platform to bring awareness to the evils of cervical cancer, which kills 74,000 women a year in India.'
Many of the victims come from poor families and are illiterate, she had discovered and Baldwin wanted to use her final months to raise awareness about the cancer and how early detection and right vaccines could stop it.
Flash forward to a few months after her Indian trip in 2012.
At the end of a two-hour phone chat with her, Emmy-winning filmmaker Frederic Lumiere knew he could not just feature her as one of the participants in his documentary Someone You Love: The HPV Epidemic.
"I realised she needed her own film, for this is the story of more than cervical cancer," Lumiere says from his office in Pennsylvania, discussing Lady Ganga, which is raising money through a Kickstarter campaign till November 29.
"It is a saga of more than setting a world record in paddling. It is about accepting your destiny, coming to peace with your death. She did so with a grace that I had never seen before."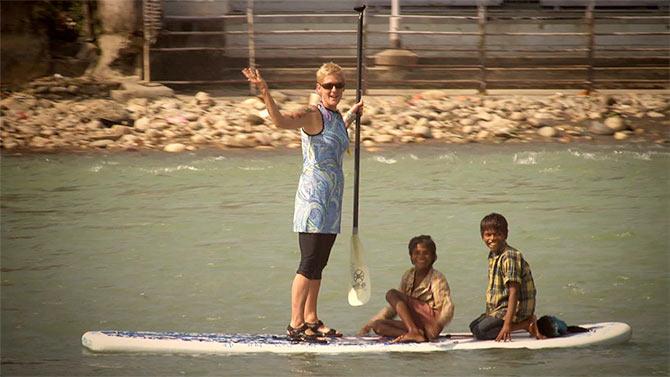 Image: Michele Baldwin, with some children, on the river Ganga
Baldwin's journey -- paddleboarding 700 miles down the Ganga -- continued even as the cancer was fast spreading.
She paddled two four-hour sessions a day, while also taking time to meditate and speak to women about the importance of getting regular check-ups to prevent cervical cancer.
'The experience will be greater than anything (I've ever done), but I'm starting to feel more pain, nausea and fatigue, so I worry I won't be able to complete the journey or raise the funds for GIAHC (Global Initiative Against HPV and Cervical Cancer) before I get too weak,' she wrote in her journal. 'And although I am prepared to die during the expedition, I don't want it for my kids -- I don't want them to have a negative view of India -- I just want to inspire them to live in a way that is strong.'
Despite her fears and others' doubts -- though was able to make her family understand her wishes; 'they saw that it was bigger than them, that it was bigger than her,' Lumiere told NBC -- Baldwin returned to her home in New Mexico after successfully completing her mission, in time for her to make arrangements for her funeral in keeping with rites of Buddhism, the religion she had embraced some years ago.
She died February 5, 2012. She was 45.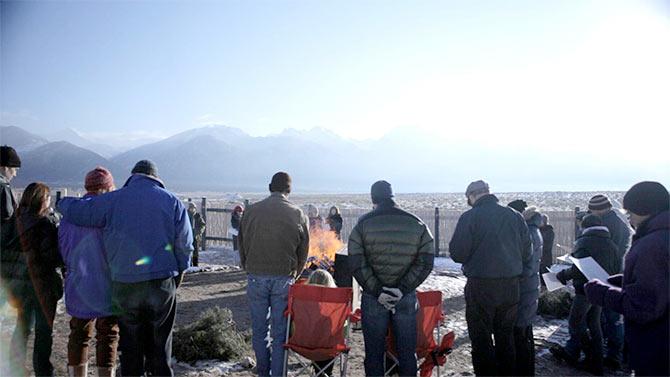 Image: Michele Baldwin's funeral in Colorado
"She was cremated," Lumiere says. "She died with her family around her. Her family honoured her wishes and quickly transported her body to Crestone, Colorado, the only place in the US where open pyre funeral ceremonies are allowed. The people in the town helped her make this arrangement; you could not use the facility without being a resident of the town."
She did not want her family and friends to feel uncomfortable with the fact that she was going to die and had invited them to her funeral. "I don't think any one of them was a Buddhist," he says. "It was quite possible it was the first open pyre that any of them had ever been to; it was certainly my first."
Baldwin, he adds, had long ceased to be afraid of death; she had told her family and Lumiere how her trip down the Ganga had helped her understand death.
"She said when she saw a dead body floating, she called the authorities thinking there was a crime," he recalls. "They laughed and said, 'No, no, you don't understand. This is what people do. You will be seeing many more dead bodies.' Later, she would see many more dead bodies, many more skeletons. She was surrounded by death all through that journey, and I think it really helped her accept it. She wasn't afraid of it anymore. She was telling herself seeing dead bodies of people and animals, 'It is just a body. And soon my body too will be like this.'"
Baldwin, whose physique had deteriorated considerably during her last months, not only "let people see her in her dying stage," but she also wanted people to see her in the film as she was. Something her mother, Ruth Frazier, did not want; Lumiere had to tell her that Baldwin had wished otherwise and said so in writing.
Baldwin, he adds, knew that the shock factor would prompt people to pay attention to the reality.
But even for Lumiere -- a 45-year-old who specialised in telling the stories of World War II and heroism in combat and had seen and heard many blood curdling stories (his recent film Sacrifice for National Geographic retold D-Day through personal stories with archival footage) -- it was not easy to take her story forward.
The sadness and courage in Baldwin's story overwhelmed as nothing before, he says. And one big reason why the project got delayed was because he was not satisfied with what he was putting together.
"Whatever I was doing on this film, I felt was not enough for Michele," he says. "It reached a stage when my wife and close friends urged me to see a therapist and I did so, for the first time in my life. The therapist urged me not to be afraid of my grieving for Michele, and only when I started doing so, things began to pick up again."
Lumiere says the $500,000 being raised for this project, which had collected over $150,000 on Kickstarter till the end of last week, will be used to honour Baldwin's wishes that her ashes be scattered in the Ganga.
He plans to take her youngest child, who is 12, to India to do so: "Filming this would offer an extremely powerful ending to an already powerful and inspiring story."
It will also be an opportunity for him and collaborator Mark Hefti to shoot scenes of the places Baldwin visited, adding to the film, which has many pictures taken by a photographer, guide and friend, Nat Stone, during the Ganga adventure.
Lumiere then wants to dub the film in over 50 languages, many of them Indian. "We want this film to be screened to some 5 billion people," he says. "It has to be dubbed so that millions who are not comfortable with reading subtitles or who cannot read at all, get to see it and follow the message that use of vaccines could help save thousands of lives."
The film will be 35 minutes long to qualify in the Oscar short documentary competition, he adds, and the filmmakers plan to donate the profits to the Michele Baldwin Foundation, run by the American Sexual Health Association to raise awareness about the human papillomavirus and cervical cancer.
About 79 million Americans are currently infected with HPV, and most sexually-active men and women will get at least one type of HPV in their lifetime, according to American health officials.
Baldwin wanted people to know what it is to die of cervical cancer, Lumiere says, and she also wanted people to know that it is almost always caused by HPV, for which there are vaccines.
Lumiere is determined to make some of the final words Baldwin wrote in her journal come true: 'Finally, I want to inspire others to be fearless. Do your own dreams, reach further than you thought possible, help more than you imagine you are able.'