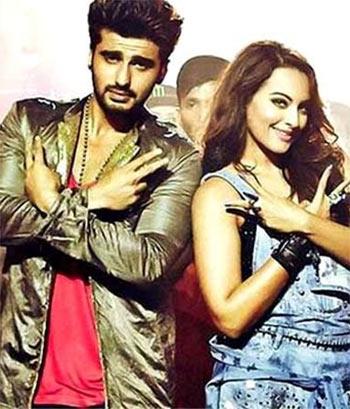 There's little to cheer about Sonakshi's solitary expression and lifeless chemistry with Arjun that makes for nearly three hours of the movie, says Sukanya Verma.
There was a time when Bollywood would blatantly copy from other films, scene by scene.
Now they buy remake rights and improvise.
What happens in this process is that a straightforward story about a kabaddi playing lad rescuing a small town girl from a politically-affiliated goon by devising on-the-ball tactics becomes a pompous, noisy, spiritless adaptation about a lout rescuing a bland damsel-in-distress from an advanced lout (the kind who vows to walk around in his underpants till he discovers the girl's whereabouts.)
Even at its most implausible, Mahesh Babu-Bhoomika Chawla starrer Okkadu works primarily because of director Gunasekhar's spirited treatment, offbeat gimmicks and the raw intensity of its leading actors.
But Arjun Kapoor and Sonakshi Sinha's phoney camaraderie fails to enthuse or engross in its rehash devoid of charm, chases and Charminar.
In director Amit Ravindernath Sharma's tale of two troubled cities, the backdrop of Mathura and Agra form a crude mix of vibrant culture, rampant anarchy and wanton violence that breaks loose after a minister's brother (Manoj Bajpayee) loses his heart to a journalist's sister (Sonakshi Sinha).
And because Bajpayee -- hired to do what he does in every Prakash Jha film, clad in a flashier wardrobe -- plays this callous wretch; there will be dialogues -- daft, dull, dowdy dialogues.
While I'll toss a coin to decide if he's any less irritating than Prakash Raj in the Telugu original, it's tedious to watch him blabber dated threats, wearing a dated scowl against a dated background score.
Bajpayee's extreme steps to attain Sonakshi backfire when a man who compares himself to a Rambo-Arnie-Salman milkshake butts in.
Only the hugely miscast Arjun Kapoor does not even remotely possess the heft to pull off such a lofty claim.
Sure, he's muscular and Tevar is filled with nothing except clamorous sequences to showcase his brawn power.
What's absent from his think out loud candour is the vulnerability that struck most about Salman Khan of Baaghi or Sunny Deol of Arjun.
It's not just limp characterisation but also director Sharma's strange decision to do away with the highpoints of its source's screenplay.
Also, the hero's background in kabaddi underscores his fleet-footed temper and impulses yet Tevar uses it no differently than Shruti Haasan's item number, a fleeting distraction.
The drama does gather some momentum just before approaching its third act but slumps disastrously to entertain the most contrived demands of the masala genre.
With its monotonous slash, smash and stab in the name of action, quips like 'Jo channe khaate hain woh badam ke paad nahi maarte (I won't even attempt a translation)' for the sake of humour and songs that make you pray for a remote control to fall miraculously in your lap, there's little to cheer about Sonakshi's solitary expression and lifeless chemistry with Arjun that makes for nearly three hours of the movie.
Unless watching Raj Babbar's most restrained performance since forever is enough to dole out the price of admission, I'd recommend you grab a copy of Okkadu. Even without subtitles you'll find it way more engaging.
Rediff Review: