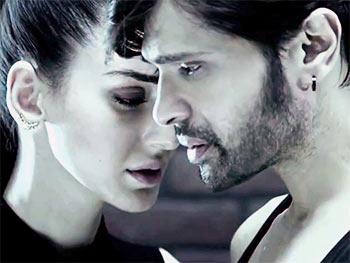 Himesh Reshammiya, the only valid reason for Teraa Surroor's existence, does not show any expression. Not even one. Not even a quarter, notes Sukanya Verma.
A wise man once said, 'Tumhe na uthake museum mein rakhna chahiye. Ticket lagna chahiye tumhe dekhne ke liye.'
A fool actually took his sarcasm as suggestion and decided to become worthy of an exhibition.
To cut a long story short, this Friday morning I bought a ticket to watch Himesh Reshammiya's latest shot at what another wise man said, 'Sabko aati nahi, meri jaati nahi..'
It's called Teraa Surroor -- director Shawn Arranha's relentless (and brainless) tribute to a song that a composer, singer, lyricist, producer and actor crooned in his decade-old album Aap Kaa Surroor (also the name of his acting debut) whose music videos featured the likes of Deepika Padukone and Minissha Lamba.
Here are ten peculiar things I discovered while watching this 100-something minutes long film.
1. Reshammiya plays a businessman but dresses up like Jean-Claude Van Damme in the '80s and wears the same shade of pink lipstick as his girlfriend (Farah Karimaee). He cheats on her, citing occupational hazard.
Entrepreneur or undercover sex worker, you don't want to find out. But, hello, he has a heart of gold or so his would-be mom-in-law (Shernaz Patel) vouches, sporting the same shade of pink as the two.
2. Reshammiya's newly acquired buff takes up most of the screen space.
During a lovemaking scene -- if you want to call it that, I've seen more passion in pigeons on my balcony ledge -- it's hard to tell his pecs from a butt crack.
3. 'Jurm ki duniya mujhe ek gangster ke naam se janti hai,' he mumbles in his nasal drone against the backdrop of filmi rain.
Of course, it's his asphyxiating wardrobe that has the last word.
Reshammiya's character says he's a big fan of Bollywood movies and its penchant for dialogue-baazi. Believe it or not, there's even a backstory, a legitimate flashback.
Apparently, his mother worked as junior artist in the movies. Disappointingly, it's not Kirron Kher.
4. Ireland is a scenic country and you see a great deal of its capital in Teraa Surroor with Reshammiya nuzzling up to every lamppost and tackling a dozen masked men around with what is reduced to Dublin's equivalent of Bandra fort.
All this time the camera, speedily or in slow-motion, zooms in and out to highlight his futility in replicating mentor Salman Khan's swagger.
5. According to Teraa Surroor, Ireland is full of racists who speak in a fictional accent, birdbrained security services facilitating the most preposterous escape in movie history and orange jumpsuit-clad prisoners who might or might not be fans of America's most popular TV shows.
6. Patriotism is somehow connecting General Dyer, bin Laden, desi tamancha and Bharat Mata Ki Jai in the same breath.
7. Flashing navel is the new save face of the talentless?
If playing a dimwit, whose alibi for everything is 'I only know him through Facebook,' isn't pitiable enough, new girl Karimaee and her consistently vacuous face dodder through most scenes, be it jail, hospital or church, in a strategically cropped tank top revealing all she has to offer.
8. Ridiculous has no limit or expiry date. Even as I recover from convict cum counsellor Naseeruddin Shah or 'Bird: The true story of a man who flew 14 prisons' plotting Karimaee's escape out of jail and Reshammiya's transit map by hearing skills, there's Shekhar Kapur -- a smirking Indian ambassador uttering badly translated lines about 'making him an offer he could not refuse.'
9. As Kapur's screen wife, Monica Dogra gets the worst deal of the lot -- a Dublin-based lawyer suggesting extradition for her client because ghar ka jail is so more comforting.
Though nothing beats her proposal to almost ex-husband -- Divorce se pehle kya mujh se phirse shaadi karoge?
If she finds this embarrassing, her stilted expression does not show.
10. True to his reputation, Himesh Reshammiya -- the only valid reason for Teraa Surroor's existence, does not show any expression. Not even one. Not even a quarter.
If watching a 100-something minutes long music video starring a deadpan, poor man's Sunil Shetty strutting self-importantly in Salman's hand-me-down is your kind of entertainment, book your ticket RIGHT NOW.
Rediff Rating: