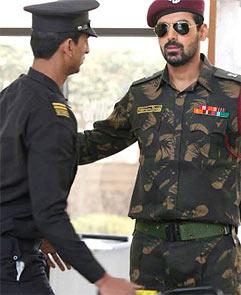 Irrational protests notwithstanding, the Tamil version of Madras Cafe is all set to be released on Sunday, August 25. But it will release in Andhra Pradesh only, not in Tamil Nadu.

"It has been a very tense week for John Abraham and me," says the film's director Shoojit Sircar. "We didn't know what hit us, or what the protests meant but we won't succumb to pressure tactics."

The Tamil version took time to be censored.

"It's our fault. We decided to do a Tamil version of the film a little late. So the Tamil Madras Café
was submitted late. The CBFC (Censor Board Of Film Certification) has cleared the Tamil version without any cuts with a 'UA' certificate. That means the Tamil Nadu authorities find nothing objectionable in the film. So the protesters in Tamil Nadu are now treading on thin ice. Those in Tamil Nadu, who have seen the Hindi version of
Madras Cafe
say there is nothing objectionable in it," says the director.
However, Ajit Andhare of COO of Viacom 18, the co-producers of
Madras Café
, throws a shocker by saying , "Given the threats and protests it is unlikely that we'll be able to release the Tamil version of
Madras Café
in the near future. The theatre chains in Tamil Nadu feel it is risky to play it. So we are releasing the Tamil version in Andhra Pradesh on Sunday."