Aseem Chhabra's take on the highlights of Indian cinema this year.
With the close of the year, critics and film writers come up with their top favourite lists. But even in those remarkable films there is often one element that stands out.
So here is my take on the highlights of Indian cinema in 2015 -- exploring some remarkable performances, trends, charming moments and other creative segments of the films.
The following list with 11 films is in alphabetical order. There is no countdown here of the top ranking films. Rather, I am looking at what surprised me in these films.
IMAGE: Bajirao Mastani redefines Priyanka as a Bollywood star, says Aseem Chhabra. 'She plays her pain with such finesse that she truly owns the film.'
1. Priyanka Chopra in Bajirao Mastani
The way Bajirao Mastani was written -- there are two main characters -- Bajirao (Ranveer Singh), a Hindu Peshwa, who falls in love with Mastani (Deepika Padukone), the Muslim daughter of Raja Chattrasal, the Hindu Rajput king of Bundelkhand.
As the title of the film suggests -- and as Hindi films usually work -- the lead characters, their romance should take precedence over everything else.
But Sanjay Leela Bhansali did not cast the third main character with a smaller new actor. Instead, he chose the seasoned Priyanka Chopra for the role of Kashibai, Bajirao's first wife.
Priyanka has a lot more film experience than Ranveer and Deepika. She does what the script requires of her -- to play the first wife, who feels ignored and rejected. But she plays her pain with such finesse that she truly owns the film. She is so good in the film that her sadness is nearly palpable.
Bajirao Mastani is rich with details -- sumptuous costumes, jewelry and opulent sets. Long after the film finishes its theatrical run, it will be remembered as the film that redefined Priyanka.
She has hit the right mark with her television show Quantico. And Priyanka cannot be written off as a Bollywood star. She is still here, very much present.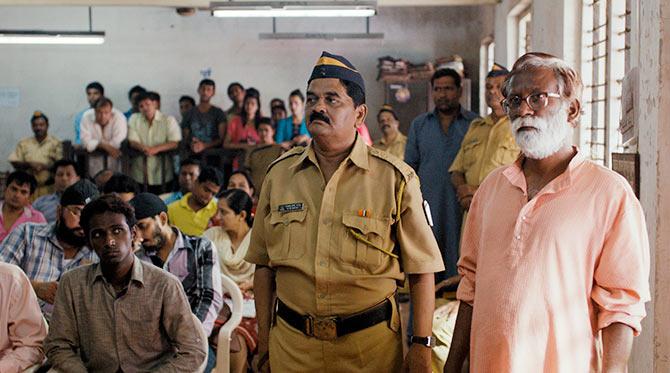 IMAGE: Court 'makes us sit up and say there is something very wrong with the system in India.'
2. The class dimensions of Court
Chaitanya Tamhane's multiple award-winning Court is an exploration of the caste, class issues that India faces, along with a strong indictment of the country's legal system.
Vivek Gomber -- who is also the film's producer -- plays a socially committed lawyer Vinay Vora who comes from a privileged background. In a scene in the early part of the film, Tamhane lays out his crucial statement.
After a day trying to defend a Dalit activist and folk singer Narayan Kamble, Vinay visits a high-end gourmet food shop in Mumbai.
There he spends time looking at cheese (perhaps imported), Perrier, picks up wines and walks past a freezer selling Haagen Dazs. The film does not judge Vora. He can afford expensive imported food, so why should he not spend his own money?
As an audience member I felt very troubled by the scene, especially realising the Kamble is holed up in some miserable jail on a flimsy charge.
Court does that again and again. It makes us sit up and say there is something very wrong with the system in India.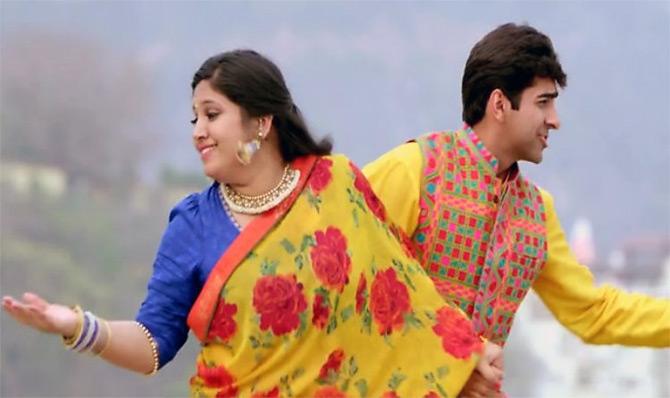 IMAGE: 'The magical combination of Anu Malik's music and the lyrics by the talented Varun Grover make Dum Lagake Haisha shine.'
3. The lyrics and music of Dum Lagake Haisha
Sharat Katariya's Yash Raj production Dum Lagake Haisha is a delightful film about a hapless man forced into marriage with a woman, more educated and smarter than him, but who is also rather heavy.
The film is a homage to the music and moods of the early 1990s when audiocassettes were still a rage.
Dum Lagake Haisha is an utterly charming film, well written, with terrific actors.
But it is the magical combination of Anu Malik's music and the lyrics by the talented Varun Grover that make the film shine.
I loved the lyrical Tu (sung by Kumar Sanu) and the final 'item number' Dard Karara (also Kumar Sanu with Sadhana Sargam).
My favourite song from the film -- and I think it is the best Hindi film song of 2015 -- is Moh Moh Ke Dhage (sung by Papon and then Monali Thakur). It is a lovely blend of deeply touching poetry by Grover and the quiet rhythm composed by Malik. It is a romantic song I can hear many times, with a very warm, somewhat funny, video for everyone to watch on YouTube.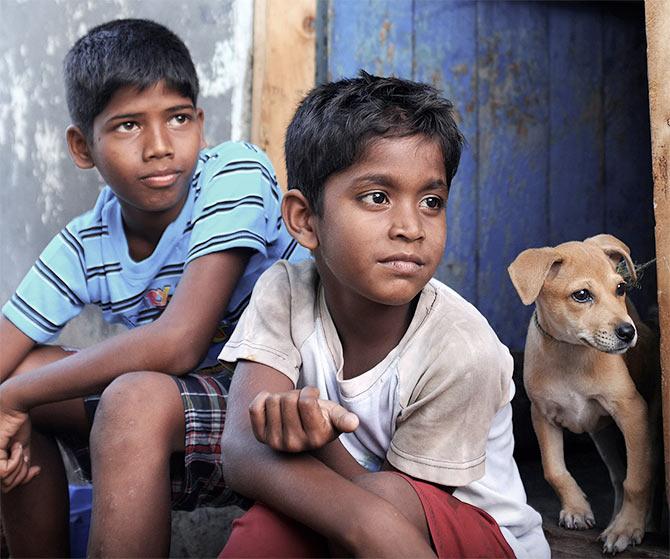 IMAGE: Kaaka Muttai, 'the sweetest Indian film of 2015.'
4. The pizza track in Kaaka Muttai
M Manikandan's Kaaka Muttai (Crow's Egg) is by far the sweetest Indian film of 2015.
I first saw this very likable film about two young brothers living in the slums of Chennai at the Toronto International Film Festival and was blown away by its simplicity and yet authentic take on childhood.
Despite severe hardships the kids -- adorable newcomers Ramesh and J Vignesh -- are mostly happy with their lives, collecting coal to make some extra money and stealing crows' eggs. Then suddenly they notice a new pizza parlour that has opened across from their slums. And thus starts their quest to taste pizza.
In one lovely scene their grandmother makes them a dish that resembles pizza -- essentially a dosa, layered with tomatoes. The boys take one bite and then reject the poor woman's efforts.
I will not give away the ending, but much later, in another charming moment, the brothers remember their grandmother's pizza and regret wasting it.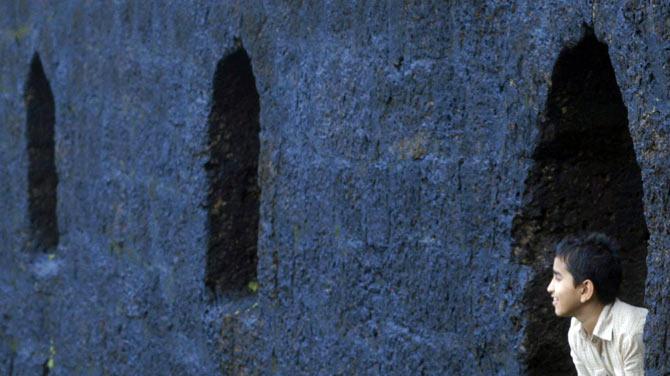 IMAGE: A 'perfect cinematic moment' from Killa.
5. The fort sequence in Killa
Cinematographer Avinash Arun's Marathi directorial debut Killa explores childhood from the point of view of a young boy.
The heartwarming film focuses on Chinmay (Archit Deodhar), and the year he spends in a village in Maharashtra, making new friends, while also caring for his single mother. Killa is beautifully shot in an idyllic rural setting.
In the middle of the film Chinmay and his school friends race their bicycles and end up in a fort (Vijaydurg located in Maharashtra's Sindhudurg district). Suddenly rains lash out and the boys run for shelter.
In the confusion Chinmay loses his friends and finds himself alone in a corner in the fort.
It is a quiet scene, beautifully shot by Arun, with a serene poetic quality. It is a scene rarely captured in an Indian film, where the power of nature, layered with the presence of a large architectural structure (the fort) and the magic of cinematography all come together to create a perfect cinematic moment.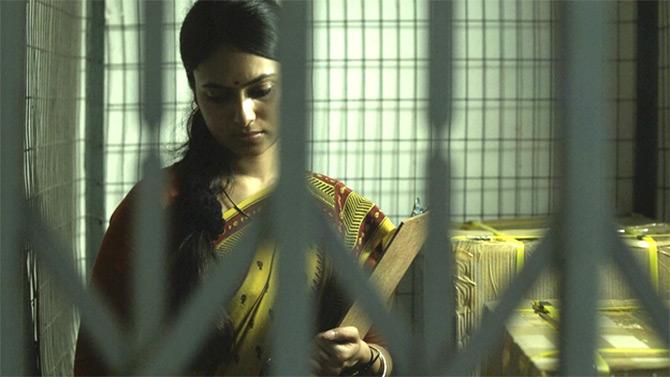 IMAGE: Asha Jaoar Majhe: Eloquent and moving in its silence.
6. The symmetry of the opening and closing scenes in Asha Jaoar Majhe
Aditya Vikram Sengupta's Bengali film (although no dialogues are spoken in it) explores 24 hours of a marriage, where the wife works during the day, and when she sleeps at night, the husband heads to his job.
The quiet film follows the mundane daily rituals -- taking various transportations to work, street scenes and noises, cooking meals, bathing, taking naps in the afternoon and sleeping at night. But watching these familiar actions has a meditative quality. It is calming for the senses for the audience.
At the beginning of the film and then later towards the end, the wife heads to work, with the sound of the shehnai accompanying her. The piece of soundtrack is a bit confusing in the beginning, but as the film ends, we sense that the bride is leaving her home.
And as we were witness to 24 hours of this marriage, the scene suddenly takes on an emotional tone. It is almost hard to hold back tears.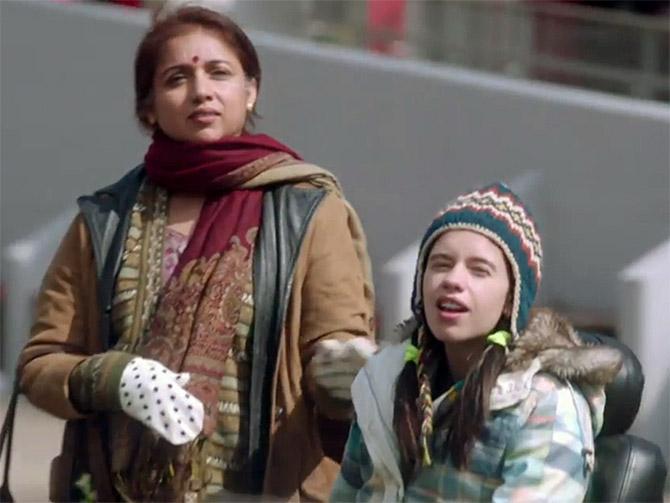 IMAGE: Revathy 'almost steals the show from Kalki Koechlin's otherwise showy performance.'
7. Revathy in Margarita, With a Straw
Shonali Bose's second film, Margarita, With a Straw, does something that few films -- not even Western -- attempt. It examines the sexual desires of a young woman suffering from cerebral palsy.
Kalki Koechlin brilliantly captures the emotions and the struggles of the film's protagonist Laila. But in the supporting role of Laila's mother Shubhangini, Revathy almost steals the show from Koechlin's otherwise showy performance.
Bose and her co-director Nilesh Maniyar have written Shubhangini to be a warm caring mother entirely dedicated to her daughter's condition. Shubhangini even travels with Laila to New York when the young woman gets admission at New York University.
But in moments when Laila opens up about her sexual orientation and her love for a Pakistani woman, Shubhangini's struggle is heartbreaking.
As a parent she is confused and yet she wishes for her daughter's happiness. And coupled with that, Shubhangini is handling her own medical crisis.
Revathy is terrific and one hopes to see more of her (she was also in 2 States) in Hindi language cinema.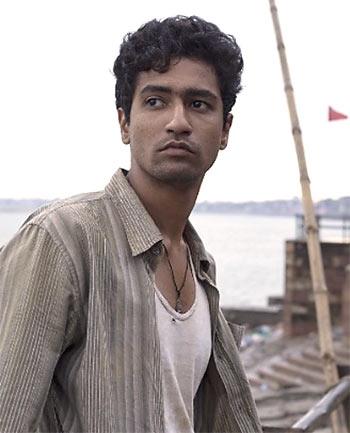 IMAGE: Vicky Kaushal, a fine actor to watch.
8. Vicky Kaushal's performance in Masaan
In his debut film Masaan, Neeraj Ghaywan works with two parallel narratives. In one story he casts a new actor Vicky Kaushal in the role of Deepak, who is from the lower caste of corpse burners. Deepak falls in love with Shaalu (Shweta Tripathi), a girl from the upper castes.
The caste issues apart, Deepak's love for Shaalu is narrated with such beauty and honesty that for the good part Masaan takes on a very romantic mood. Kaushal is so fresh and real, when he smiles at the idea of sending a Facebook request to Shaalu or asks her out on her birthday.
In a time when Bollywood gets louder and louder in showing love on screen, Deepak and Shaalu's romance, although brief, is simply beautiful and Kaushal's performance has a lot to do with it.
When things break apart in a tragic manner, Deepak's pain is unbearable to watch. Kaushal is brilliant in a scene when he is drunk with his friends sitting on a Varanasi ghat, and he breaks down crying.
I do not how long it will be before Bollywood adopts Kaushal and he loses his raw energy, but until then he is a fine actor to watch.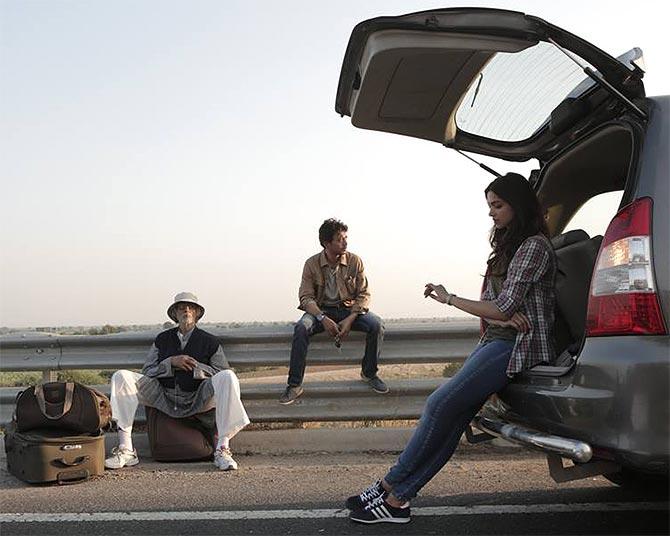 IMAGE: Irrfan, centre, in Piku, with Amitabh Bachchan and Deepika Padukone.
9. Irrfan Khan in Piku
That Irrfan Khan will deliver a good performance in any film is given. He is such a natural actor, we are now used to his stellar roles. But there are still times when Khan can pull a surprise from his bag of talent.
In Piku, Khan's Rana takes the protagonist Piku (Deepika Padukone) and her father Bhaskor (Amitabh Bachchan) on a road trip -- a few days' journey from Delhi to Kolkata. From the start of the journey he is shocked to realise that Bhaskor has an obsession with his bowel movements, and the father and daughter openly talk about these issues.
As the father and daughter argue about the inconsistency of his bowels and his constant state of constipation, it is a treat to watch Rana smirk, sometimes smile or roll his eyes in disbelief.
Without speaking much, Khan's Rana is so amusing that his character and his reactions become a lot funnier than the Piku-Bhaskor track.
His comic moments in Piku are not laugh-out-loud funny, but it is a sheer joy to discover a new side to this absolutely fantastic actor.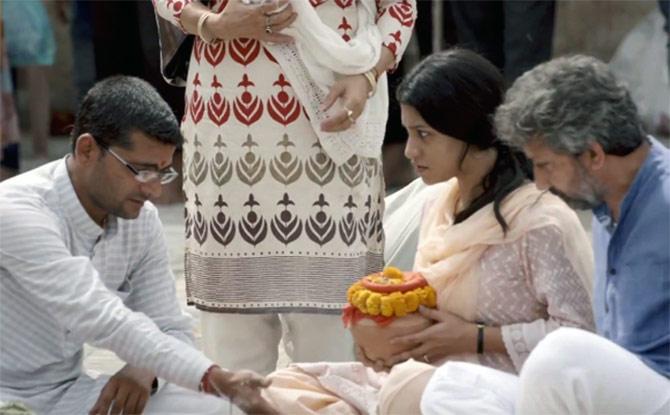 IMAGE: Talvar makes 'certain that we as the audience are rattled and disturbed.'
10. The script of Talvar
Meghna Gulzar's Talvar is a haunting exploration of the Aarushi murder case. The director who returned to filmmaking after eight years handles the subject matter with the maturity of a veteran filmmaker.
In doing that, Gulzar is ably aided by the script written by her father's colleague Vishal Bhardwaj who gives us a Rashomon-like narrative of different possibilities that could have happened the night Aarushi and her domestic help Hemraj were killed.
The script and film do not solve the murder, and neither is it implied that one scenario is more plausible than the other. What Bhardwaj wants us to know is that as members of society we are all responsible for what happened, and our insatiable appetite for gossip and scandal surely makes us a guilty party.
Bhardwaj loves to take on complex plots -- including with his three Shakespearean adaptations. In Talvar, he outdoes himself, showing many potential facets of one story, making certain that we as the audience are rattled and disturbed!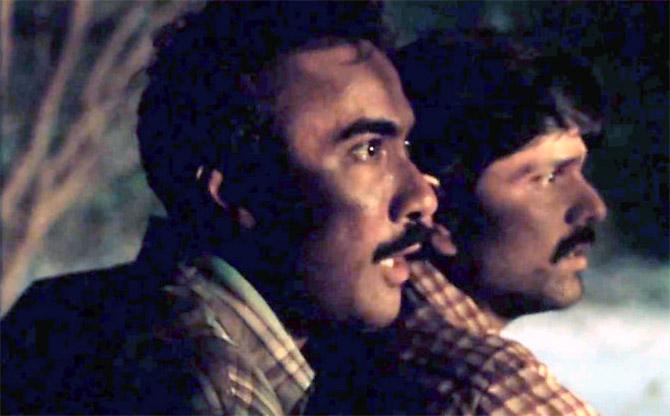 IMAGE: Ranvir Shorey, one of our finest actors.
11. Ranvir Shorey's frightening take in Titli
Ranvir Shorey has been attempting different sorts of roles -- including as one of the villains in Ek Tha Tiger. But I still see him for his comic roles. And so it was really shocking and frightening to watch him play the disturbingly violent older brother Vikram in Kanu Behl's Titli.
As Behl pointed out to me and it became clearer when I watched the film a second time, the violence in Titli is actually not extreme. But once we become aware of what a character like Vikram is capable of doing, we are always on edge, frightened by his presence on screen.
And just when we thought Vikram was a terrifying monster, Shorey surprises us again. As Vikram's wife slaps him with a divorce petition, he collapses with shame, embarrassment, almost seeming impotent.
Shorey is one of our finest actors and it is a shame he does not get the plum roles that he so deserves.