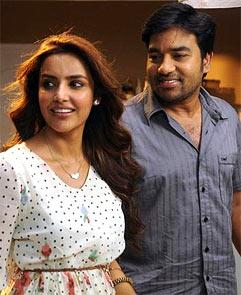 Kiruthiga Udhayanidhi's maiden commercial directorial Vanakkam Chennai is a sweet love story with some great music and good performances that keep you entertained, writes S Saraswathi.

Kiruthiga Udhayanidhi makes her directorial debut in commercial cinema with Vanakkam Chennai. Produced by her husband, Udhayanidhi Stalin under their home banner Red Giant Movies, the film's music is composed by the young Anirudh Ravichander.

Mirchi Shiva plays the role of a soft and decent M Sc gold medallist, Ajay, who has left his hometown in Theni to take up a job in Chennai.

Priya Anand is Anjali, a passionate photographer from London. She is visiting India to participant in a photograpy competition, and to capture the rich and colourful heritage of the country.

Narayanan (Santhanam) is a wily house agent in Chennai, who rents out unoccupied houses to gullible individuals from out of town without the knowledge of the house owners.

Ajay and Anjali get caught in his scheme. Narayanan rents out the same house to both of them and escapes with the advance.

The two are stuck in a situation where they do not have enough money to pay the advance for a new house, and neither are they able to find the elusive Narayanan to get back their money.

After a lot of squabbling and fighting, they eventually decide to stay together until they find Narayanan.

As they slowly
settle down, they get to know each other and become friends.
Ajay learns that Anjali is engaged to Deepak (Rahul Ravindran). Unfortunately, this does not stop him from falling in love with the lovely Anjali.
The film has more romance and less comedy and this is quite surprising in a film that has Mirchi Shiva playing the lead.
Shiva has given a very understated performance. We do not see much of the brash, cheeky and sarcastic Shiva that we are used to. Instead he comes across as a softer and more mature character. Though he seems a bit awkward in the beautiful and melodious love songs, he is quite convincing as a lover.
Priya Anand is perfectly cast as the London-bred photographer and has given a good performance.
Santhanam and the supporting cast, too, have done their bit for the film. But the highlight of the film is undoubtedly the music.
Anirudh of
Kolaveri
fame seems to have hit the jackpot once again; almost all the tracks in the film have become chartbusters overnight.
There are some beautiful melodies as well as some lively and energetic numbers to suit the mood of the film. The popular ones are
Oh Penne, Osaka Osaka
and
Engadi Porandha
.
Vanakkam Chennai
is a fun-filled, but slow paced romantic film that does not boast of a great or original storyline. But there is simplicity and charm in the characters. And the great music certainly keeps you entertained.
Rediff Rating: