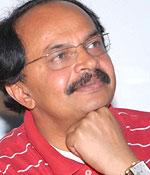 After Aindrita Ray's
shocking revelation
of alleged abuse at the hands of Kannada director and writer
Nagathihalli Chandrashekhar
during a film shoot, it is now the turn of the filmmaker to clear the air.
The actress of hits like Junglee and Manasaare had accused the director of slapping her and using abusive language while shooting for their film Nooru Janmakkoo in Hong Kong recently, a claim which Chandrashekhar rubbished.
Here is his side of the story.
Andrita Ray has alleged that you slapped her during the Hong Kong schedule shooting of your film Nooru Janmakkoo. She also says that you have often misbehaved with her. Are these claims true?
All the allegations made against me by this unprofessional and immature actress are false and untrue. I don't know why she is making such allegations against me. I have always tolerated her tantrums and unprofessionalism.
On the day of the alleged incident, she came to the sets almost three hours late. Her face had lost its sheen and I thought this was because she had slept very late. I told her that her behaviour was unacceptable as she was getting paid to act. She got infuriated with me for raising the issue of payment and even pushed me. I was shocked and tried to restrain her.
You can ask all my technicians and artists who witnessed the scene. Aindrita was most unprofessional by disrespecting respected technicians like cameraman Santhosh Kumar Pathaaje, director Shashidhara Adapa and me. And now she is making all these baseless charges against me and shedding tears.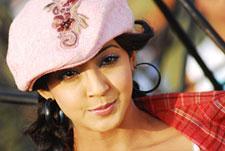 How is Aindrita unprofessional?
She would report late to the sets which caused a lot of problems in the shooting schedules. I cannot tolerate this as delay in shooting schedules puts lot of strain on the film's budget. And most of the time, she was the major cause of delay. Also, she was unapologetic about her tardiness. She kept late nights shopping and visiting casinos. Since she slept very little, she didn't look fresh in the morning. I personally advised her to sleep early but she did not listen to me.
Was Aindrita your choice for the role?
Aindrita was the choice of the producers because she filled the commercial considerations of the film. I found her to be a good actress and did not have any issue with the producers on their choice. I can even say that she will walk away with flying colours for her performance in my film.
But I cannot tolerate indiscipline from any actor. I have worked with veterans like Dr Vishnuvardhan, Suhasini Manirathnam, Thara, Devaraj and youngsters like Ramya, Radhika Pandit and others. You ask any one of them about me and you would know the fallacy of Aindrita's statement's against me.