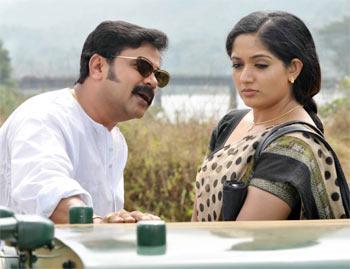 Kavya Madhavan returns to movies with Pappi Appacha after a short tumultuous marriage. The shooting of the Malayalam film written and directed by Mamas [his debut as an independent director] is currently underway at Thodupuzha.
Kavya Madhavan made her entry as a heroine opposite Dileep in Chandranudikkunna Dikkil years ago. The popular pair continued to act together in several films. Kavya was planning to make her comeback as a heroine in Christian Brothers, a project which faced some trouble due to its big budget. Now she plans to be more active as a heroine.
Dileep and Innocent play a father and son duo in Pappi Appacha whose cast also includes Ashokan, Dharmajan, Suresh Krishna and KPAC chief Lalitha.
Pappi Appacha is also expected to bring back the glorious times of Dileep. He agrees that 2009 has been generally a disappointing one in his career and hopes that things will be different in 2010.
Besides Pappi Appacha, Dileep has two films which are ready for release. Agathan, directed by Kamal will see him in the role of a techie. His other film is Bodyguard, directed by Siddique. Nayantara is the heroine.
Of Pappi Appacha, Dileep says the film has humour, romance and heroism.
Pappi Appacha is being produced by Anoop, Dileep's brother, under the banner of Priyanjali. Vidyasagar is the music director while Sanjeev Sankar is the cinematographer.