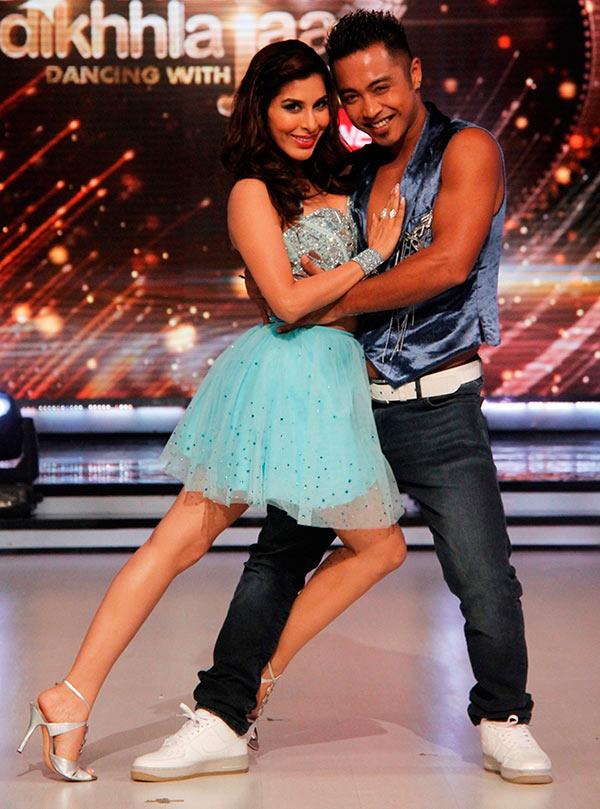 'I am heart-broken,' Sophie Choudry tells Rajul Hegde.
Sophie Choudry is the latest contestant to exit from the dance reality show Jhalak Dikhhla Jaa.
She was pitted against the 'little wonder' Akshat Singh in the face-off.
The singer-actress wowed the audience week after week on the dance reality show. She fought back through muscle pulls and spasms during rehearsals and episode shoots.
During the course of her 13 weeks on the show, she improved with every act.
In this interview with Rajul Hegde, Sophie says she feels sad that she couldn't make it to the finals despite rave reviews from her fans and the judges.
Are you disappointed that you got evicted after reaching so far?
I am heart-broken. I don't think I deserved to go out at this stage.
Did you see this coming?
There is a risk every single week, but the audience supported me so much that after the second week, I never came in the bottom three again.
It's shocking that suddenly this happened.
Do you think it was easier for you reach this far because you are a singer/performer and have danced in movies?
I have never trained in any dance form. I have learnt on the sets of a film or while making my music videos.
The point of entering Jhalak was to learn dance forms. This show is technically for people who like to dance but have never trained to do so.
But let's not forget we had Shakti Mohan this year, a professional.
How would you sum up your journey on Jhalak?
Emotional, physically and mentally exhausting, but truly memorable.
I learnt that I have an amazing fighting spirit. In spite of dealing with two slipped discs, I'm physically strong and determined!
Which were your most memorable moments?
Definitely getting my first 30; the Mr India act in front of Salman; him narrating our bike ride story, and when Bebo (Kareena Kapoor) came on the show and told everyone how proud she is of me and how she wants me to win. That meant a lot to me.
Do you think the judges were fair to you in the face-off?
I think it was a very tough decision for them too.
Apparently, they asked the channel if there was a way to save us both but it wasn't possible.
I will always feel disappointed they didn't save me but Akshat is a wonderfully talented kid.
You said in an interview that you too have a huge fan following. Where do you think you went wrong?
I honestly don't know. I wish I did. I have been the most versatile and a very consistent performer on this stage; from jive, bachata, contemporary, hip hop to aerial and acrobatics in water.
I've also donned the maximum avtars to entertain people. Everyone has spoken about my growth on the show. So you tell me where I went wrong.
You said in an earlier interview that you want to be remembered not just as a good dancer but a fantastic dancer. Have you achieved that?
I wanted to improve as a dancer and win the love and respect of the judges and the audience.
I'm grateful I managed to achieve all of that.
Do you think being on the show will help you to get more work?
I'm known to be one of the best singer/performers on the live circuit so my main work is live shows.
Only people who have seen my shows know the performer I am. Thanks to Jhalak, now a worldwide audience has seen my talent and connected with me.
I have a whole new teen following and international audience. So I definitely hope this translates into more exciting work.
What next?
I've already been offered a film. I'm looking forward to recording some new songs.
Did you make friends on the show?
Yes, but more with people behind the scenes. I've met some wonderful people who will be friends for life.
I really liked Elli Avram even though we only worked together for a week. And of course my team with whom I worked for 15 weeks.
What are you going to miss the most about the show?
The rehearsals throughout the week because that is when you are learning.
And Manish Paul and the judges' antics on a Tuesday.
Whom are you rooting for or who do you think will win?
Punit and Mouni were always the favourites but I would like to see a non-television artist win for a change. And the only one left is Akshat.
In the picture: Sophie Choudry with her choreographer partner Deepak.