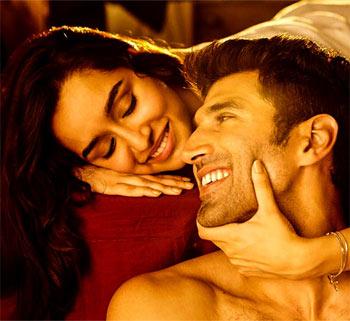 They make a cute couple.
They've worked their magic onscreen with Aashiqui 2.
After Fitoor and Rock On 2, they both desperately need a hit.
Shraddha Kapoor and Aditya Roy Kapur hope OK Jaanu will re-create their on-screen magic.
This tale of a carefree romantic couple is slated to release this Friday.
Directed by Shaad Ali -- who also needs a hit after Kill Dil -- OK Jaanu is the official remake of Mani Ratnam's hit Tamil film, O Kadhal Kanmani.
But that's not the only reason Kapoor and Kapur are in the news and they tackle some tough questions from Rediff.com contributor Rajul Hegde.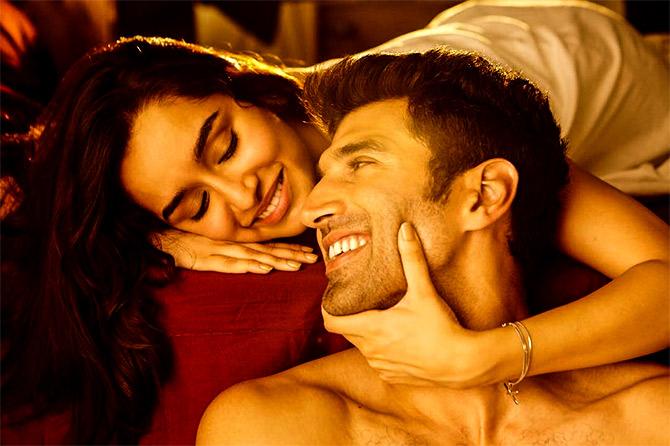 IMAGE: Aditya Roy Kapur and Shraddha Kapoor get romantic in Ok Jaanu.
O Kadhal Kanmani was much-loved and did well at the box office. Does that increase the pressure on you guys, since comparisons are bound to happen?
Shraddha: Absolutely! The comparisons started after the trailer released.
That movie made a very strong connection with people. We hope our film will be loved as well.
Aditya: A remake happens because something has been loved and appreciated, that's what you sign up for.
You know there are people who had loved it, so there is no reason to lose your sleep over that.
What you have to do is try and make it to best of your ability and realise the reason you're making the film. That will give you confidence, instead of making you feel that you are under pressure.
Were any changes made for the Hindi version?
Shraddha: Yes, there are a few changes. I don't think Shaad wanted to change anything because the story was so good and everything was so amazing about the original film.
It's just been adapted for the Hindi audience.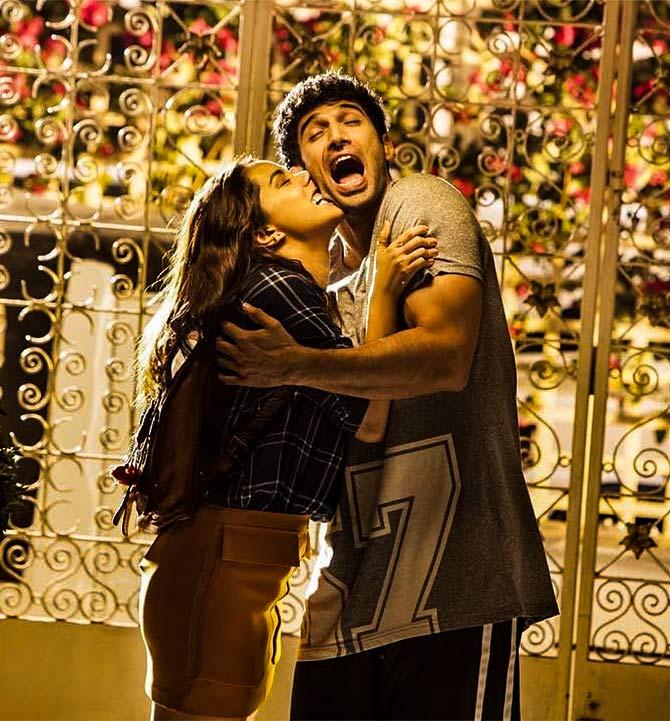 IMAGE: Aditya Roy Kapur and Shraddha Kapoor in Ok Jaanu
Were you able to identify with your characters?
Shraddha: To a certain extent.
I feel Tara has rubbed off on me now. I love how she is so fearless about what she wants in life. Tara is not apologetic. She wants to live-in and says it openly. I like her honesty.
She is very passionate about what she does. She has the fire in her. I hope I can take more from her.
Aditya: My character is younger than my actual age. He is at an age where he has big aspirations and does not want to commit to any relationship.
He does not take anything seriously. He takes one step at a time and enjoys life.
When I was at that age, every romantic relationship did not mean marriage. I could relate to what he was feeling at that time.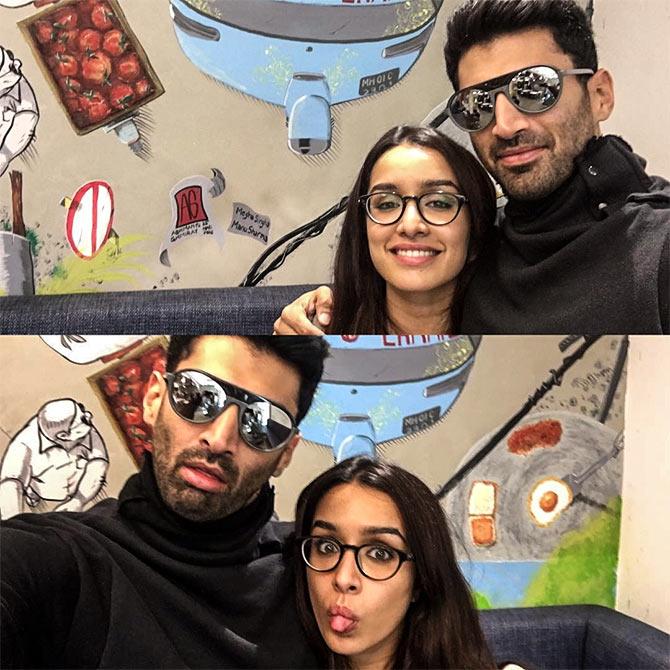 IMAGE: Aditya and Shraddha get goofy. Photograph: Shraddha Kapoor/Instagram
Would you opt for a live-in relationship in real life?
Aditya: I have never done it before, so I cannot speak from experience. I don't know what the pros and cons are. You can only comment on something when you have experienced it.
If I am in a relationship, I would like to live-in for a while. I don't see any reason why it should be considered negatively.
Many of my friends are in live-in relationships. Some are successful and some are not. But it gets you closer to understanding the person you are with. You get to know their habits...
Sometimes, that ends the relationship quicker instead of dragging it out.
Shraddha: I believe in live and let live. If anybody believes in live-in relationships and, if they are happy, that should be it.
If people prefer not to, then whatever makes them happy.
Nobody should get hurt in the bargain.
Our film showcases the two perspectives interestingly. I think people will be entertained by that.
Did you meet Mani Ratnam (the director and producer of the original and co-producer of OK Jaanu)?
Aditya: No, we haven't met him so far.
We have been trying to meet him but he is in and out of Mumbai before we know it.
Our schedules haven't matched; we haven't been lucky enough.
We are looking forward to meeting Mani Sir.
We heard that he has loved OK Jaanu. Actually, we are looking forward to hear him praise us in person (smiles).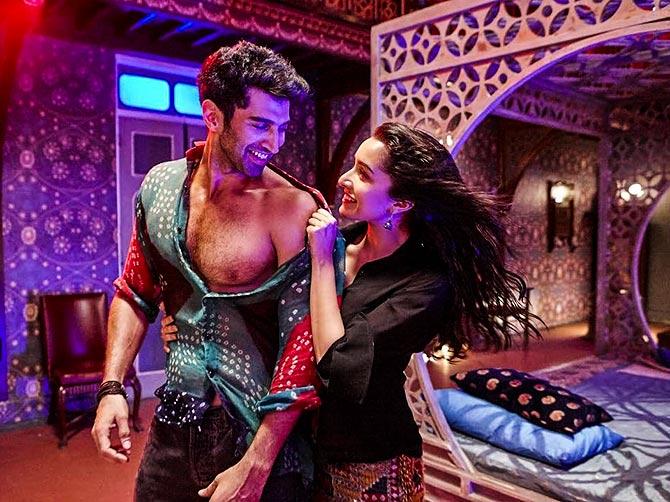 IMAGE: Aditya and Shraddha get naughty in their version of the Humma humma song.
Aditya, was it difficult to dance to the Humma humma song?
Aditya: When I went for the Dream Team tour last year, it was my first stage dance performance. So I rehearsed a lot and had a lot of fun.
We did six shows and it really got out of my system. I enjoyed it and it was well received.
I came back pretty warmed up to the Humma humma song. I had some practice before I came in; I had fun.
Shraddha: Some of my friends are going crazy about him in Humma humma, especially his pelvic moves. They are like 'Oh my God, he is so hot...'
Did you feel that he was really hot in the song?
Shraddha: Yes. I think he brings his own charm to anything that he does and that is his USP.
How was it reuniting after Aashiqui 2, which was a hit film?
Shraddha: It's awesome to do another movie with Aditya. We had a blast during Aashiqui 2 and during this film as well.
OK Jaanu is different because it's not in the intense love story space like Aashiqui 2. It's in a playful and light-hearted zone. It's the first happy film of 2017.
Aditya: It was exciting that we were getting to do a film that made us explore a different side of love; it's not that deeper, darker side that Aashiqui had; it's something else!
As actors, it was nice to come together on something that is different.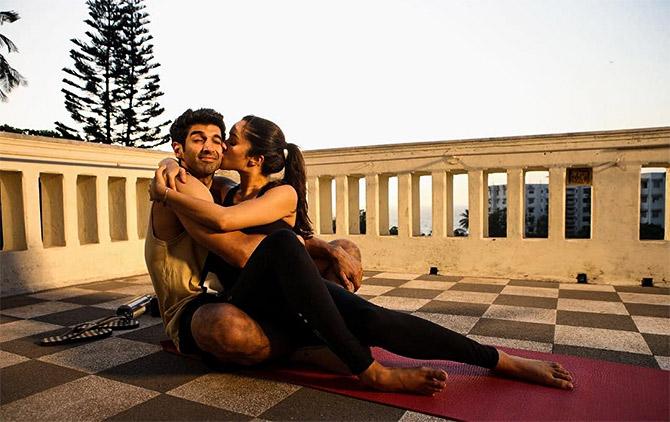 IMAGE: Aditya Roy Kapur and Shraddha Kapoor in Ok Jaanu
How was the experience shooting in south Mumbai?
Aditya: It was nostalgic because I grew up in south Mumbai. I haven't lived there for last seven-eight years, but I still visit as my friends are there.
I always wanted to shoot for a Bombay-based love story. It was nice in this film; they have used public transport like trains and buses. Actually, it reminded me of my growing up years, in my teens and like the small love stories I have had (smiles).
I was really excited shooting this love story in my city and in the place I grew up.
There were a lot of expectations from your recent movies (Aditya starred in Fitoor and Daawat-e-Ishq, while Shraddha was in Rock On 2). Does failure affect you?
Shraddha: Of course, it does. If you really believe in a movie and have put so much hard work, it does affect you.
Luckily, I could focus on my next film so it was like an immediate distraction.
Aditya: Absolutely.
Fitoor didn't do well and I started to wonder why.
I was offered this film a month after Fitoor. I would come on the set and be happy. It was like therapy.
There is nothing like work to take your mind off things. I was really blessed to have started shooting so quickly and move on.
Deepika Padukone's Hollywood debut, xXx: The Return Of Xander Cage, is releasing on January 14, a day after OK Jaanu releases.
Aditya: It's an action film and appeals to a different audience.
If you follow the pattern, in many such clashes, both films will do well if they are good.
What's heartening is that there is a capacity (for more than one film to be released) and enough of the audience to go (around).
If a film can do Rs 30 crores worth of business in one day, it means there are many people who go to watches movies in the theatres. So, if your films are appealing enough, both will do well.
Shraddha: I hope that both the films do well. I hope the beginning of 2017 is good for movies overall.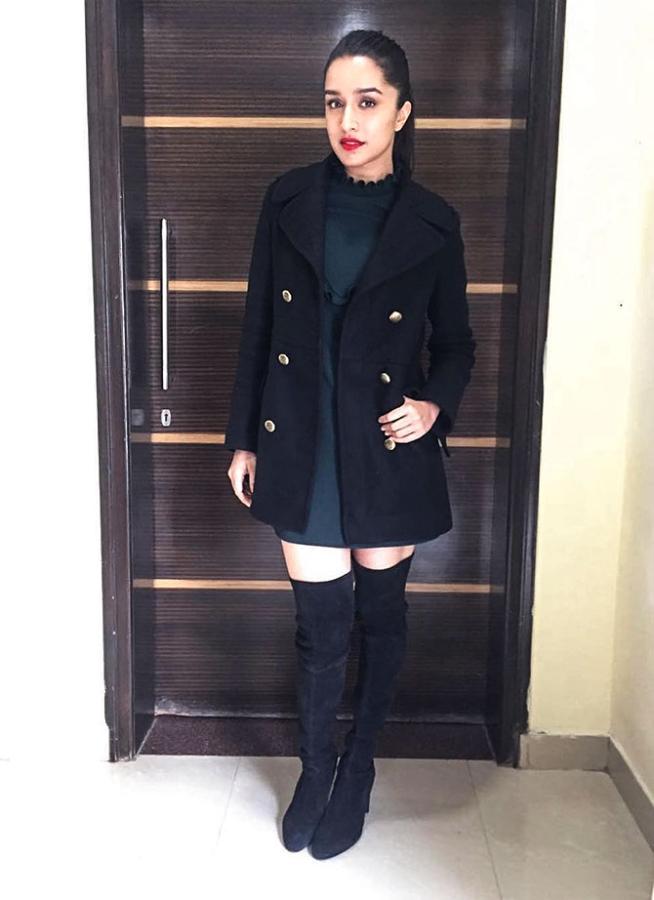 IMAGE: Shraddha is winter ready for her movie promotions in Chandigarh. Photograph: Shraddha Kapoor/Instagram
Shraddha, there were reports recently that you had moved in with Farhan Akhtar and your father issued a clarification.
Shraddha: This time, I think it went a little overboard.
When you write something that is false and present it as a fact without confirming it... I feel it's extremely wrong. Just for the sake of gossip, tabloids can't take such liberties.
I felt sad. I wanted to take some action against it.
I wish people would be a bit responsible in what they write as so many people read it. It's not right to paint an incorrect picture.
Normally, link-up rumours don't affect me, but this rumour did because it did as it involved my family. If you paint a wrong picture and involve family, it's not fair.
When you put so much hard work into films and the focus shifts to other things like link-ups and rumours, it's not correct. I would want my work to be spoken about more.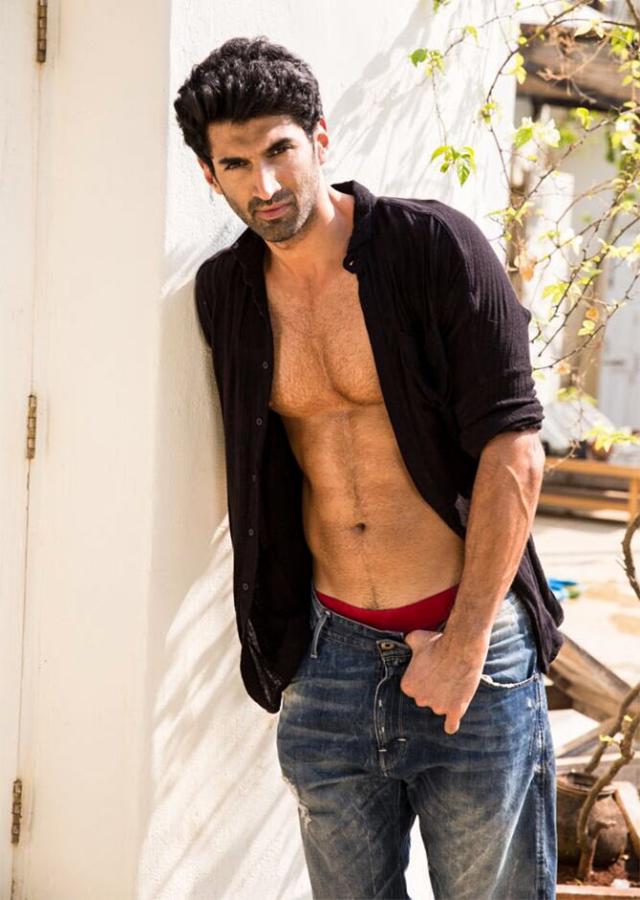 IMAGE: Aditya shows off his chiselled body. Photograph: Karan Johar/Twitter
Aditya, you too were linked to your co-stars Shraddha and Katrina Kaif. Does it affect you?
Aditya: Now that I have been in the industry for quite some time, I feel these things will be written about you all the time.
I am thick-skinned about these things. Most times, I don't read such things and whatever I read doesn't really affect me.
I don't want to waste my time trying to control these things as my life will become a vicious circle.
As far as rumours about us (Aditya and Sharddha) are concerned, the two of us know the truth. Earlier, we used to talk about it but we don't bring it up now. You can't let it affect you so much.
Did you see Aamir Khan's Dangal? What did you think about the film?
Aditya: It's an amazing film, beautifully done. Everything was so perfect.
Shraddha: After the film, I went home and I was like, I have to call Aamir Khan. It was little late in the night but I couldn't help myself.
I just called him and he answered. I told him that I really loved his role and the film. It's nice to see a film that leaves you with such a good feeling.